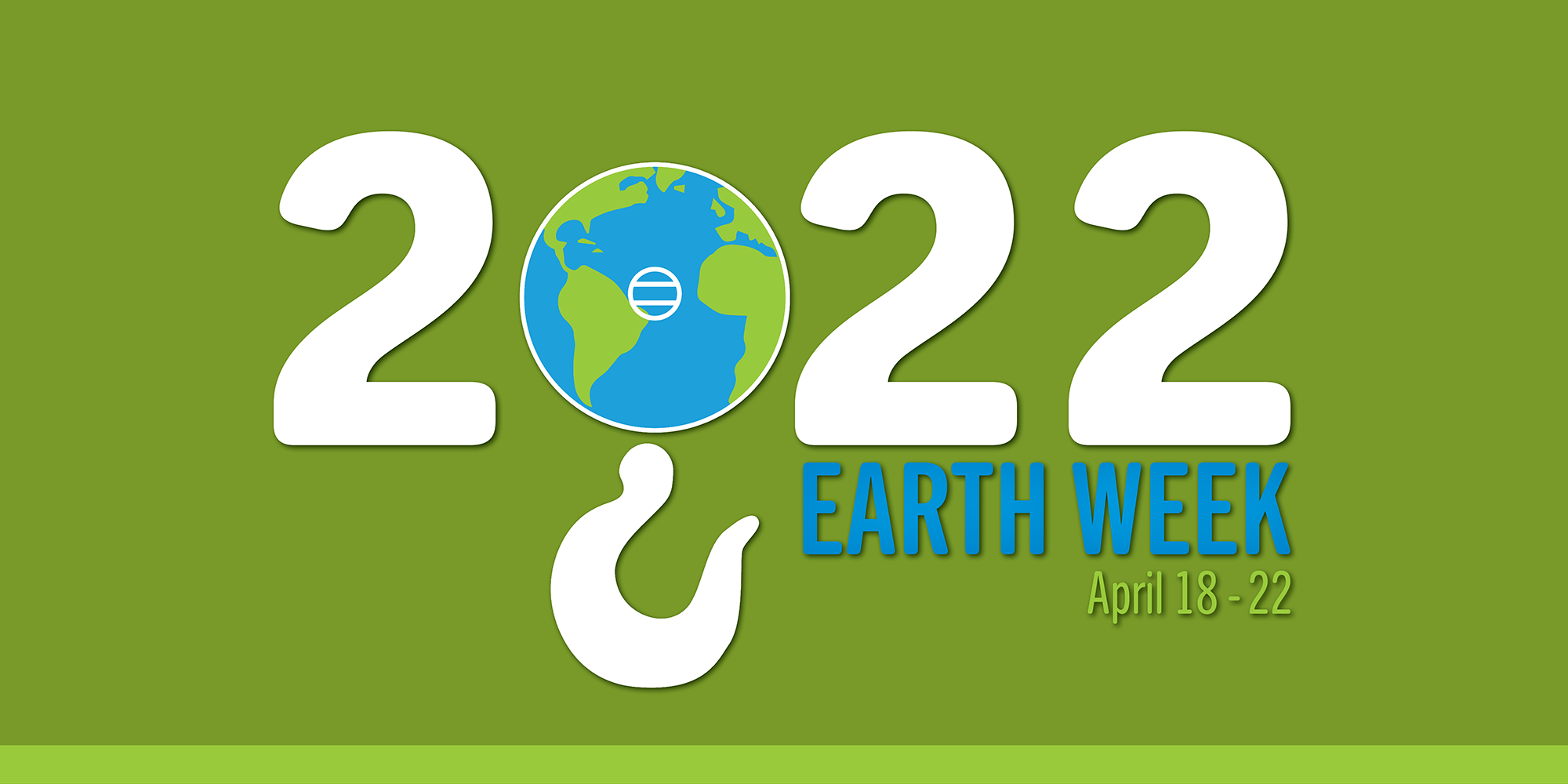 Earth Week 2022
April 18, 2022 Earth Day marks the birth of the modern environmental movement which started in 1970. This year the theme is "Invest in Our Planet." The theme encourages everyone to reevaluate the false choice of growing long-term profits and investing in the innovation needed to power the shift to green.
To educate, encourage and promote our ongoing commitment to sustainability in our work and our lives Rudolph and Sletten's is distributing one poster each day of Earth week. We encourage everyone to display these posters to help us spread the word!
Earth Week 2022 - building electrification
Earth Week 2022 - carbon neutrality-embodied carbon
Earth Week 2022 - nuclear power
Earth Week 2022 - recycling at home
Earth Week 2022 - sources of electricity
R&S is a leader in sustainable construction. Green building projects account for 70 percent of our company's annual project revenue. We've completed 58 LEED certified projects to date and currently have eight LEED projects under construction. We've also incorporated sustainable elements into too-many-to-count projects where Owners elected not to purse LEED certification.
 According to the U.S. Green Building Council, LEED projects have grown from 296 certifications in 2006 to 67,200 certifications in 2018. We're proud to be part of this movement!
 In celebration of Earth Week (April 16-22), which culminates in Earth Day, R&S spotlights a few of our many environmentally minded people who invest in our planet, both professionally and personally. We're excited to share their stories with you.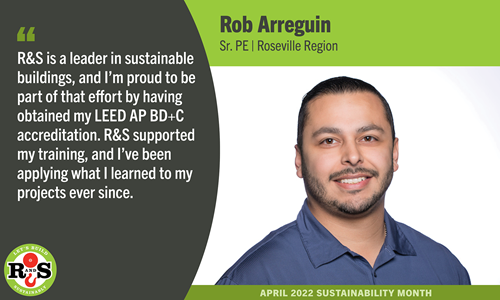 Rob Arreguin, Sr. PE, Roseville Region
 "R&S is a leader in sustainable buildings, and I'm proud to be part of that effort by having obtained my LEED AP BD+C accreditation. R&S supported my training, and I've been applying what I learned to my projects ever since.
 "Our Kaiser Riverside Cirby project was the first LEED project that I was involved with from start to finish. I'm proud that R&S obtained all the credits we were responsible for, and LEED Gold certification was awarded only three months after final submission to the U.S. Green Building Council.
 "I contribute to sustainable practices at home by using energy-efficient and water-efficient equipment through the use of smart home devices. My irrigation controller connects to the internet and if there is rain in the forecast, it automatically shuts down or skips a watering, which preserves water. My thermostats are programmed to shut off when no one is home, which saves energy.
 "I appreciate nature's beauty, and I want to preserve it. Implementing sustainable building practices contributes to the betterment of the environment."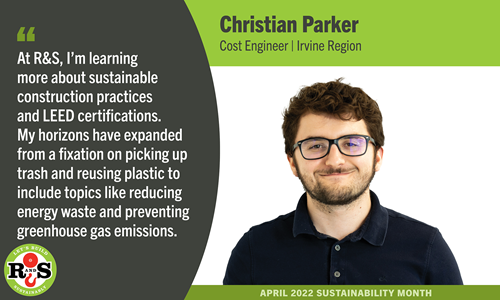 Christian Parker, Cost Engineer, Irvine Region
 "I live near the beach and on weekends, I like to go fishing or hang out on the sand all day. Trash is always scattered about, and no matter how much I pick up and throw away, I know there's always more. While I was growing up, seeing so much trash at the beach got me thinking about what I could do to reduce waste.
 "I'm on R&S' Pre-Construction team. As part of our planning, we  work with clients, design teams and engineers to propose ideas for how new construction projects could implement green practices. I'm also on R&S' Sustainability Development Committee, where I am learning more about sustainable construction practices and LEED certifications. My horizons have since expanded from a fixation on picking up trash and reusing plastic to include topics like reducing energy waste and preventing greenhouse gas emissions.
 "I'm a firm believer that even small steps can make a difference. For instance, I use a Hydro Flask instead of plastic water bottles. When I go to the grocery store, I bring my reusable grocery bags."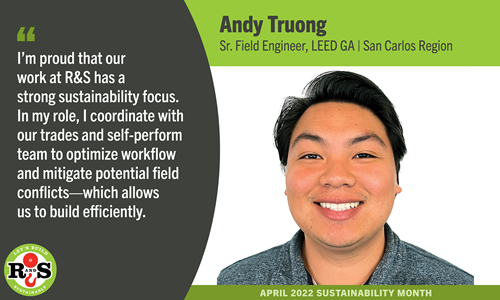 Andy Truong, Sr. Field Engineer, LEED GA, San Carlos Region
 "I'm proud that our work at R&S has a strong sustainability focus. We put great thought and effort into waste reduction and waste diversion. We collaborate with our design partners to construct facilities that achieve energy and resource savings. In my role, I coordinate with our trades and self-perform team to optimize workflow and mitigate potential field conflicts—which allows us to build efficiently.
 "I had the privilege of working on a large project featuring the first successful wastewater management system of its kind in this area. The system recycles 25,000 gallons of wastewater per day. The repurposed water irrigates the entire landscaping of the project, including a new living green roof. I appreciate the incredible amount of engineering and coordination that went into implementing this renewable system.
 "I'm passionate about conserving water and energy in my daily life. I try to buy locally. I plan my errands so that I do the least amount of driving. I'm reducing my reliance on single-use plastics. I turn the faucet off when I'm brushing my teeth. And you best bet my showers are all-business!"