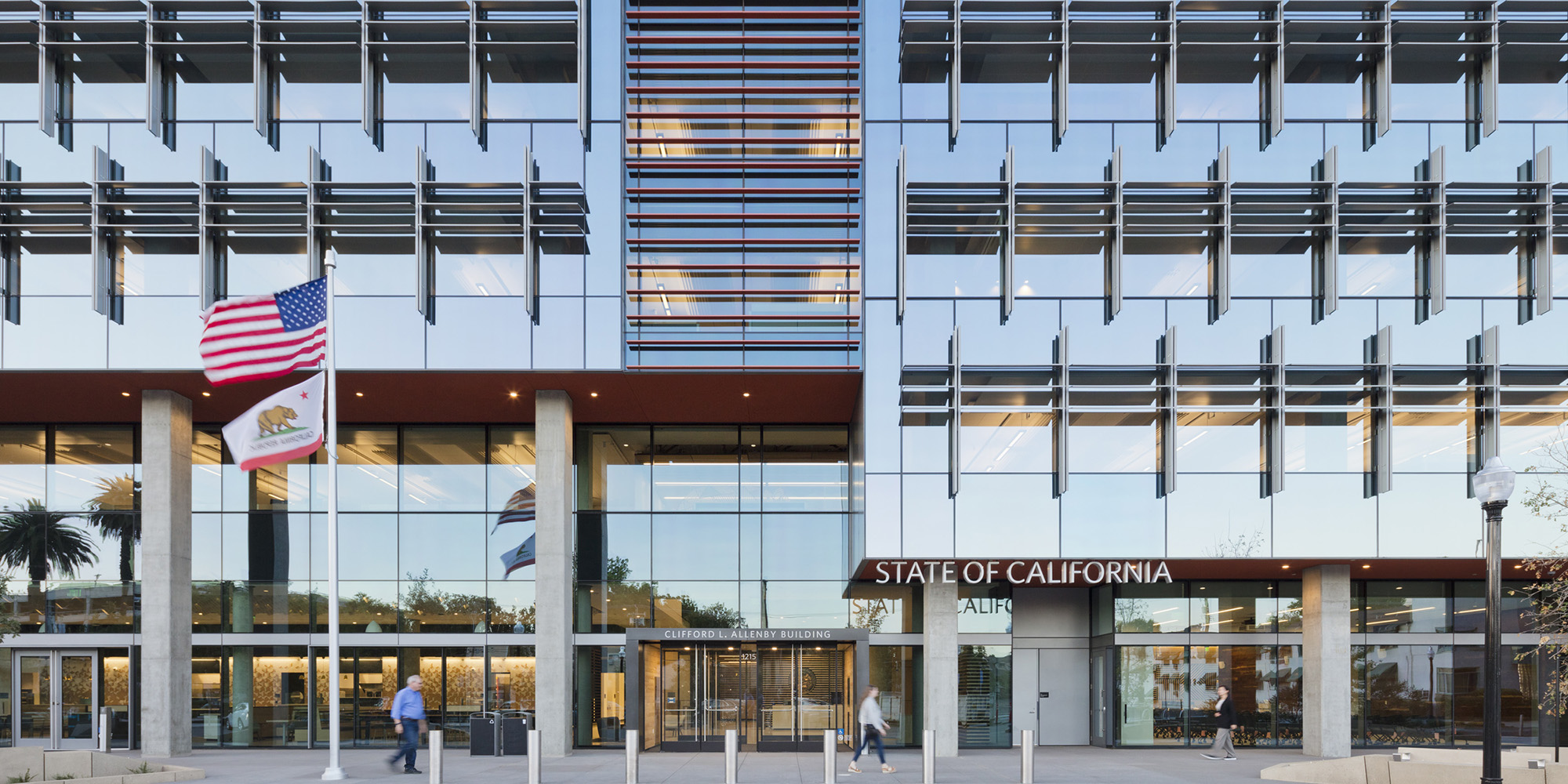 Industry Awards & Recognition
Whether it's for safety, team collaboration, or project innovation, we appreciate each and every recognition we receive. After all, everyone likes to be acknowledged for their hard work. Ultimately we look to our clients for the highest measure of success — returning to R&S with a new project.
Each award recognizes the hard work and dedication of the architects, the developers and owners, the subcontractors, and, of course, every Rudolph and Sletten team member.
 Design-Build Team Awards
UCSF Bakar Precision Cancer Medicine Building (PCMB)
DBIA WPR - Design-Build Award of Merit
Solano Community College Biotechnology and Science Building
DBIA National - Merit Award - Educational Facilities
UCSF Mission Hall
DBIA National - Award of Merit
UCSF Mission Hall
DBIA-WPR Design-Build Award, Regional Award
Solyndra Building 3
Best Project - Rehabilitation/Renovation
 Construction Management
Association of America
USD Learning Commons
Project of the Year - CMAA San Diego
UC Davis Health, Patient Contact Center
Project Achievement Award for buildings under $25 million - CMAA Northern California
El Camino Hospital Sobrato Pavilion and Parking Structure
Project Achievement Award for new buildings over $200M - CMAA Northern California
Kaiser Permanente, Riverside Medical Office Building
Project of the Year - CMAA Northern California
Seaworld San Diego,  Electric Eel Roller Coaster
Project Achievement Award for buildings less than $25 Million - CMAA San Diego
Southwestern College, Math, Science & Engineering
Project Achievement Award for buildings greater than $25 Million Building - CMAA San Diego
NOAA Southwest Fisheries Science Center
Project Achievement Award, New Construction <$25M - CMAA San Diego
Francis Parker School
Project Achievement Awards, Honorable Mention Building/New Construction - CMAA San Diego
Grossmont Cuyamaca Colllege, Student Administration and Griffen Student Center
Project Achievement Award - CMAA San Diego
Kaiser Permanente, San Leandro Medical Center
2015 CMAA Award, New Construction >$25 M, Honorable Mention - CMAA Northern California
 Best Projects Awards
UCSF Precision Cancer Medicine Building (PCMB)
Award of Merit - Health Care - Northern CA
El Camino Health, Sobrato Pavilion and Parking Structure
Excellence in Safety Award - Award of Merit - Northern CA
Washington Hospital Morris Hyman Critical Care Pavilion
Award of Merit - Health Care - Northern CA
SeaWorld San Diego Electric Eel Roller Coaster
Best Project Southern CA - Sports/Entertainment
San Diego Central Courthouse
Best Project Southern CA - Government/Public Building
La Jolla Pharma Company TI Project
Award of Merit - Interiors/Tenant Improvement - Southern CA
Solano CCD Biotechnology and Science Building
Best Project - Higher Education/Research - Northern CA
UCSD Altman Clinical and Translational Research Institute (CTRI)
Best Project Award - Higher Education
Sacramento Valley Station
Best Project Award - Renovation/Restoration
UCSF Mission Hall
Award of Merit - Office/Retail/Mixed-Use
UCSF Smith CVRB
Best Higher Education/Research Project
 Building Team or Reconstruction
San Diego Central Courthouse
Gold Award - BD+C Building Team Awards
Ravenswood Family Health Center – John and Susan Sobrato Campus
Bronze Award - BD+C Building Team Awards
California Theatre
Grand Award - 22nd Annual Reconstruction Award
 Safety Recognition
Franz Hall Tower Renovation Project
Safety Commendation Award – UCLA - University of California, Office of the President
Cal State LA, Physical Science Building Renovation
Voluntary Protection Program (VPP-Construction) Recognition - Cal/OSHA Consultation Service
Cal State East Bay, CORE Building
Voluntary Protection Program (VPP-Construction) Recognition - Cal/OSHA Consultation Service

Kaiser Permanente, Riverside Medical Office Building
Voluntary Protection Program (VPP-Construction) Recognition - Cal/OSHA Consultation Service
Confidential Silicon Valley Client Project
Voluntary Protection Program (VPP-Construction) Recognition - Cal/OSHA Consultation Service 
Broadway Plaza Retail Development, Walnut Creek
Voluntary Protection Program (VPP-Construction) Recognition - Cal/OSHA Consultation Service
San Diego Central Courthouse
Voluntary Protection Program (VPP-Construction) Recognition - Cal/OSHA Consultation Service
Sacramento Valley Station
Golden Gate Partnership Recognition for our "Best Of" Workplace Safety Program (IIPP) - Cal/OSHA Consultation Service
UCSD Altman Clinical and Translational Research Institute (CTRI)
Voluntary Protection Program (VPP-Construction) Recognition - Cal/OSHA Consultation Service
San Bernardino Justice Center (Courthouse)
Voluntary Protection Program (VPP-Construction) Recognition - Cal/OSHA Consultation Service
 Historic Preservation
Sacramento Valley Station
Trustees Award for Excellence in Historic Preservation
E. Claire Raley Studios for the Performing Arts
Design Award
Salk Institute for Biological Studies Teak Window Restoration
Design Award
HP Garage
26th Preservation Design Award for Restoration
California Theatre
Large Projects Category Award in Recognition of Achievement in the Field of Historic Preservation
Children's Hospital Oakland Research Institute
The Governor's Award - State Office of Preservations
 Award-Winning Design
Monterey Bay Aquarium
AIA Twenty-Five Year Award
San Bernardino Justice Center
Citation Award - AIA San Francisco
UCSF Mission Bay Medical Center Parking Structure Phase 1
Architecture Citation Award - AIA San Francisco
San Diego Central Courthouse
2018 Design Awards - Divine Detail Award - AIA San Diego
Point Loma Nazarene University Science Center (Sator and Latter Halls)
2018 Design Awards - Architecture Citation Award - AIA San Diego
NOAA Southwest Fisheries Science Center
Architectural in Concrete Award - ACI San Diego
Fremont School E. Claire Raley Studios for the Performing Arts
Design Awards - Honor Award - AIA Central Valley
Sacramento Valley Station
Merit Award - Design Awards - AIA Central Valley
Warren and Katharine Schlinger Laboratory
Honor Award - AIA Pittsburg
Shaklee HQ
Savings by Design Energy Efficiency Integration Award
USC HNRT
San Fernando Design Award for Excellence in Design in Architecture Category
Francis Parker School
Architecture for Education Award
Community School of Music and Arts
San Francisco Design Award for Excellence in Design in the Architecture Category
Stanford, Children's Surgical Research Building
Design Award Merit - American Institute of Architects - Santa Clara
Ryan Ranch Outpatient Campus
Excellence in Architecture Award - American Institute of Architects, SF Chapter
Sustainable Project Recognition
UCSD, MESOM 
SDG&E Sustainable Community Champions
NOAA Southwest Fisheries Science Center
SDG&E 2013 Energy Showcase Champion, Government
Genentech Child Care Center
2020 Green Building Award - Sustainable San Mateo County and the American Institute of Architects, San Mateo County Chapter
Kaiser Redwood City Hospital
Green Building Honorable Mention - Sustainable San Mateo County
​
Additional Industry Recognition
UC Berkeley Residence Halls
Best of 2005 Award - California Construction
La Jolla Playhouse
Best of 2005 Award - California Construction
California Theatre
Best of 2005 Award - California Construction
Stanford Cancer Center
Best of 2004 Award - California Construction
Wackford Aquatic Complex
Award of Excellence in the Category of Facility Design and Park Planning - California Park and Recreation Society
Tehama County Courthouse
Tilt-Up Achievement Award - Tilt-Up Concrete Association
Summit Rancho Bernardo
Building of America Award for Southern California - The Building of America
Cuyamaca Communication Arts Building
Building of America Award for Southern California - The Building of America
Moffett Towers
Building of America Award for Northern California - The Building of America
NOAA Southwest Fisheries Science Center
PCBC Gold Nugget Awards, Special Use Project, Merit Award
PLNU New Science Building
PCBC Gold Nugget Awards, Education Project, Award of Excellence
Sharp Rees-Stealy Medical Center
PCBC Gold Nugget Awards - Awarded Merit of Honors in the Commercial Projects Category 
Pacific Shores Center
Merit Award - National Commercial Builders
USD Student Life Pavillion
Building of America Awards - Real Estate & Construction Review
El Camino Hospital
Building of America Awards - Real Estate & Construction Review
Children's Hospital Los Angeles
Best Medical Project - LABJ Commercial Real Estate Awards
Stanford Cancer Center
Exceptional Project Award - Western Council of Construction Consumers
San Diego Central Courthouse
Chairman's Project Achievement Award in category: Buildings – New |   Sustainability Excellence Award  | Innovative Project Solutions Award - Western Council of Construction Consumers
Cal Poly Pomona Library Expansion
Distinguished Project Award - Western Council of Construction Consumers
UC Berkeley Energy Biosciences Building
Honor Award in "Heal" Category - International Interior Design Association
COPIA
Professional Award in the Design Category, Award of Merit - American Society of Landscape Architecture
San Diego Central Courthouse
American Architecture Award - The Chicago Athenaeum Museum of Architecture and Design
San Bernardino Justice Center
Best New Construction - Structural Engineers Association of Northern CA
Kaiser Santa Clara
Excellence in Structural Engineering Award for High-Performance Earthquake Resistance Design - Structural Engineers Association of Northern California
Grossmont College Griffin Center
CMU Profiles in Architecture: Concrete Masonry Design Award - Concrete Masonry Association of California and Nevada
The Community School of Music and Arts
Excellence in Design and Purpose Fulfillment Award - The Business Week / Architectural Record
Jay Paul Moffett Towers
Project Innovation Grand Prize Award - Buildings Magazine
Broad Center
Lab of the Year - R&D Magazine
Chiron Life Sciences Center
Lab of the Year - R&D Magazine
Genencor International California Technology Center
Lab of the Year - R&D Magazine
Genentech Process Science Center
Lab of the Year - R&D Magazine
Gladstone Laboratory
Best New Office in San Francisco Award - San Francisco Business Times
E. Claire Raley Studios for the Performing Arts
Best Real Estate Projects, Best Public/Private Partnership - Sacramento Business Journal
Sacramento Valley Station
Best Real Estate Projects, Best Historic Renovation Project - Sacramento Business Journal
Sacramento Greyhound Station
Real Estate Projects of the Year Awards: Best Community Impact - Sacramento Business Journal
San Diego Central Courthouse
Inaugural "Downtown on the Rise" Alonzo Award - Downtown San Diego Partnership
Molecular Foundry
Secretary of Energy's Excellence in Acquisition Award - US Department of Energy
San Jose Fox Theatre
Architecture Honor Award - United States Institute for Theatre Technology
California Theatre
Constructor Award for Meeting the Challenge of the Difficult Project - Associated General Contractors of America
California Theatre
Golden Nail Award - San Jose Downtown Association
About