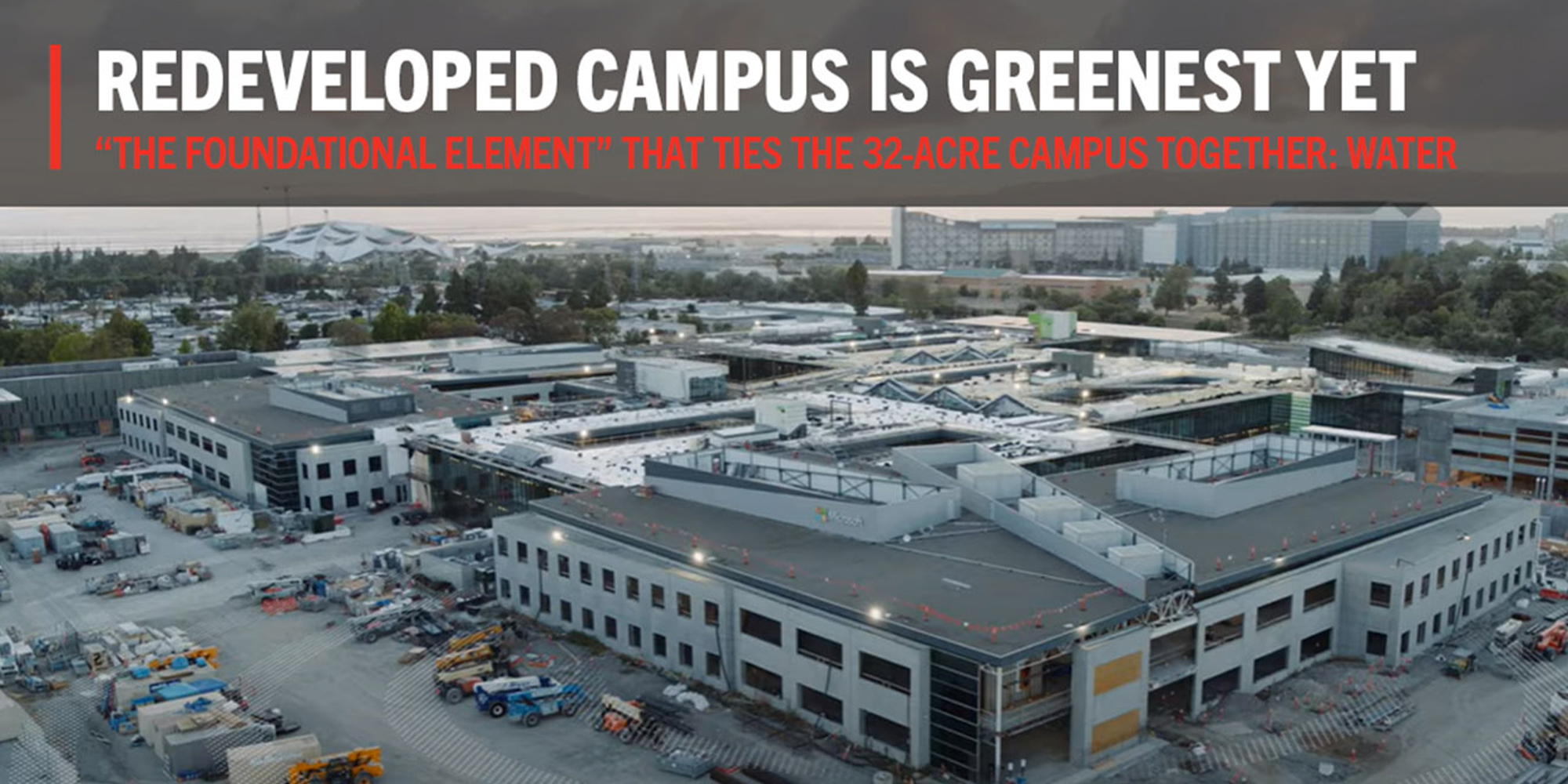 Microsoft's revamped campus is greenest yet
January 4, 2021
Microsoft's Silicon Valley Campus is recognized with an AIA
2021 COTE® Top Ten Award
Read more about the project and award criteria here. 
----
January 4, 2021
Microsoft's revamped campus is greenest yet
Excerpt taken from the Silicon Valley Business Journal article posted Jan. 4, 2021.
What separates Microsoft Corp.'s revamped Silicon Valley headquarters from those that play home to tech heavyweights like Google, Apple and Facebook is what it calls "the foundational element" that ties the 32-acre campus together: water. 
"The campus is intended to be a demonstration of water stewardship," said Darren Lombardi, senior real estate manager at Microsoft who oversees the company's Silicon Valley portfolio. Over the last five years, Lombardi has been responsible for the design, development and construction of the revamped campus near the intersection of Highway 101 and Shoreline Boulevard in Mountain View.
Lombardi provided details exclusively to the Business Journal about the campus overhaul that has been in the works for several years. Over the last three years, Microsoft demolished three of its five existing buildings at the southeast corner of La Avenida and Macon Avenue, retrofitted two buildings, and built a new two-story office building, parking garage and a Microsoft Technology Center, where members of the public can try out some of the company's products.
Rudolph and Sletten Inc. is the project's general contractor, WRNS Studio is the main architect and WRT LLC is the main landscape architect.
---
Another sustainable component of the 643,000sf campus is the use of cross-laminated timber (CLT). Read more about our experience building the largest CLT building in the United States.