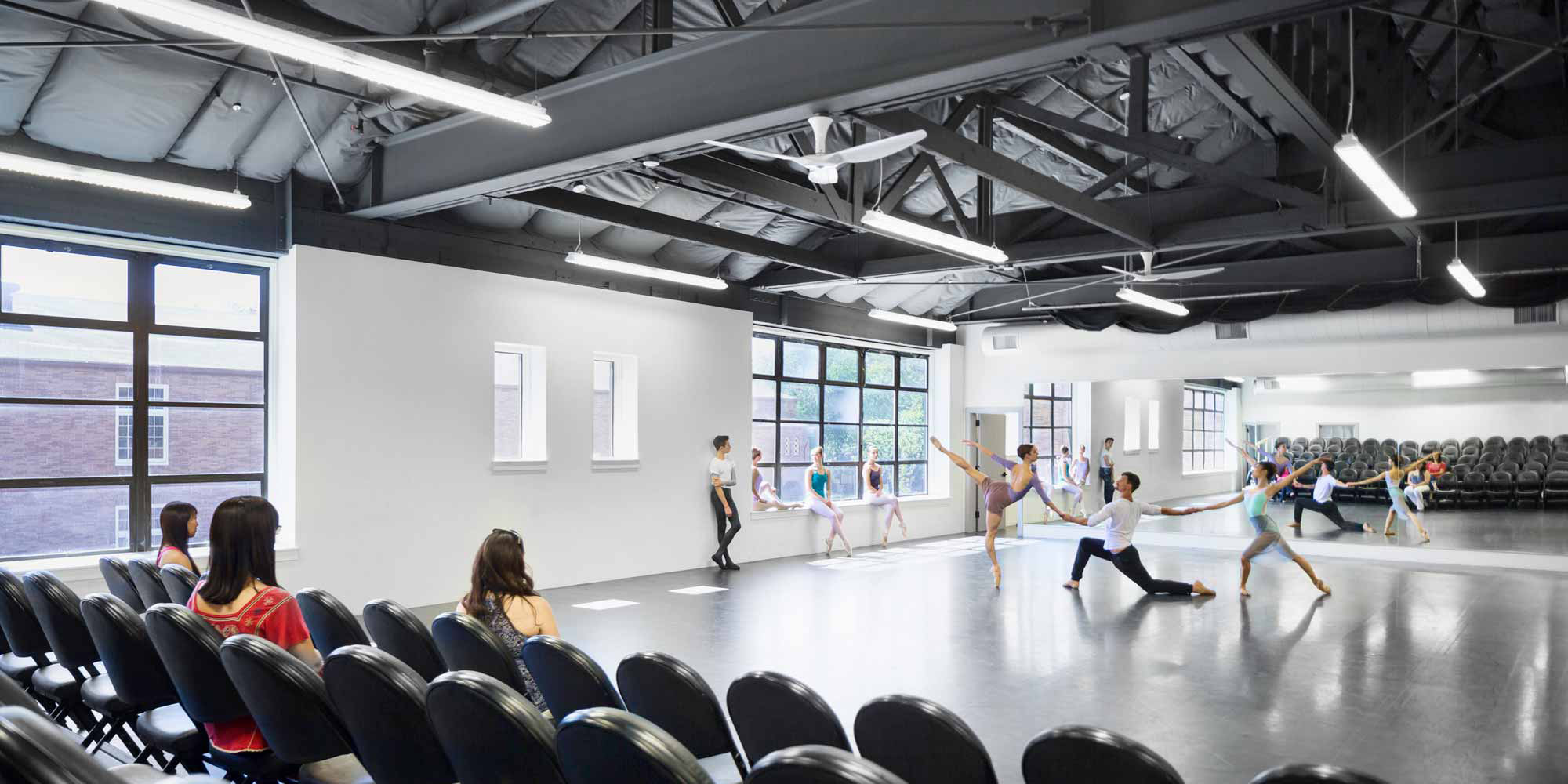 E. Claire Raley Studios for the Performing Arts
Project Details
OWNER
Mosaic Partners, LLC
LOCATION
Sacramento, CA
ARCHITECT
Dreyfuss & Blackford Architects
SIZE
38,000 square feet
COMPLETION
2015
Project Description
E. Claire Raley Studios for the Performing Arts further reinforces the flourishing performing arts scene in downtown Sacramento.
Destined to be a premier cultural amenity for Sacramento, the renovated facility provides a place for both professional and community-based arts groups. This unique space is designed to provide studios for art groups, performance and event space, and a gathering place for neighbors and artists alike.
Originally envisioned as a cost-prohibitive new building, the new Raley Studios is providing the same physical space while rehabilitating a historic property for less than a third the cost of the proposed new building. The facility includes two professional dance studios and three class studios for Sacramento Ballet, an Irish dance studio, theater spaces, musical education studios, French cultural space, a 200-seat auditorium, offices, storage, and proposed café space.
Formerly the Fremont School for Adults in midtown Sacramento, this adaptive reuse project included extensive seismic upgrades to the 1921-era­ brick building. The high ceilings throughout the building made it ideal for rehearsal and teaching space. To convert the conventional building to open studio space, new spread footings, exposed post tension cables, and innovative steel support beams were precisely installed, allowing for the removal of nearly all concrete support columns and beams within the space. Hazardous material abatement was conducted throughout the building and the main bathrooms were completely redesigned to provide showers and changing facilities for the performing groups.
""Historic rehabs are fertile ground for financial disaster. We walked into a 50,000 square foot rehab of a 1921 reinforced mason structure with a tight contingency and visions of a performing arts complex, and Rudolph and Sletten flat-out delivered.

Every GC talks about team work, trust and respect, but in 30 years of managing projects, no construction team has performed on those ideals as unwaveringly or as professionally as Rudolph and Sletten's executives, managers and superintendents did on this one and the board and I are delighted.""
Richard Rich
Principal
Mosiac Partners, LLC