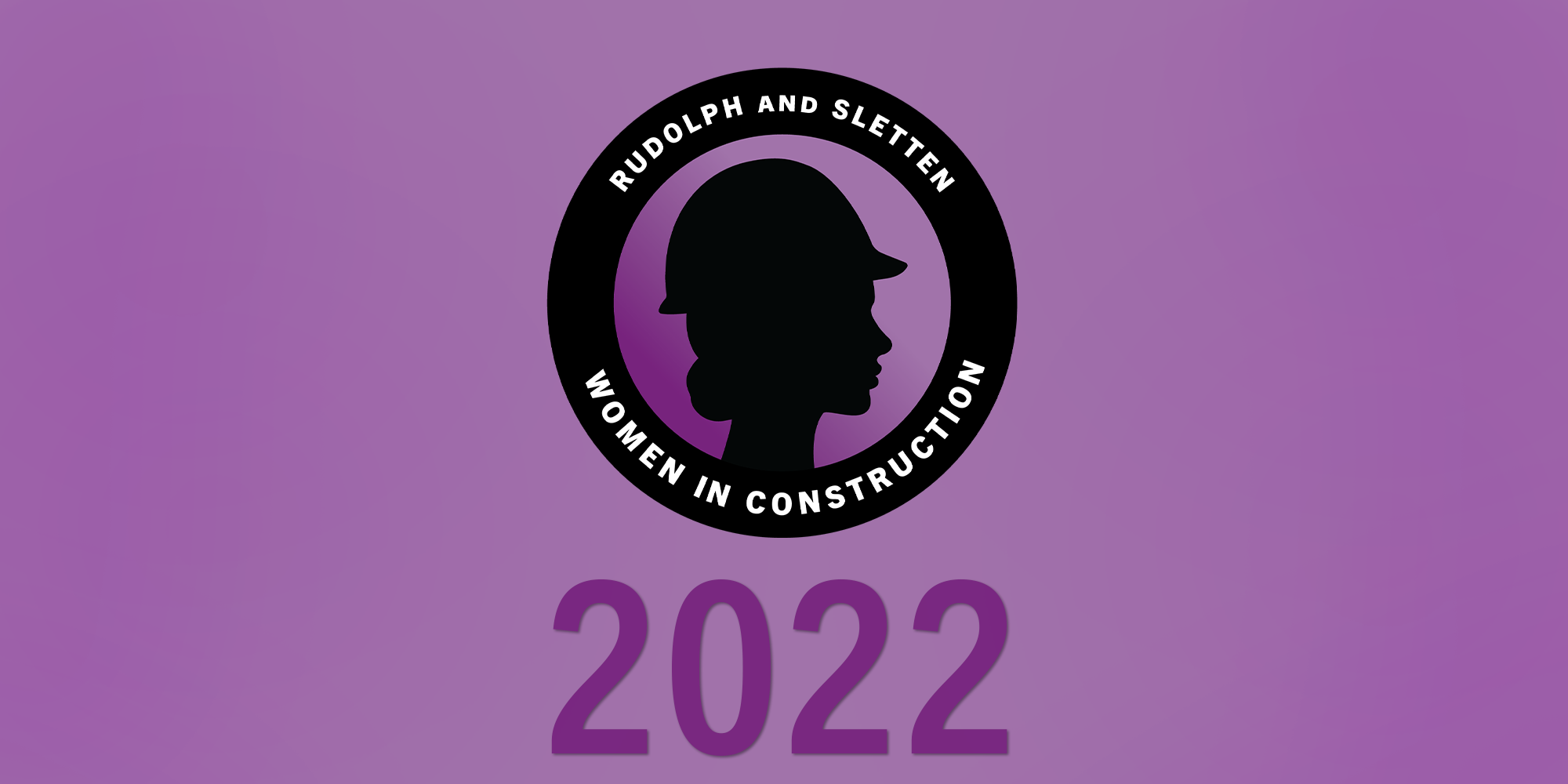 Women in Construction 2022
March 29, 2022 March Spotlights Employee Appreciation and Women in particular!
Smart. Talented. Strong. Passionate. Committed. Supportive. Driven to excel. R&S women are all this and more. In celebration of Women's History Month, we are spotlighting some of the many empowered and inspiring female employees who enrich our organization, play a crucial role in our company's success, and who we feel so lucky to have and very much appreciate!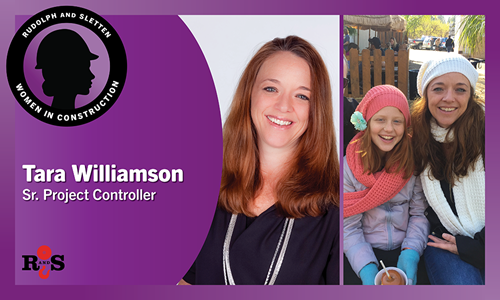 Tara Williamson
"My grandfather, father and uncle were in construction. I visited jobsites at a young age and was always fascinated by it. My dad worked at R&S. I started here in 1996 as a file clerk and grew to my current position. Everything I've learned, I learned on the job. I feel like I've been really supported and uplifted by the people I've worked for over the years.
"Integrity is the R&S core value that resonates most strongly with me. I love problem-solving and I enjoy helping people, but I can only be of value to people if they trust me. So, it's important to me professionally and personally to always act with integrity.
"Construction is a traditionally male-dominated industry. I've been with R&S for more than 25 years, and I'm seeing increasing diversity within our workforce. We have amazing women in all positions and at all levels throughout this company, from entry level to leadership roles. I think diversity brings a whole new empowerment and approachability to the company. I think it shows our younger generations that construction is an industry for everybody, and there's an opportunity for everyone to grow to the highest levels."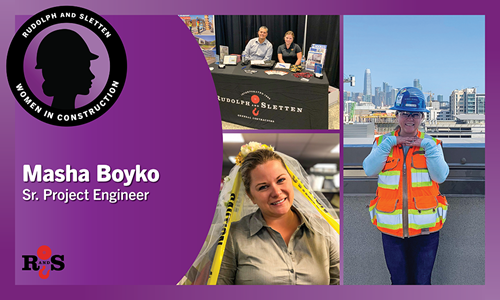 Masha Boyko
"Integrity is my personal core value and an R&S core value. I am committed to doing a job well. I take responsibility for my work, and I hold myself accountable. I am on a career path to become a project manager, and I will get there one step at a time. It is important for me to feel that I am ready and that I deserve this promotion.
"Healthcare facilities serve the important purpose of helping people and saving lives. That's my passion. I'm very proud that during my time at R&S, I've been able to work on three hospital projects.
"I love to help new employees. When I see somebody new coming on board, I put myself in their shoes, think about what kind of help I would need on this project if I were new, and I help them where I can.
"I'm involved in our company's recruiting efforts, and I help recruit both women and men. I'm focused on finding the right people for positions here at R&S."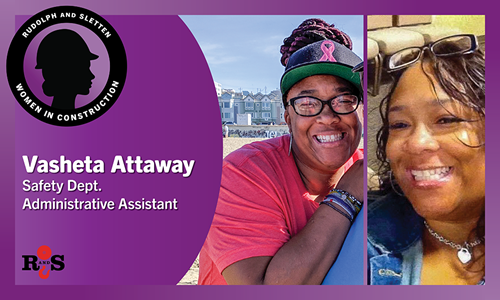 Vasheta Attaway
Safety Administrative Assistant
"I am a mom and grandmother, and keeping my family safe, secure and loved is my passion. Safety is one of our company's core values, and I'm the Au Pair of Safety. I live my passion daily at work by making sure company safety rules are followed in the field and by being a safe place for people to come for advice, prayer or an ear.
"My mom instilled in me the value of working hard, doing my best and being accountable. R&S has a lot of hard-working women. I like to encourage, motivate and affirm them. I give a lot of

 

Attagirls!

 

and send emails saying, 'I appreciate you and all of your contributions to the company.' Women wear a lot of hats—mom, daughter, employee, friend, wife, partner, confidant, medic, etc. Sometimes, we need someone to brush off our Wonder Woman cape and say,

 

You matter!
"I absolutely love the construction industry. I live near Washington Hospital in Fremont. When R&S had a project over there, I'd go by the jobsite and watch the building rise. When I go into the hospital for a procedure, I feel so proud that the company I work for built that building."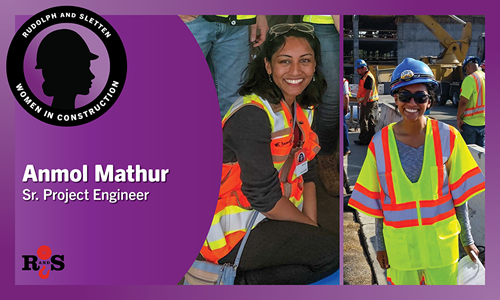 Anmol Mathur
"Integrity is the core value that drew me to R&S. I admire R&S' commitment to doing right by our clients and trade partners, and genuinely wanting to put our name only on good and honest work.
"I enjoy working alongside people with a diverse set of skills. Each person contributes to my global understanding of the impact of our work. Knowing that my work matters in the long run motivates me to give it my best effort.
"My career goal is to work on notable projects that bring value to our communities. I am most proud of my contributions to R&S' Washington Hospital project in Fremont, California. That's my family's neighborhood hospital. I was beginning my career when I was involved in the job and working on it felt personally meaningful.
"Raising women up requires education, representation and affirmation. I enjoy being involved with organizations like

 

WiOPS,

 

ASCEand

 

ASC Reno, and with WomenBuildRS, which is a new group within R&S. I take great pride in interviewing, recruiting and mentoring young women and encouraging them to use their voice, ask questions and build confidence in their abilities."

Karen Childs
Sr. Marketing Coordinator
"Winning work. That's what I enjoy most about my job. I'm competitive, so I'm right where I should be—in marketing, helping to create qualifications and proposal documents, and interview and presentation materials that really shine and help our firm win work. When I'm driving on the freeway, it's exciting and rewarding to pass a large complex that I helped R&S win.
"Client Focus and Quality are the two R&S core values that resonate most strongly with me. Our proposals and interviews must address exactly what the client is requesting in their RFP. And because our company is competing against other talented firms, everything we present to the client must be top quality.
"My job is very deadline driven, and I'm typically working on several pursuits simultaneously. I give my all to all of them. I've always been achievement oriented and a perfectionist. I drive myself to excel at everything I do.
"My current team is all women. We empower and support each other, without hesitation. In interview practice sessions I love to see the women presenting with confidence and showing their depth of knowledge in what they do."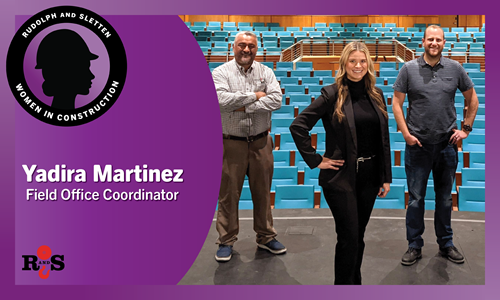 Yadira Martinez
"I grew up in a family where the men were in the construction industry and the women were not. In fact, it was frowned upon when I was a child to have expressed any curiosity toward assisting my father and uncles in any aspect of manual labor. Six years ago, a close friend who was a superintendent believed my skills and passion aligned with being successful in this industry. I sought opportunities and was hired by R&S.
"I love my job. I've been blessed to have been on outstanding teams that share my rigor toward maintaining a culture that values a positive work environment and is dedicated to mission accomplishment. As an FOC, living R&S' core value of Integrity is crucial in decision-making and reducing costly errors.
"I'm most proud of working on Southwestern College projects which are in the community where I was raised. Observing our teams' work come to life and the positive impact it has on the community brings me joy.
"I'm particularly enthusiastic about R&S's approach in providing awareness and opportunities for women within the company. I am proud to be a part of the R&S team and a woman in construction."

Laura Mohoff
Sr. Field Office Coordinator
"There are a lot of women at R&S, and our women are very supportive of each other. My career goals are to become a project accountant and to be more involved in training, mentoring and helping new employees turn into superstars.
"It's exciting to be in an industry where we're doing something big and important. I enjoy working as a team, watching a project come together and having a small part in making it happen. I coordinate everything that goes into setting up and running a field office. When I need help, I reach out to people who have the strengths I need. When others need my strengths, I'm there for them.
"Client Focus is R&S' core value that really resonates with me. We're all working toward the goal of making the owner happy. I do my part by communicating well, knowing exactly what the client is looking for and paying attention to detail.
"I do a lot of volunteering at food banks and other charitable organizations. Working at a large company, I'm able to get a lot of employees, subcontractors and clients to participate. That's pretty exciting!"

Rosy Cotocadet
"I didn't choose a career in construction. Construction chose me. In high school and college, I worked at my dad's demolition business. I'd help out by driving his crew to the different jobsites. I'd sometimes work alongside them, swinging a sledgehammer.
"I'm truly invested in R&S's future. In the last year, I've trained many new FOCs. I'm a knowledge-sharer by nature, so being able to train incoming FOCs and knowing I am setting them up to succeed is very fulfilling. Also, I take pride in my customer service and listening skills, which align with R&S' core value of Client Focus.
"In my personal life, I volunteer my time and bake for nonprofit organizations, such as

 

Icing Smiles, which provides cakes and cookies for families of terminally ill children. I also teach cookie decorating classes and all profits go to various charities.
"I get my drive from my parents. They immigrated to the U.S. in the 1970s and worked physically hard to provide for me and my three sisters. They instilled in us the value of education and hard work, and they successfully raised four college graduates."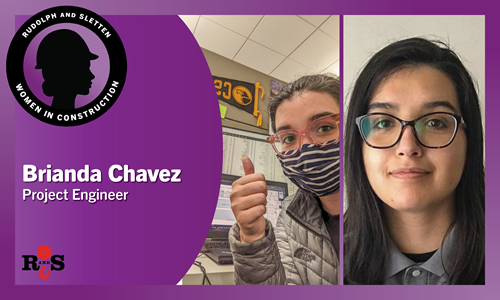 Brianda Chavez
"Passion for building is R&S's core value that's most meaningful to me. One of the reasons I changed my major in college from food science and technology to mechanical engineering was because I wanted to build things. And now, I am getting to do just that. My grandpa was a civil engineer, and I feel like I'm following in his footsteps and passion.
"I'm not driven by external praise. At the end of the day, I want to be able to tell myself that I tried my best and did a good job. That's what motivates me.
"Maintaining good relationships at work is important to me, and I enjoy the people I work with. I think my biggest contribution at work is treating people with kindness and patience. I feel a sense of accomplishment when a subcontractor who is having a hard day tells me that our pleasant phone conversation helped them feel better.
"I'm excited about being a recruiting captain at R&S this year. I'm hoping we can bring on a few female interns in the region—and that I will be able to mentor one of them."