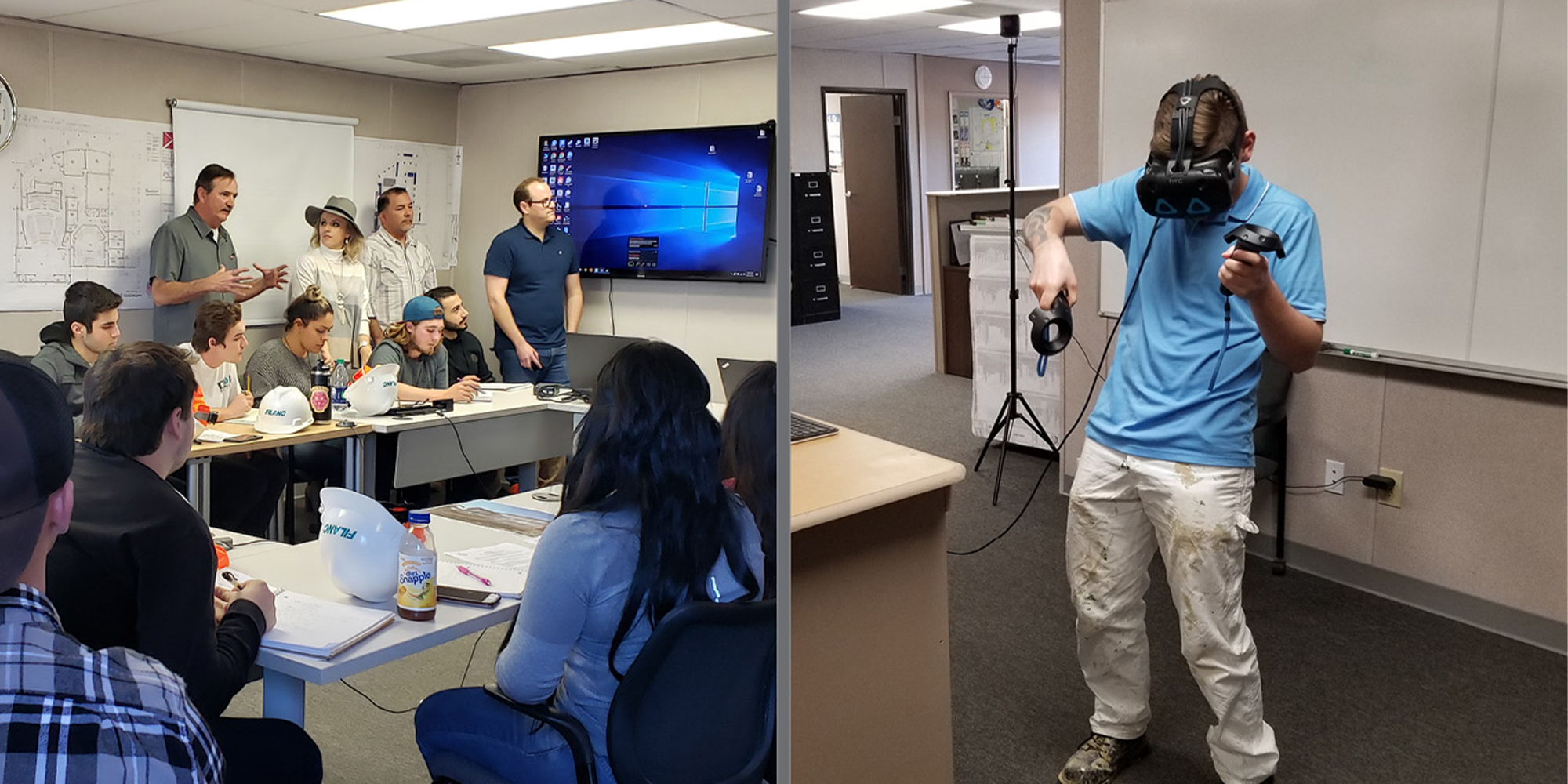 Students Soak Up Real-World Lessons From Our San Diego Team
March 15, 2019
Rain made for a muddy jobsite at the Performing Arts & Cultural Center that Rudolph and Sletten is building for Southwestern College in San Diego, but it couldn't dampen the enthusiasm of 29 university students who were there February 22 to soak up real-world lessons from our team.
The students are enrolled in the Construction Engineering and Management Program at San Diego State University (SDSU). During their visit, they donned hard hats and personal protective equipment. They listened to a presentation from team members Yoshua Neuman, Project Engineer; Katerina Milovanoska, Sr. VDC/BIM Specialist; Nestor Comandante, Sr. Project Manager; Bruce Craig, Sr. Superintendent; and Juan Alcaraz, Sr. VDC/BIM MEP Specialist, about site logistics, ground work and excavation. The students networked with our team. They asked lots of questions about what it's like to work in the construction industry. They were very curious about career paths, growth opportunities, salaries and other job-related topics.
The students had a very cool, very special and unique opportunity to "walk through" and experience the completed building using our BIM/VDC Department's Virtual Reality (VR) headsets. Katerina and Juan explained how we use this cutting-edge technology. They also explained how we use the BIM model, laser scanning and VR headsets for coordinating work among the different trades, reviewing potential design changes, detecting clashes, creating as-builds, sequencing and scheduling, and more.
The visit enabled the students to visualize concepts taught in the classroom and gain a better perspective on what happens in the field. They also gained an understanding of the diverse backgrounds, knowledge and expertise that people bring to a construction project. "Nestor and I have backgrounds in engineering, Juan was an electrician, Bruce worked as a carpenter and Katerina is an architect by trade," says Yoshua. "And here we are, all of us managing construction."
Yoshua has been leading this outreach effort between R&S and SDSU for several years. He enjoys it and sees it as a good opportunity to better prepare students for careers in construction, including students who may one day work at R&S.
In a thank you letter to Yoshua for providing a different group of students with a similar unique opportunity, Nensi Lakrori, Full-Time Lecturer, Department of Civil, Construction and Environmental Engineering, SDSU, wrote, "{The students} were beyond excited, and I am extremely appreciative of all the effort and work that went into the visit." Nensi recognized, by name, each team member who participated in the presentation and wrote, "Their presentation and advice was phenomenal, and not only the students but I too learned a few new lessons on Friday. I feel truly fortunate to have such great colleagues in the industry who deeply care about the future of our profession."