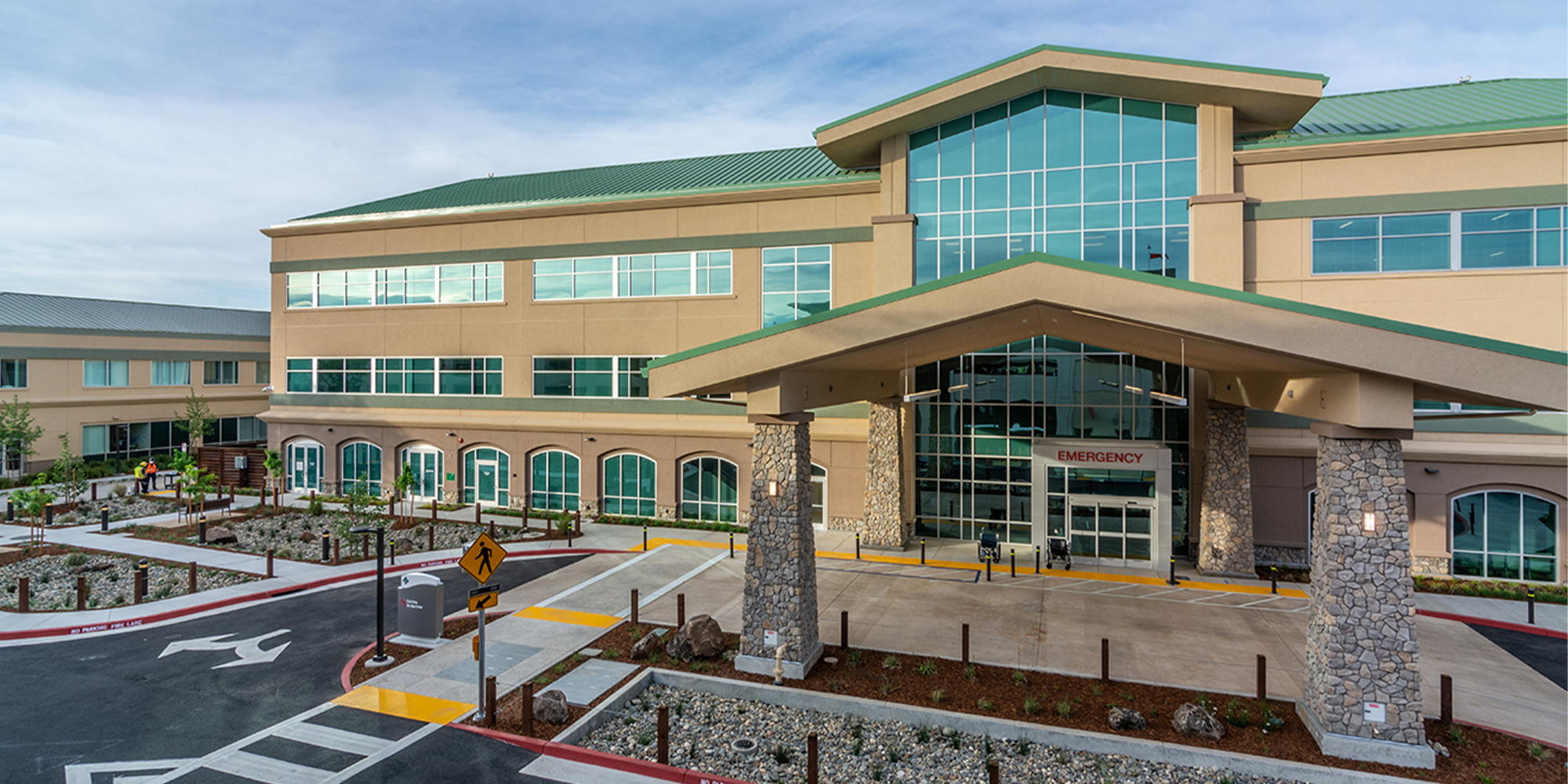 Expanding Hospital Capacity
November 30, 2020
As construction was wrapping up, a new crisis hit. With the Coronavirus Disease 2019 (COVID-19) pandemic hitting the U.S., suddenly everyone was talking about hospital capacity. For the Sacramento area, it just so happened that more capacity was already on the way.
An emergency department expansion had been slated to open at Sutter Health's Roseville campus in May 2020. The 95,000sf project, with Rudolph and Sletten as the general contractor and HGA as the architect, would double the number of beds in the emergency department and add 24 new intensive care beds. With a pandemic threatening, hitting the target date was even more critical than normal.
"Coincidentally, we were on track to finish the Expansion Building right as COVID-19 was really evolving" says Jim Whited, senior project superintendent. "In February 2016 we had set our target project completion goal for April 2020. It is a true testament to the great team on this project that made this goal reality."
To accelerate that last couple of months of work, the team relied on what had kept them on schedule up to that point: close collaboration.
One team, one office
Sutter Health had past success with integrated project delivery, which included having the entire project team on-site for collaboration and easy communication. The co-location office proved successful again. With up to 50 people working in the open workstation layout of the co-lo office, coordinating and approvals were simpler and faster. "The number of drawing changes and requests for information was significantly less because the design was very much collaborative," says Brett Beagley, senior project manager.
Throughout the project, Lean methodology was used. This allowed for faster approvals and processing. It also led to a more empowering process that encouraged buy-in and accountability. Weekly cluster groups met to discuss their individual progress and tasks for the week. And the superintendent met weekly with the trade partners, who provided their own commitments for the work they'd complete that week.
What really kept the project moving, especially nearing completion, was the team's collaborative relationship with agencies like the Office of Statewide Health Planning and Development and California Department of Public Health. Beagley says it can sometimes take up to three months to get signoff from OSHPD, but due to the integrated approach of the project team, they were able to get those approvals much quicker.
Expanding capacity to respond to demand—and emergencies
Working together, the team was able to create something that will have a tangible and lasting impact for the region. In addition to the expanded emergency department and intensive care capacity, the new three-story building includes 34 exam rooms, seven triage rooms, three catheterization angiography lab rooms, shelled space for five more operating/cath/angio lab rooms, more than 17,000sf of additional shell space for a third ICU suite, as well as 11 separate smaller renovations for the existing emergency department and other parts of the hospital.
Ahead of schedule and below budget — without interrupting hospital life
The expansion building stands in what had been the physicians' parking lot located in the center of the medical center's campus. The new building directly adjoins the hospital's existing diagnostic imaging department, surgery department/PACU, and emergency department with the air ambulance helipad less than one hundred feet away. And just to make things more interesting, the only access to the building site was via a small road—dubbed "ED Alley"—that ended at the existing emergency department's patient drop off. To say the least, this building location presented several challenges.
With more than 80,000 people a year visiting the Sutter Roseville Emergency Department, the team couldn't allow a single interruption of access to the existing emergency department.
Whited says that throughout the course of construction, incredible amounts of time were spent with ED staff members planning and coordinating the numerous temporary emergency drop-off solutions that were implemented as the project grew and shifted. "I'm very proud to say we did not have a single unplanned visitor access issue throughout the course of construction," he says.
And not only did they avoid problems, they met the challenge — on time. "We were tasked with some pretty lofty goals, and we were able to meet them, both in budget and timeline," says Whited. In fact, he adds, "We were able to give the owner some project savings — we built it for less than it potentially would have cost."
Read additional project stories in the Fall 2020 issue of Hooked on Construction.