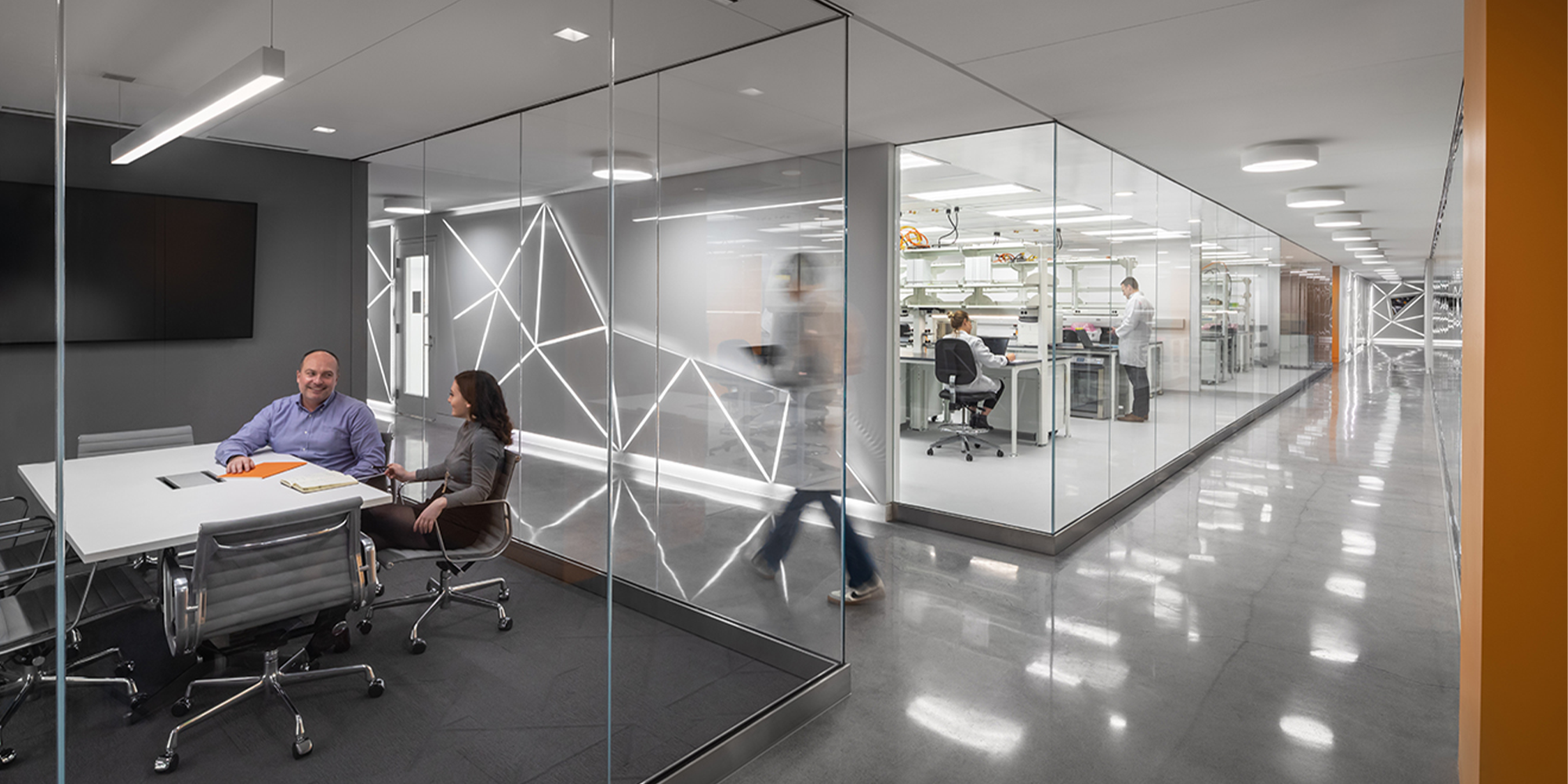 Transforming the Future
November 30, 2020
The field of stem cell research has come a long way in recent decades. One area in which it's still developing, though, is simply having enough facilities to be able to capitalize on these advances.
The Cedars-Sinai Biomanufacturing Center is helping to bridge that gap. The 23,635sf facility, completed in April, expands Cedars-Sinai's existing Induced Pluripotent Stem Cell (iPSC) core facility and adds a new Current Good Manufacturing Practices (cGMP) stem cell manufacturing facility. It will help pioneer the use of stem cells in regenerative medicine and drug discovery, providing Southern California valuable biomanufacturing infrastructure for research, innovation and treatment.
But before any of that became possible, the second floor of a six-story 1970s era building had to be transformed into a state-of-the-art facility meeting strict Food and Drug Administration standards. That's where Rudolph and Sletten came in.
Unique build, unique expertise
Stem cells are unique in their capacity to become any number of different types of cells. That makes them particularly useful for regenerative medicine, in which they're used to repair or replace tissue or organs.
"Cedars-Sinai is world leader in the growing field of regenerative medicine," says Rohit Prashar, senior project manager. But, he says, there's a gap in the process of producing and using stem cells. "Even though the science exists, you need to have a facility in order to create these regenerative cells. There's a shortage of bio-manufacturing facilities," he says.
The new facility helps address that. To do so, though, it has to meet the stringent cGMP protocols the FDA has set up to ensure the highest quality standards in facilities that produce drugs or therapies. "That's where expertise in this kind of construction comes in," Prashar says. "A company might have experience building a lab facility, but this is not your typical lab."
21st-century build in a 1970s building
To do a project like this, everything needs to be carefully tracked and the materials used need to meet strict air quality requirements. That gets tricky when you're working in a 50-year-old building. With decades of experience renovating and restoring aging buildings—as well as building clean room facilities for clients like Gilead, Johnson & Johnson and Novartis—the R&S team was well-suited to the challenge.
There was asbestos in the existing walls and a MonoKote fireproofing insulation that was particularly prone to breaking up into small particulate pieces. Neither issue is uncommon in an older existing building. "Typically, you always have some sort of particulate matter in the air and on desks," Prashar says.
But cGMP facilities have strict limits on the concentration of particulate matter that can be in the air of the facility. "It's the cleanest build you can follow on a jobsite, there's an entire specification on how to build clean, regulated by the FDA," says Korey Haberman, R&S superintendent.
Haberman says that meant stripping out existing MonoKote and installing new cementitious fireproofing that wouldn't break apart as much. And it meant that "anytime we had to interface with an existing wall, there was potential for asbestos … so there was a lot of coordinating with the abatement subcontractors to make sure the work was done ahead of time so we don't come up to that existing wall before it's ready."
Good neighbors
This state-of-the-art facility was slotted within a busy, working building. With other tenants above and below, no loud work could be done during business hours. To keep everyone in the loop and on schedule, meetings were held with the other tenants twice a week to share and coordinate planned activities for the days ahead. For example, waste lines ran along the floor below, Haberman says. So they'd coordinate, move furniture, do the work, and then be out of there with everything back to normal before the tenants were back at 9 a.m.
The roof posed a unique challenge. The top-floor tenants could hear everything above, so working during business hours was not an option. And West Hollywood doesn't allow outside work beyond 8 a.m. to 7 p.m. That only allowed one hour, from 8 a.m. to 9 a.m., to do all the work to install the needed equipment on the roof.
And there was lots to do. To get it all done, expanded work-hour permits needed to be obtained. But mostly, getting it all done required coordinating and planning.
"You can never plan enough when you're working on an older, existing building that is occupied," says Haberman. "If you weren't notifying the tenants, you wouldn't get to be in that space. So you're constantly staying proactive and staying ahead with your notifications and letting them know what your plan is and what you'll be doing. "That was the main success of the project — being proactive in our planning."
Read additional project stories in the Fall 2020 issue of Hooked on Construction.