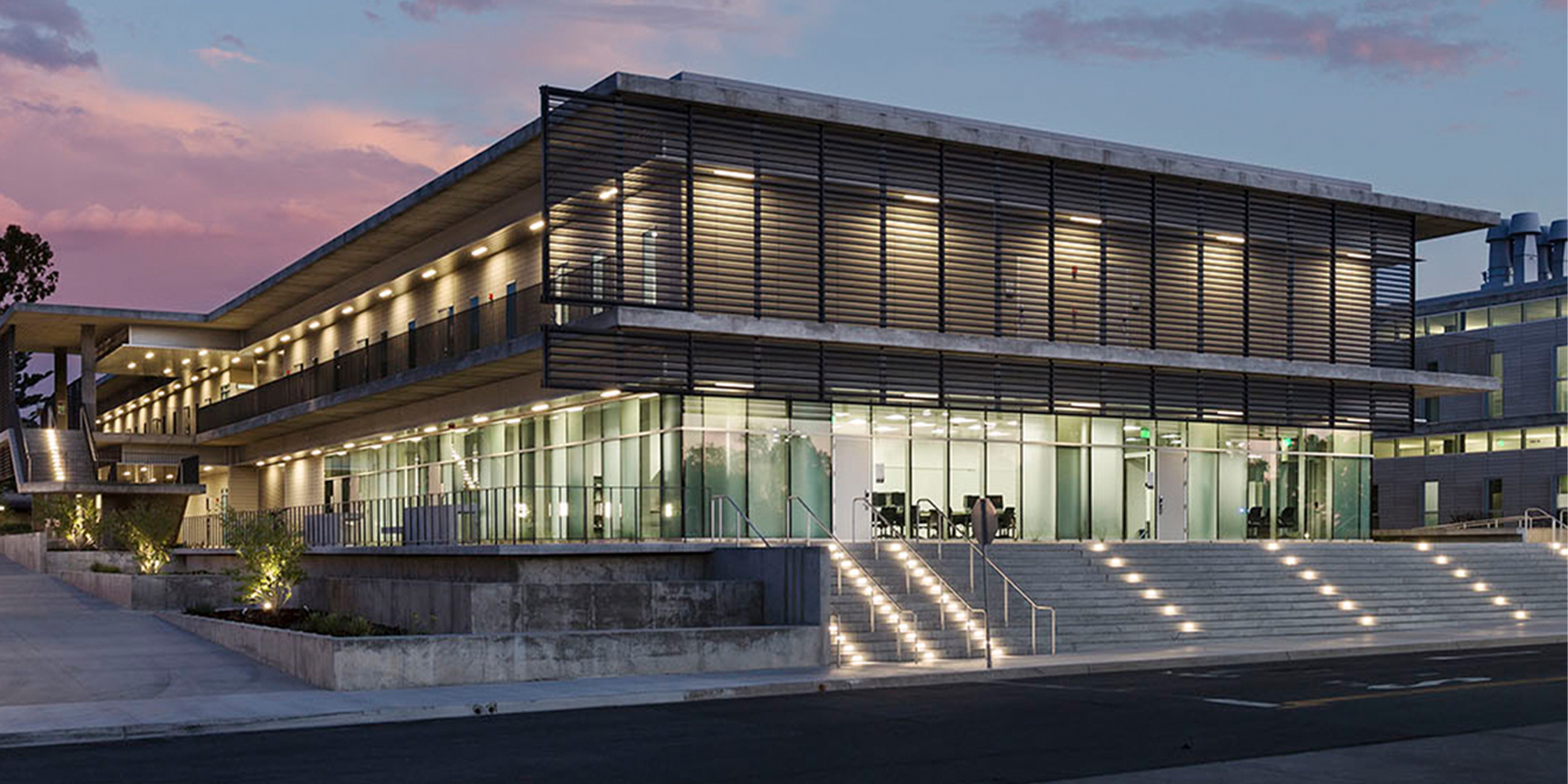 Southwestern Community College, Math, Science and Engineering Building
July 23, 2019
A 50-year-old facility can have a hard time keeping up with the needs of today's STEM students. When it's the only facility serving a region's science, technology, engineering and math students, the strain can be even greater.As the only institution of higher education in southern San Diego County, Southwestern Community College was in desperate need of an upgrade. Replacing its outdated STEM facilities would mean students could better compete for jobs in today's high-tech economy or for transfer spots at leading four-year colleges.
The upgrade was funded by a voter-approved bond measure that included funds for improved STEM facilities. The result was the new Math, Science and Engineering Building—which includes 15 laboratory classrooms, 19 standard classrooms and three large lecture halls, as well as study rooms, computer labs, office suites, a greenhouse for biology programs, and a rooftop telescope platform for astronomy programs.
Designed by Marlene Imirzian & Associates Architects and built by Rudolph and Sletten, the new facility allows the community college to offer more STEM courses and programs — and gives the community access to the state-of-the-art facility it needs and deserves.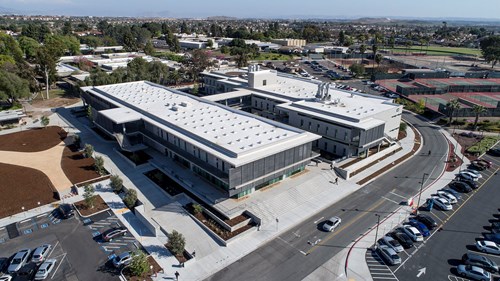 ON DEADLINE, DESPITE DELAYED DEMOLITION
Before those resources could be made available to the community, the old facilities needed to be torn down. That was more complicated than it sounds.
To make way for the future, a complex of half-century-old buildings, including a gym, needed to be torn down. The gym was too close to portions of the new building for construction to take place until it could be demolished. Utilities also needed to be run under the footprint of the old gym. But the gym couldn't be demolished until a separate project to build a new Wellness & Aquatics Complex was completed. That meant work on the new STEM building could only go so far.
Hazardous materials like asbestos also were discovered and needed to be removed.
So while the gym awaited demolition, work began on only a portion of the new building's concrete structure. To overcome the scheduling challenges, a complex phasing of construction was developed and an accelerated building schedule was drawn up to meet the January 2019 move-in date, in time for the spring semester. Asbestos and other issues were taken care of simultaneous with the demolition process.
In the end, despite the delays from the original schedule due to the late demolition of the gym, the project was completed on schedule, meeting the January back-to-school date.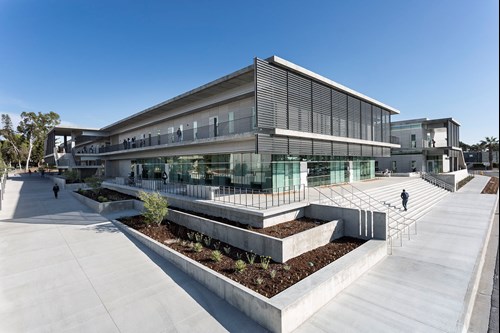 PUTTING TECH TO WORK
Building such a complex, state-of-the-art facility required using some of the same STEM-related advances the college's students are now studying there. Part of the issue was making sure the project owner and team remained informed of how the project was progressing. It also included ensuring the safety of people on campus wasn't compromised and that campus life wasn't disrupted much.
To gather and report all this information, R&S used various sophisticated technologies—mobile devices, aerial sensory technologies, software logs, webcams, drones, RFID readers, 3D modeling, tablets, construction management software and wireless sensor networks. Cameras with video of the progress and live web-cam footage was also used to demonstrate progress online in real time and maintain transparency.
But old-fashioned techniques were also important. Speeds bumps were installed to slow traffic where needed to ensure campus safety, and weekly meetings were held to review upcoming work. This hybrid of new tech and the time-tested effectiveness of face-to-face communication was key to meeting the accelerated schedule necessitated by the delayed demolition.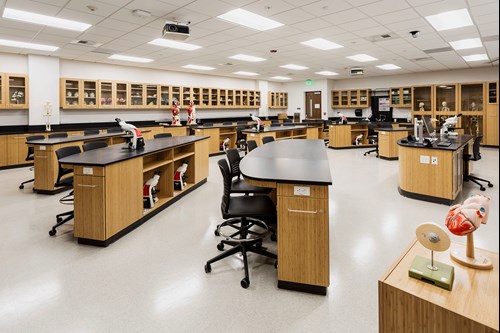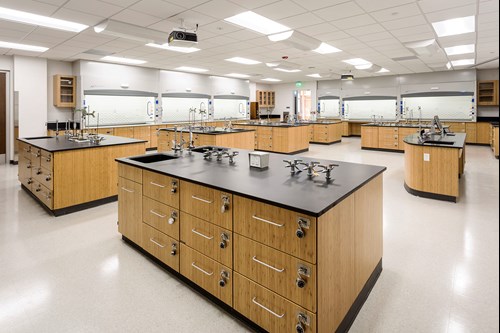 SUSTAINABILITY BY EXAMPLE
The new building doesn't just provide a place for learning—it's a living example of many of the advances STEM fields have made over the decades since the previous facility was constructed.
To help showcase these advances to both students and the surrounding community, the building was envisioned as an example of innovation and sustainability. Designed to achieve LEED Silver certification, the entire site was developed with sustainable materials. Waste diversion projects helped keep more than 75 percent of construction waste out of landfills through reuse, salvaging, and recycling. A large below-ground cistern collects roof runoff and rainwater for use in irrigation. And a landscape featuring drought-tolerant native plants means low water use for irrigation anyway, key in drought-prone San Diego County.
Inside the building, breezeways, walkways and terraces open it up to the outside, and strategic placement of Solatubes and clerestory windows maximize natural light. Exterior shade screens and a reflective roof surface help regulate the building's temperature naturally.
All these features serve as illustrations for community members and STEM students of the sort of technological and sustainability advances that are possible. Together, they make the building a learning tool in and of itself.
"This new building will create tremendous opportunities for the South Bay community", said Robert Deegan, interim superintendent/president. "Guided by the dedicated staff and faculty of the Math, Science and Engineering Department, the students who will walk these halls will create amazing things."