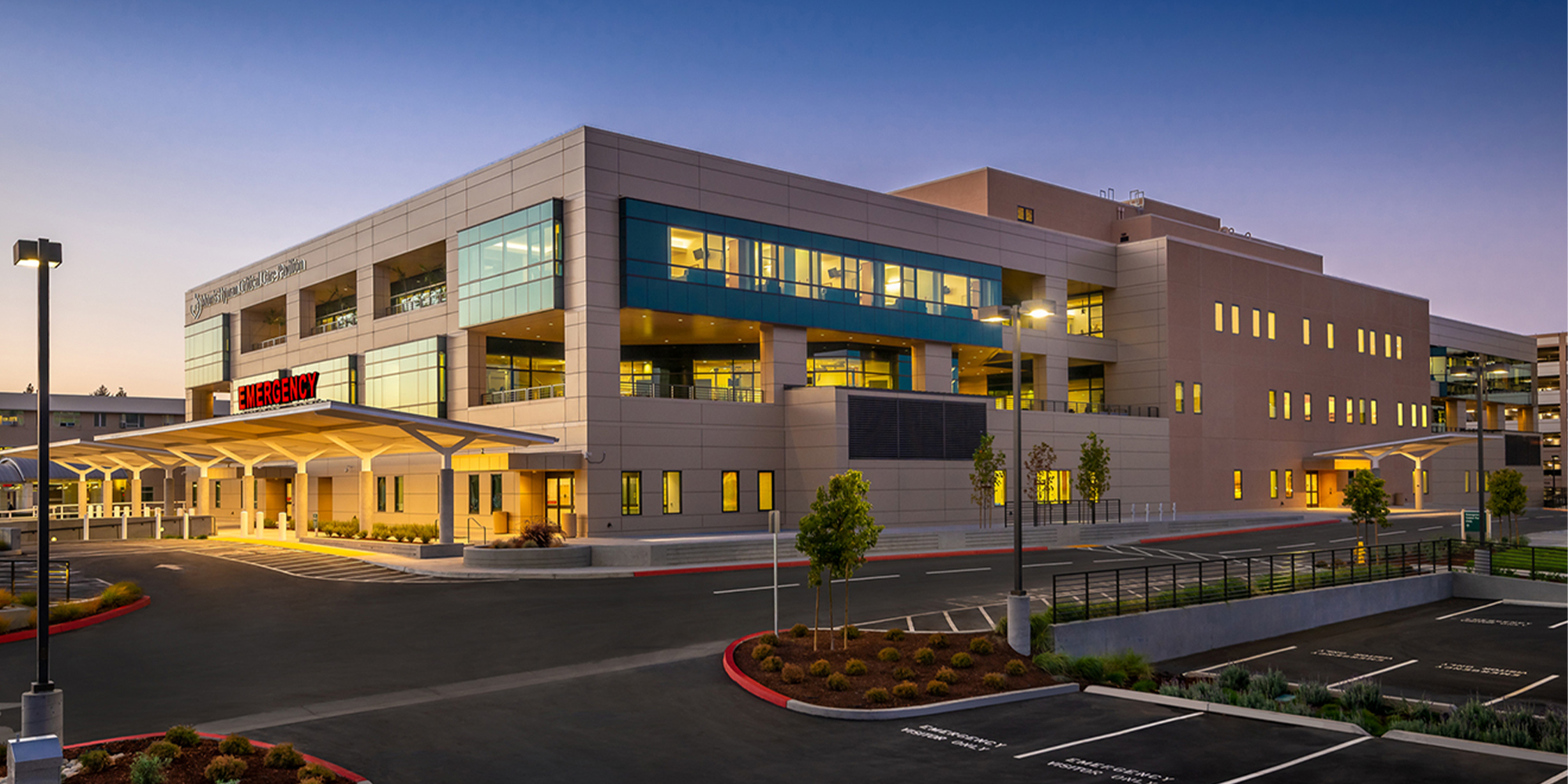 Morris Hyman Critical Care Pavilion
July 23, 2019
Already the second busiest emergency room in Alameda County, Washington Hospital has its sights on an even brighter future. Serving an area of more than 320,000 residents from its location in downtown Fremont, a Bay Area city that has seen its population steadily increasing, the hospital's success benefits far more than just itself.
The Morris Hyman Critical Care Pavilion, completed in June 2018, gives those residents access to a new emergency room four times as large as the existing one and critical and intensive care units that have doubled in size. It also makes the hospital eligible for trauma center designation, potentially increasing the funding the hospital gets and the number of patients it sees. The new 224,000-square-foot pavilion includes three stories of acute care facilities, 48 ICU beds and 68 surgery beds.
But building that expansion required overcoming some tricky challenges—including an active earthquake fault and a busy hospital that couldn't just press pause during construction. After some innovative solutions from Rudolph and Sletten and its partners, southern Alameda County residents now have the next-level hospital they need and deserve.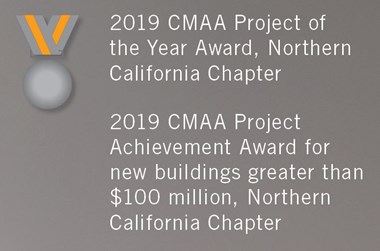 Ready for extreme emergencies
Within 1,000 yards of the hospital lies the Hayward Fault, which scientists say could experience its next major quake at any time. When—not if—that happens, Washington Hospital will likely have a major role to play in the safety and recovery of some of the millions of people living near the fault.
So still being operational once the shaking stops is critical. To try to ensure that, Rudolph and Sletten leaned on its experience and incorporated a system it had used for other projects in seismically active areas. In the foundation of the new hospital building, base isolators with viscous dampers—essentially a system of bearings, pistons and hydraulics—will absorb the shaking of an earthquake and float the building above the seismic waves.
But building such a system wasn't easy. It meant creating intricate computer models of the system, then building mock-ups in the parking lot. It also meant finding a way to keep utility connections connected during an earthquake despite the movement of the ground and building. Using virtual design tools, the team planned the extra clearance and flexibility that the utility connections would need, and based on their experience from other jobs allotted extra time to plan for those considerations.
Just installing those connections was a challenge in the foundation's tight, four-foot-high access space. But the team's research turned up a low-profile, low-voltage LED that could light the space without the hazards of stringing traditional bulbs through the space. Now, the Washington Hospital base-isolated foundation allows the pavilion to move three feet horizontally in any direction and one foot vertically, hopefully keeping the critical facility open and active when the big one hits.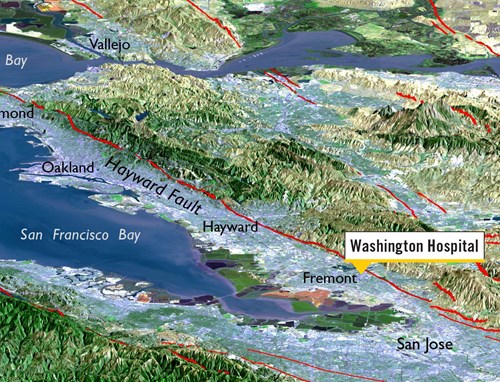 Located within 1,000 yards of an active fault line, the new hospital's foundations include base isolators with viscous dampers, making it one of the only hospitals in California incorporating this system. The isolators are designed to allow three feet of movement in any horizontal direction, and one foot of movement vertically.
Innovating without impeding
Adjacent to the bustle of the construction project, the bustle of a busy hospital continued uninterrupted. Everything from traffic to noise to smell to deliveries had to be kept from impacting the life-saving work going on next door.
The solution to that was planning and proactive coordination. The contact numbers of the foremen in change were provided to hospital staff—eliminating middlemen and allowing for immediate work shutdowns if necessary. Weekly work plans were shared to detail any work that might affect hospital operations. And extra precaution—flagmen, barriers, signs, direct communication—made sure emergency vehicles and patients had clear, quick access to the hospital.
This was especially important for helicopters. When the steel structure of the new building was going up, a giant crane loomed 40 yards from the helipad. Poor communication had the potential to result in a disastrous collision. So more than 200 construction site personnel were trained on a protocol to ensure access around the crane for the helicopter. As part of that, they were told to imagine a loved one was in that helicopter and needed to get to the hospital. This training was put to use almost every other week, when the foreman would get a call from a helicopter five minutes before landing.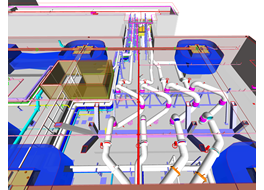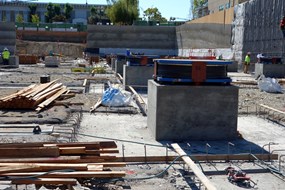 Using VDC—a technique traditionally employed on stationery buildings—the team coordinated clearances around all basement utility connections. When the ground moves, the utility connections have flexible connections to allow for this movement. 
Leading edge of patient-focused care
Just as expectations around seismic safety technology have evolved, so have expectations about the patient experience. Today's hospitals need to be not just safe and effective but comfortable, calming spaces that are focused on the needs of the patient and their families—not just the bottom line.
The initial idea for the expansion was conceived more than a decade ago, so to make sure Washington Hospital stayed on the leading edge of patient-focused care, new electronic, sustainability and comfort updates were needed.
Today, the pavilion includes more rooms set up for in-room procedures, more rooms that have floor-to-ceiling windows to let in natural light, and more rooms that are single-occupancy for patient privacy and comfort.
Elsewhere, large waiting areas ensure families can spread out in comfort, and alcoves and conference rooms offer them privacy. Terraces, open-air courtyards and the ability to wheel beds to outdoor areas all help the space feel more comforting and calming than yesterday's drab, intimidating hospital.
Wi-Fi is available throughout, of course, and wireless communications systems and access to electronic medical records help today's technologies serve patient health. To meet sustainability standards, building materials with limited emissions of volatile compounds were chosen, the stormwater system was designed to keep contaminants from entering local waterways, and energy- and water-efficient lightning and fixtures were used.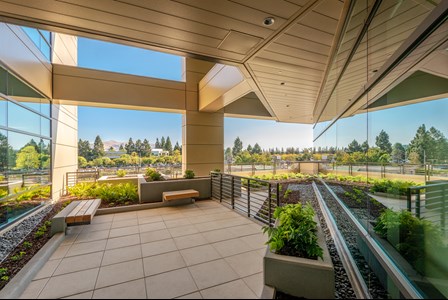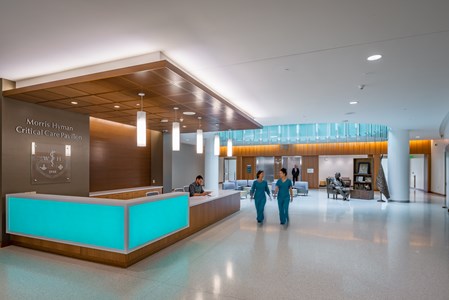 The new CCU/ICU has two large waiting areas for families, as well as several secluded alcoves and conference rooms, all with Wi-Fi access. Building features also include multiple terraces and open-air courtyards, providing natural light for patients and staff. The project is targeting LEED Silver for Healthcare certification.
Keeping everyone together

To bring all this together in a busy, urban hospital takes constant communication. Over the course of the several years a project like this takes to come together and be constructed, relationships had to be built and trust formed.
This was accomplished with regular, informal conversations and the occasional more formal meeting. That avoided many of the misunderstandings that come from a poorly worded email or text.
"The project was a success because we all were in direct communication," said Will Bartley, Senior Project Manager for Rudolph and Sletten. "We decided early on that we were going to talk instead of using email, and we were going to do it no matter what."
That communication often started with conversations over coffee at 6 a.m. between the project directors and managers. And it included weekly meetings with the hospital to review progress and trends.
It continued online as well. Getting everyone on the same network servers so they could access the same versions of record and documents was key to avoiding redundant work. And replacing laptops and desktop computers with Microsoft Surface hybrid tablets meant superintendents could get out of the office and keep those lines of communication open. All these efforts helped keep everyone on the same page.
"Whether it was my concern, the owner's concern or the inspector's concern," Bartley said, "we didn't cast blame, but instead discussed any potential issues daily and addressed them as a team before they had an impact on the project."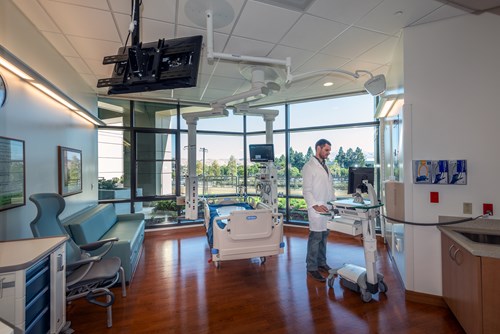 The new facility incorporates the latest trends in healthcare design and features more single-occupancy rooms ensuring greater privacy for patients, more space for family members, and enable doctors to perform more procedures in rooms.