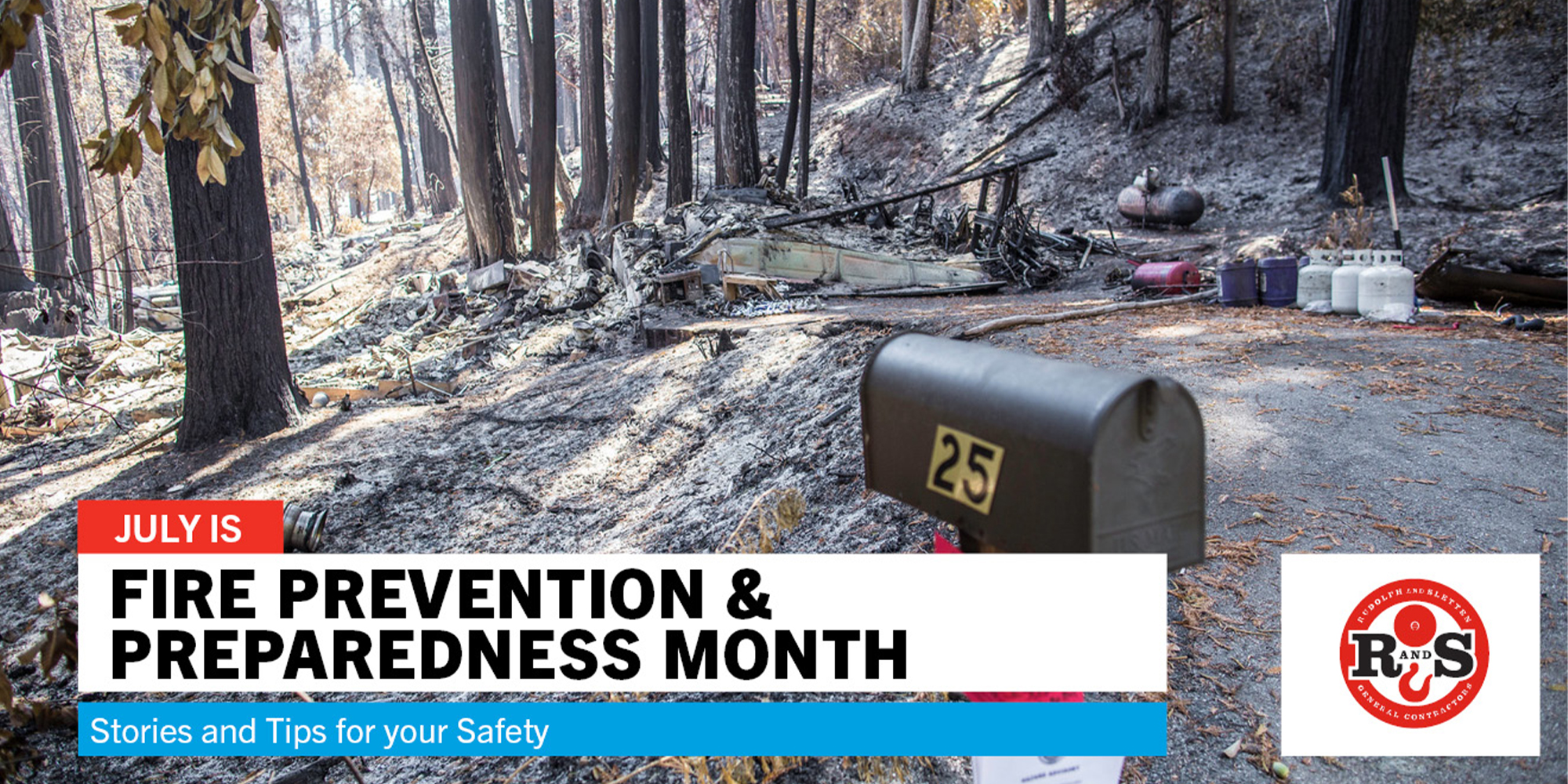 July is Fire Prevention & Preparedness Month
July 12, 2021
Fire season is upon us. The combination of scorching summer temperatures and exceedingly dry conditions can be a recipe for disaster. Many may remember last year's El Dorado Fire that started over Labor Day weekend by a pyrotechnic device at a baby gender reveal party in Southern California. The smoke ignited adjacent grass and quickly grew into a mega blaze that destroyed 22,744 acres over 23 days, forcing mass evacuations and killing a veteran firefighter.
One of our very own R&Sers went through a fiery encounter a mere three weeks after the El Dorado Fire. He and his family survived the Glass Fire, which burned more than 67,484 acres, taking with it 1,555 structures, including 308 homes and 343 commercial buildings in Napa County and 334 homes in Sonoma County.
He was not the only R&Ser affected by last year's fires. Another individual faced the flames, but from a different perspective. As a volunteer firefighter, he spent two weeks on the front lines of the CZU Lightning Complex wildfires that burned for 38 days.
Meet these two heroes whose quick reactions helped themselves and others stay safe amid the burning chaos and take note of their potentially lifesaving tips.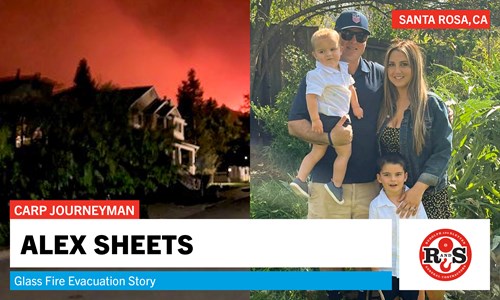 Alexander Sheets, Carpenter Journeyman
Alexander Sheets has an enviable life. He lives in Santa Rosa with his wife, two children, two cats, and a dog, and together, they're one big happy family. Residing in the suburbs, thoughts of wildfire dangers seemed unlikely—until one late September evening. "We were watching Sunday night football at about 9 p.m. I took the trash out and noticed an orange glow in the distance," said Alexander. Concerned, he told his wife about it and checked on the situation 90 minutes later. The glow had morphed into full-on flames on the hills. "We packed some bags, woke up the kids, put everyone in the car, and drove to my mom's house in Rohnert Park. Once we got there, I texted John Bailey, my boss, and told him what was going on. We got no sleep that night, just stared at the news all night. We did a week and a half there."
Shortly after Alex and his family fled, the neighborhood was evacuated. For three days, Alexander and his family didn't know whether they'd have a house when they returned or not. "My four-year-old son said, 'Dad, are we gonna have a house when we get back?' I said I don't know buddy, stay strong." Fortunately, the fire did not reach their home, but the aftermath it left behind created a spooky atmosphere. "It was very smoky. There was ¼ of ash all over the ground. It was a very eerie feeling," said Alexander.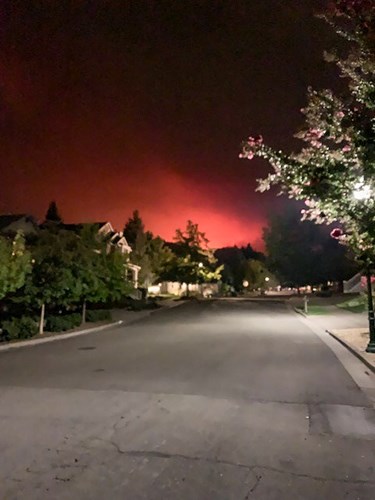 Until a natural disaster hits close to home, many people aren't actively thinking about putting together a plan. As such, Alexander's biggest takeaway from the experience was advanced preparation. "Have your important items all in one spot. Keep water and snacks ready to go. Hope for the best and prepare for the worst. We bought the house about four months before that. We never thought we'd be getting evacuated for a fire. You see stuff on the news and don't think it could ever happen to you, but it can."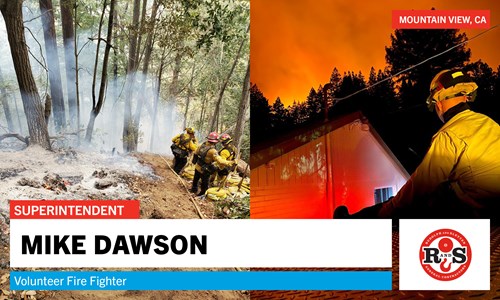 Mike Dawson, Superintendent
Before entering the construction trade, Mike Dawson had other ideas. "Back about 100 years ago, my goal was to be a fire medic, so I did my schooling and internship and got way overqualified. Still, it was incredibly competitive. At the time, 500 people were applying for six positions. I was a paramedic/firefighter back in the day." Trained in fire science and basic to advanced life support, Mike had the necessary skills and experience to realize his dream. But as life sometimes goes, dreams do not always come to fruition. Mike then turned to the world of general contracting, where he has thrived ever since.
Happily, Mike's training has not gone to waste. In his spare time, he's a volunteer firefighter. Since taking on this role, Mike has battled an unbelievable number of fires. "Between structure, wildland and vehicle fires, I've fought hundreds, if not thousands, of fires. I enjoy it."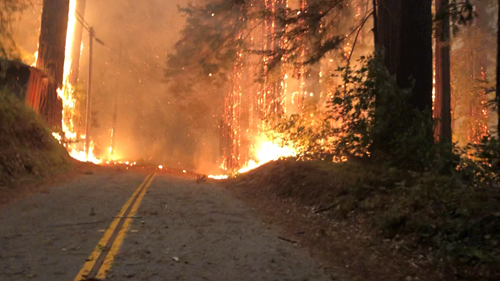 For Mike, keeping his community safe is priority one. Over the years, he has encountered many highs and lows. He's done it all, from CPR to assisting with childbirth. "I've delivered 120 kids, including my two." He's also participated in search-and-rescue involving animals. He remembers one incident with vivid detail. "We had one situation where a lot of horses were located. It looked like a scene right out of the West—trailers burning, fires everywhere, trying to get the animals out."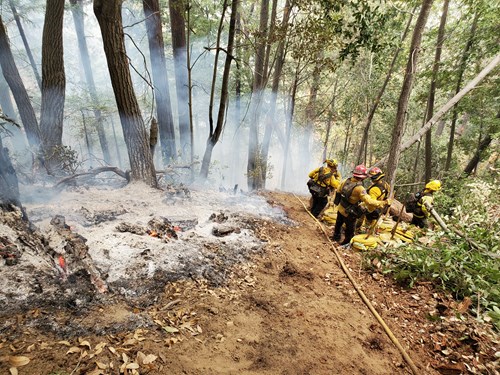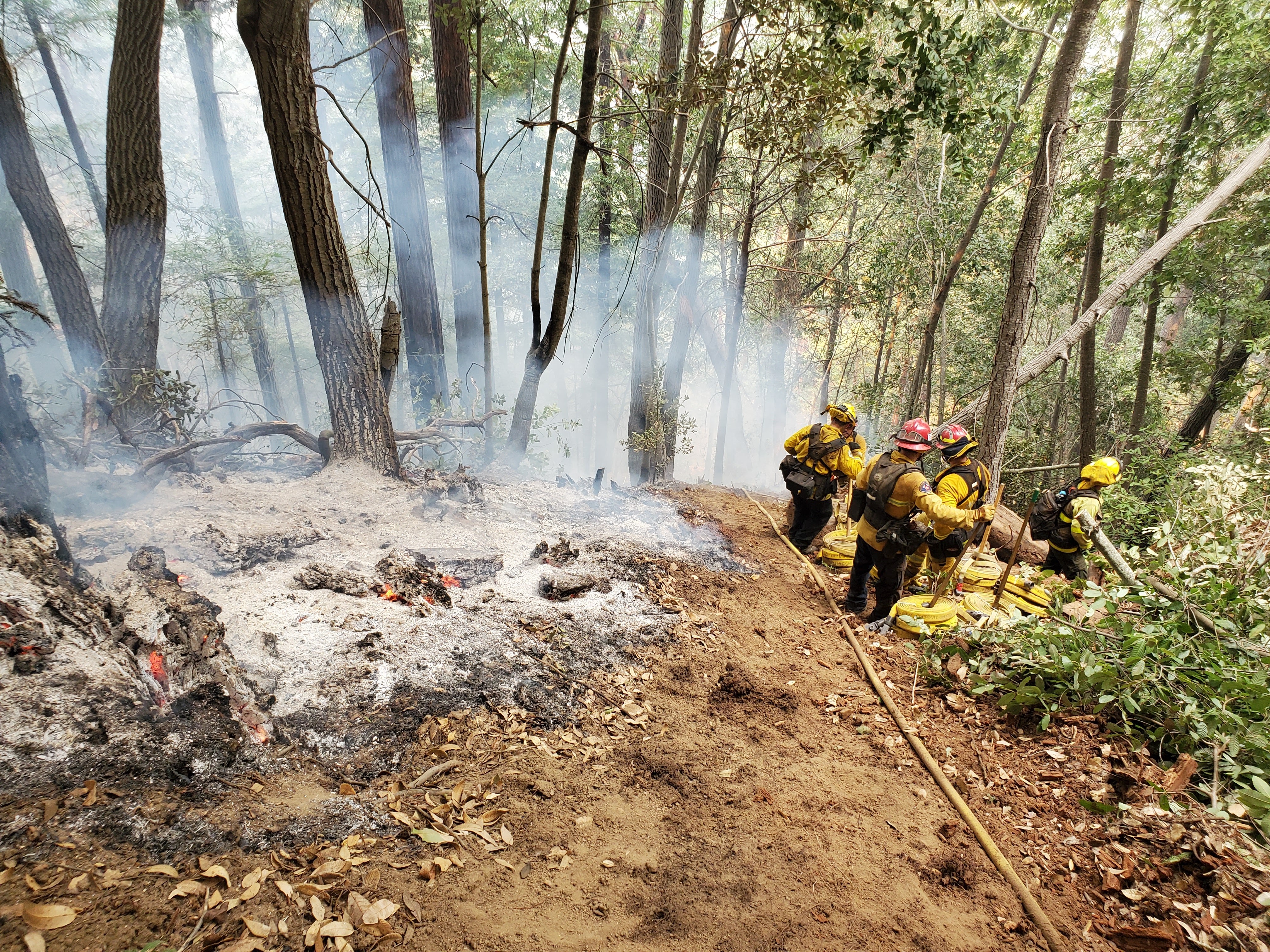 Grateful for the lifesaving efforts of Mike and his fellow volunteer firefighters, people have shown their appreciation in a number of ways. "One of the coolest things was to see a small community pull together. They brought us 20-30 pizzas, water, showed up at the firehouse to give us hugs and say thank you. One guy even pulled up with a refrigerated truck with 50 tri-tips. People really made sure we were being taken care of [out there]."
So how can we protect ourselves against fires?
Mike offers the following essential fire prevention tips:
If you have property, defensible space is the big thing. Clear away grass or wood around the house.
Get anything flammable cut down to where it's controllable or removed.
Always have an emergency kit put together for when it's time to get out.
Test your carbon monoxide sensors and smoke alarms regularly. People take them off the wall and forget to put them back. Make sure you put the battery back in and reconnect everything.