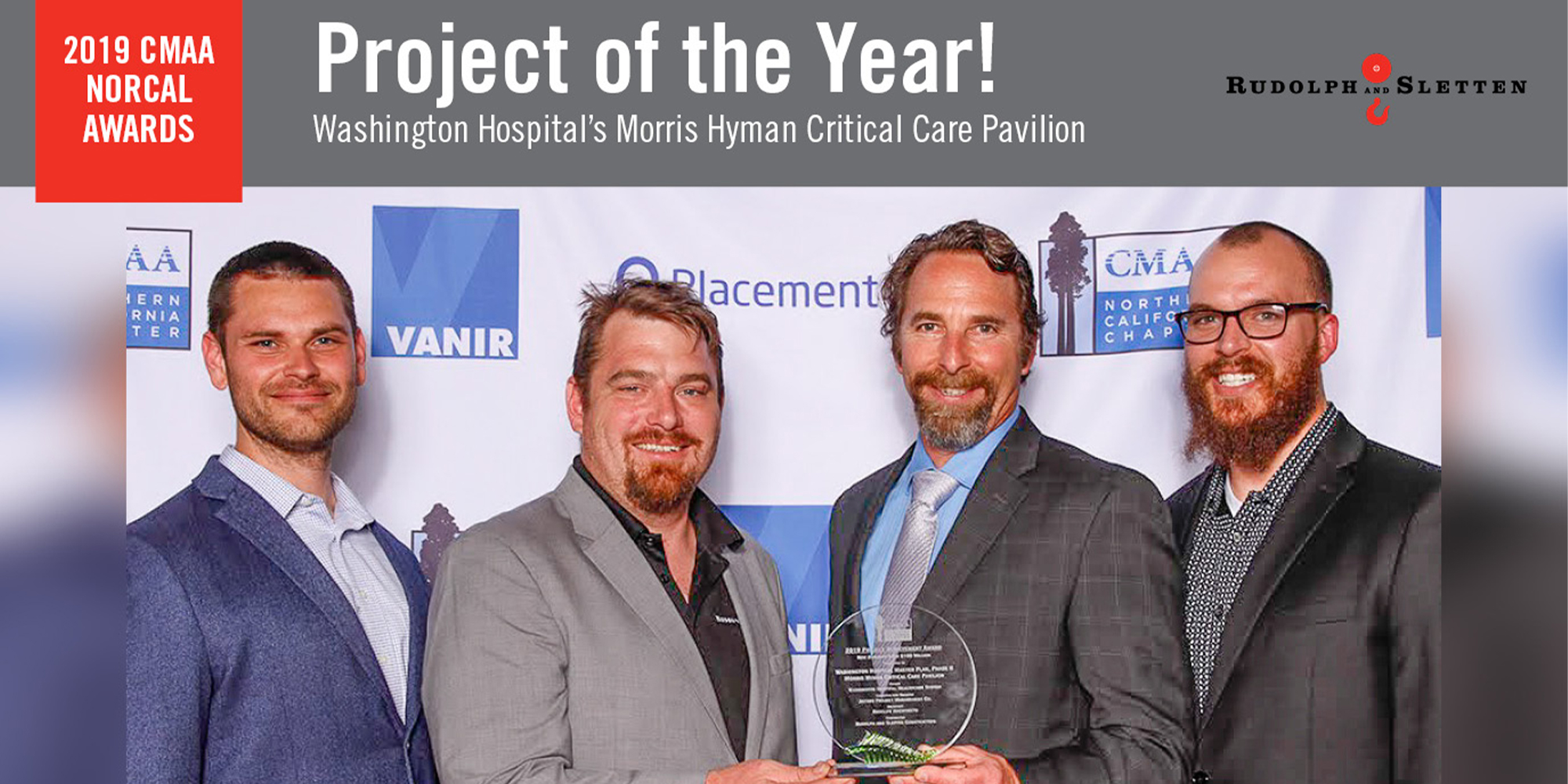 Northern California Project of the Year is Honored at CMAA Awards
May 8, 2019
The Washington Hospital's Morris Hyman Critical Care Pavilion's project team was recognized on April 25th at the Construction Management Association of America (CMAA) Northern California Chapter's Annual Awards Gala.
The annual Construction Management Project Achievement Awards program recognizes outstanding achievement in the practice of construction management.  The process is competitive, with the best in Northern California construction management submitting nominations. The Judging Committee considers outcomes, overall management, safety, quality management, cost management, schedule management, complexity, innovation and creativity, and customer satisfaction as the basis for the award.
Washington Hospital's Morris Hyman Critical Care Pavilion was honored with Project of The Year and a Project Achievement Award for New Buildings greater than $100 million! Working collaboratively with the owner throughout the project Rudolph and Sletten, general contractor, Jacobs, construction manager and Ratcliff Architects  formed the successful team. In attendance to accept the award were (from left to right): Brad Bonde, Will Bartley, Laszlo Vincze, and James Seifert.
Project team members not in attendance: Anmol Mathur, Ben Bowerman, Brandan Bohl, Greg Pawloski, Jay Doyle, Jill DePaula, Joe Melhado, Johnny Sharp, Kurt Lewis, Kyle Ivie, Mark Jensen, Martin Ochoa Jr, Masha Volhina, Mike Hazel, Paul Kangas, Rich Curin, Robert Muniz, Ryan Kane, Ryan Shilling, Sammy Rosales, Sean Batzer, Sergio Gonzalez, Steve Ryder, Terry Burton, and Ty Jensen.
Read more about Washington Hospital Morris Hyman Critical Care Pavilion here.
Congratulations to the Washington Hospital team for their achievements on this award-winning project!