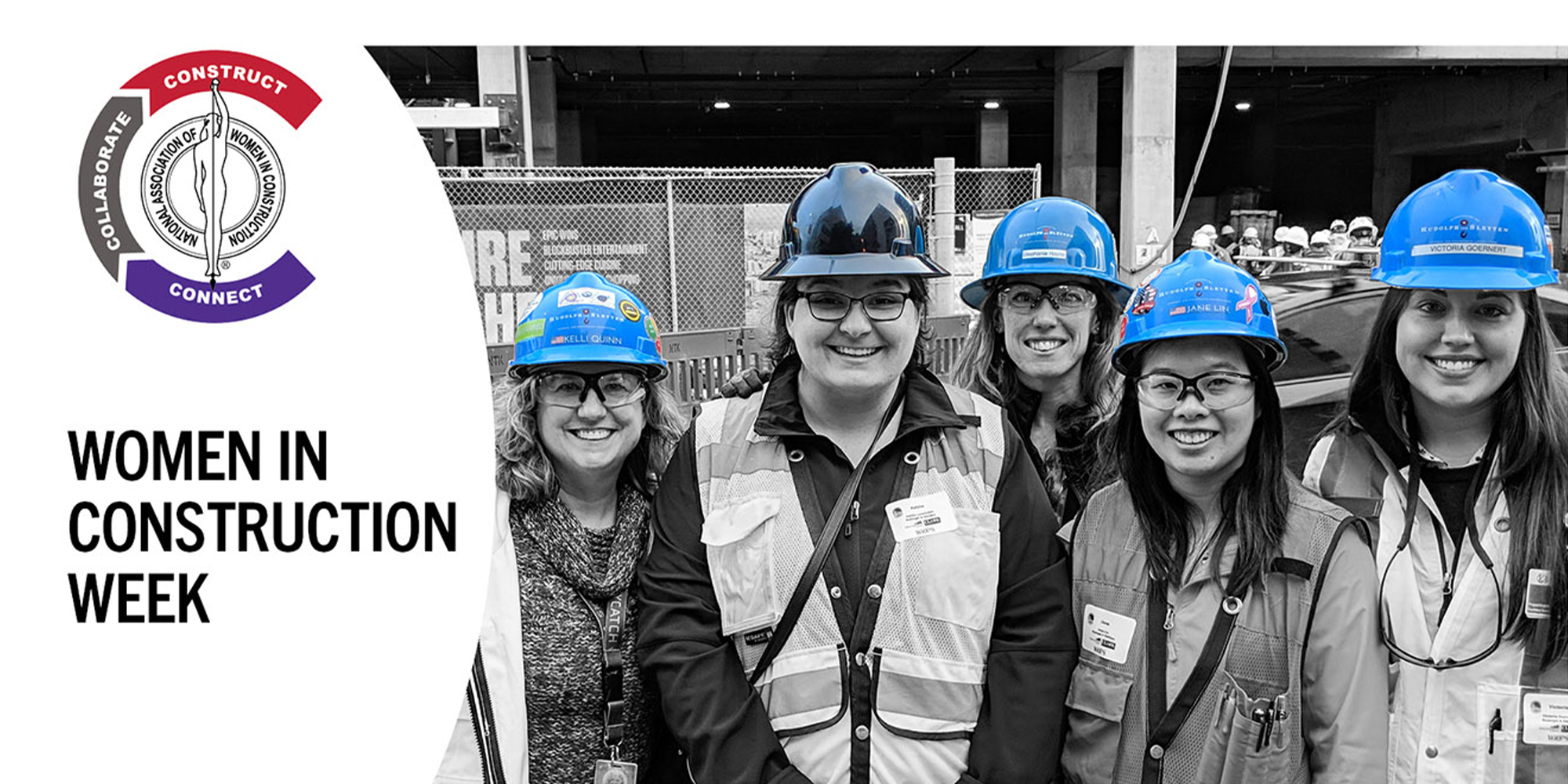 We're Celebrating Women in Construction
March 8, 2021
March is about Employee Appreciation and Women in particular!
In celebration of Women in Construction Week (March 7-13) and Women's History Month, Rudolph and Sletten is spotlighting some of the many strong, empowered female employees who enrich our organization, play a vital role in our company's success and who we feel lucky to have and so appreciate! Starting today and for the rest of this month, we're proud to be sharing their stories with you. 
---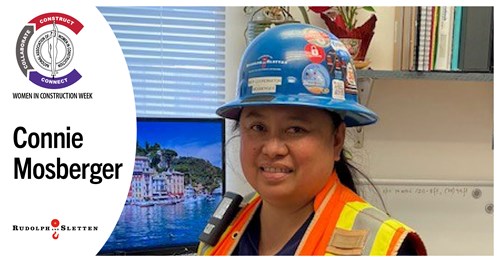 Connie Mosberger, MEP Coordinator -
San Carlos Region
"In junior high school, we did an experiment that used a battery and foil to light a light bulb. That was my first experience with electricity, and that's when I knew I wanted to be an electrical engineer. My parents were very supportive in my career choice. They've never said, 'That's men's work.'
"My family immigrated to the U.S. when I was eight, and my parents worked hard to provide a better life for us. They were both accountants back in the Philippines, and when they came to the U.S., they had to start from the bottom. The work ethics they instilled in me were, 'Work hard and enjoy what you're doing.'
"I've been in the construction industry for 25 years, and I enjoy it. My feelings of empowerment come from maturity and experience. I'm comfortable with myself and my capabilities. I like to work, and I like the work I'm doing. When we're testing systems out in the field, I tell the guys with me, 'I'm a Capricorn, so I'll keep going until we're done. But if you need a break, let me know.'"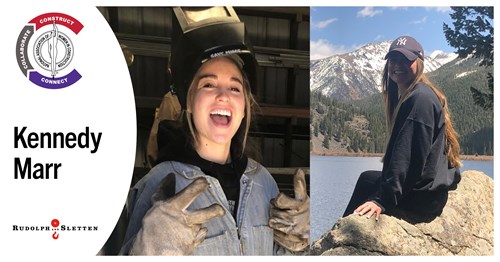 Kennedy Marr, Cost Engineer -
San Carlos Region
"When I was young, I helped my dad build a playhouse in the backyard. That's where my love for construction started. Not having grown up with a lot of money gave me the drive to go to college, get a degree in architecture, get a good job, work hard and make a name for myself.
"At R&S, I help put estimates together on the pre-construction side. I really enjoy building relationships with the subs and dissecting the buildings to understand how they're put together. I love watching projects go from design on paper to the finished product.
"I'm one of the only women in the Estimating Department at headquarters, and I'm in the beginning stages of my career. I feel comfortable, welcomed and supported, and I'm not afraid to ask questions because that's how I learn. Through my involvement with WiOPS, I've met women inside and outside R&S who I can reach out to for mentoring, and that's been awesome."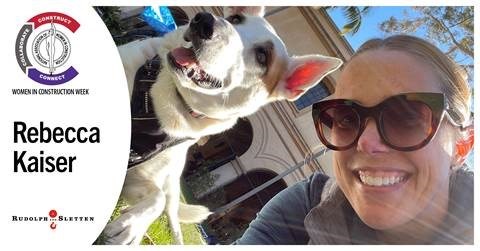 Rebecca Kaiser, Marketing Manager -
San Diego Region
"The Marketing team helps R&S win more business. My job allows me to combine my skills in writing, editing and publishing while building something with purpose. We create proposals that can result in the construction of a new hospital or school.
"The Marketing Department tends to be female-dominated, and increasingly on the client's side, R&S is answering to women. Our team is working on erasing the male-dominated language in our proposals. I like doing this, and it's important to clients.
"I have a very strong Midwestern work ethic. I come from Illinois, from hardworking middle-class parents who expected me to work hard and always do my best.
"I'm comfortable working in a male-dominated industry. I was educated in the liberal arts by a lot of feminists, and I have great friends and three wonderful sisters who are like-minded, strong, powerful women who have always
helped guide me. I've never been shy around speaking my mind and
working with men."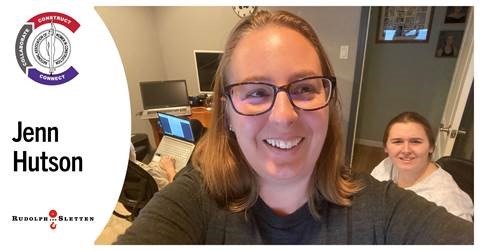 Jenn Hutson, Project Accountant -
San Carlos Region
"I feel very comfortable working in a mostly male world. I don't feel that I've been treated any differently because I'm a woman. I've always felt respected and welcomed.
"I recognize my own self-worth. I know what I'm doing, and I have a lot of confidence in that. Part of my self-confidence is innate, and a lot of it I developed over time in this environment. Passions can run high on a jobsite. Sometimes, somebody gets angry and I'm thrust in as a mediator, helping the managers figure out and navigate the troublesome waters. I've been with R&S for 20 years, and I think the Project Managers who knew me 20 years ago would not recognize me today.
"I've done trainings for new employees, and I always want some of my self-confidence to ooze out and seep into them.
"I'm most proud of my reputation at R&S. Newer employees are told that if they have a problem or question, go to Jenn. I'm proud of being known as a safe space."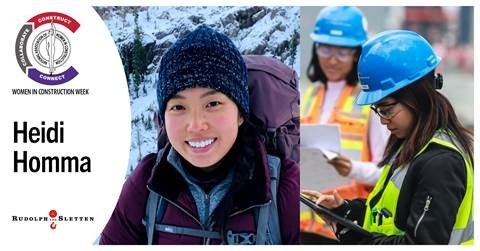 Heidi Homma, Senior Project Engineer -
San Carlos Region
"I feel very comfortable working in the male-dominated construction industry, and I thank the women who came before me. I'm never treated as a woman. I'm respected for my skills and my contributions to the team, and I really appreciate that.
"My managers and superintendents trust me to take initiative. They trust that I view issues objectively and make the right choices. I love seeing my team every day and working with them, the subcontractors and the designers to solve various issues.
"My mom and sister are very independent and rarely ask for help. If anything, they pride themselves on being asked for help by others. I admire them and I'm driven to be like them, though I feel comfortable asking for help
when needed.
"I try to bring a positive attitude to work each day and lift the load off people who are feeling stressed. I love seeing my co-workers faces soften and lighten up when I interact with them."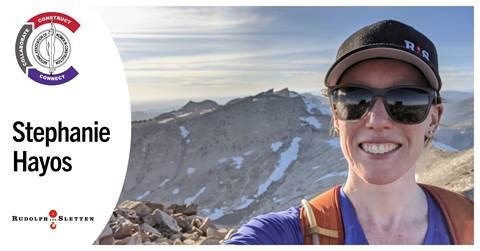 Stephanie Hayos, Senior Field Engineer -
San Carlos Region
"My whole life revolves around doing things at 130 percent. Putting in everything I can all of the time is exhausting, but it's my nature. Sometimes, it's the small feats that are the most triumphant for me even though they may have no significance to anybody else.
"I joined R&S with a degree in environmental restoration. I didn't know anything about construction. I'm ambitious, collaborative, I like to learn and I knew I was detail-oriented enough to figure things out. Here I am four years later, running a large scope of work in the field.
"Upper management has been involving me in new programs they're trying to incorporate into the company. Being on the front line of these programs is pretty cool. As a result of my lean construction training, I now sit down with my crew every week and ask them, 'What can I do to improve your processes?' What they tell me is making me a better manager."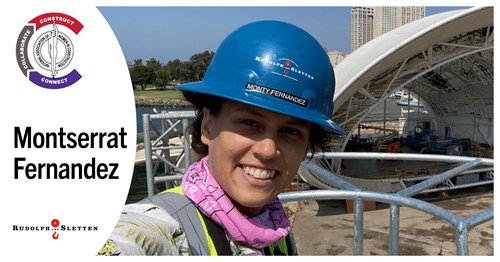 Montserrat (Monty) Fernandez, Project Engineer – San Diego Region
Right out of the gate, Monty has differentiated herself by her intelligence, inquisitiveness, unquenchable thirst for knowledge, the speed at which she picks things up and her constant push for more responsibility.
"From day one, she's wanted to sit there with me and my executives writing bids," says Dan Stewart, Project Manager, and Monty's manager since 2019. "She has a great work ethic, commands the respect of her male colleagues, and she's always looking for ways she can improve. She has the confidence to know she can learn anything quickly and get it right. She has the humbleness to know she's still learning."
Monty is also helping bring a new generation of construction professionals into R&S. As a member of the company's recruiting committee, she attends career fairs and talks with college students about life at R&S. Within months of joining R&S, she took a fresh-out-of-college Field Engineer under her wing and empowered the new employee to be successful.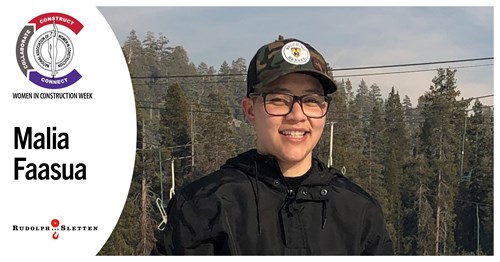 Malia Faasua, Senior Project Engineer -
Irvine Region
 "I manage subcontractors throughout the duration of a project to make sure the project is delivered on time and within budget. Every day there's a new issue, and that's what I like most. I like attacking and overcoming challenges.
 "I've always had a passion to build things. My uncle remodels houses, and when I was in high school, I had fun helping him out on weekends with various tasks. I painted, installed flooring, and crawled into small spaces that other crew members couldn't fit into.
 "I'm knowledgeable about issues that come up each day at work, and I am confident in my abilities to deliver the project on time, within budget and to the client's satisfaction. I've built good relationships with the subcontractors, and I feel respected by them. If they have an issue, they come to me and we resolve it together.
 "PEs who I've mentored in the past still come to me with questions because they trust me and are comfortable asking for my opinion. I like that."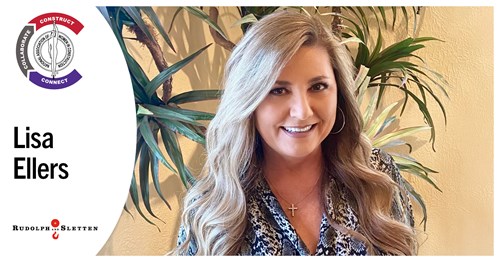 Lisa Ellers, Field Office Coordinator –
LA/OC Region
 "The first construction project I worked on had about 600 field personnel, and the majority of them were men. I was new to the industry, and that was a little intimidating to me. I had to learn how to be forceful enough to get the cooperation I needed in order to meet my deadlines.
 "That was six years ago, and I'm much more experienced now. I am very strong, and I feel comfortable and confident working in this industry. I enjoy being able to contribute in a team environment, and my team knows they can count on me.
 "My mom is 89, and she's very independent. My father died 25 years ago, and my mom is still living alone, driving herself and taking care of everything. She and my dad were hard workers. They were very dedicated to what they did, loyal and really organized. I am the same way. I give 100 percent to every job because that's how I am. I don't want to disappoint myself."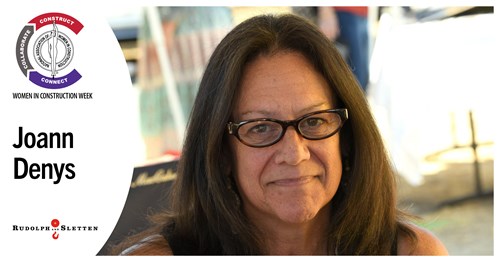 Joann Denys, Senior Field Office Coordinator - Roseville Region
"I've been in the construction industry for 44 years. What I love about construction is that you start with just a piece of land, and then before you know it you have a building. It totally amazes me.
"I am Native American. My background was helpful when I worked on the Red Hawk Casino project. I already knew a lot of the folks on the reservation. I was introduced as the person they could come to for whatever reason. The project was very challenging, which I enjoyed, and our team was a great group. I'd get there in the morning and not want to leave.
"My dad has always been a hard worker, and I'm just like him. When I'm working, I like to take charge. I make sure every T is crossed, every I is dotted, the job gets done as expected and to the best of my abilities.
"I make and sell handcrafted bead jewelry. When I retire, that's what I will be doing full time."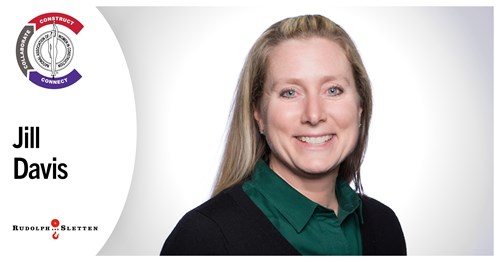 Jill Davis, Senior Project Manager -
Roseville Region
 "I've heard my whole life that women don't belong in construction, but I've never believed that. My dad joined the carpenters union the year that I was born, so construction is something I've always been around. It's very comfortable and always interesting to me. I love that every day there's a new challenge, and I'm always learning.
 "I don't need constant reinforcement to feel I'm doing okay. There are many strong women in my family who have worked very hard and in difficult jobs. That work ethic is ingrained in me. I'm in an industry that positively benefits our community and makes me proud. I show up every day, I do the work, I like it and I like the people I interact with.
 "With hospital projects, many end-users are female. They want to understand the construction process and how it will impact them and their patients. I describe what the process looks and sounds like in a way that they can relate to, and that's huge for them."