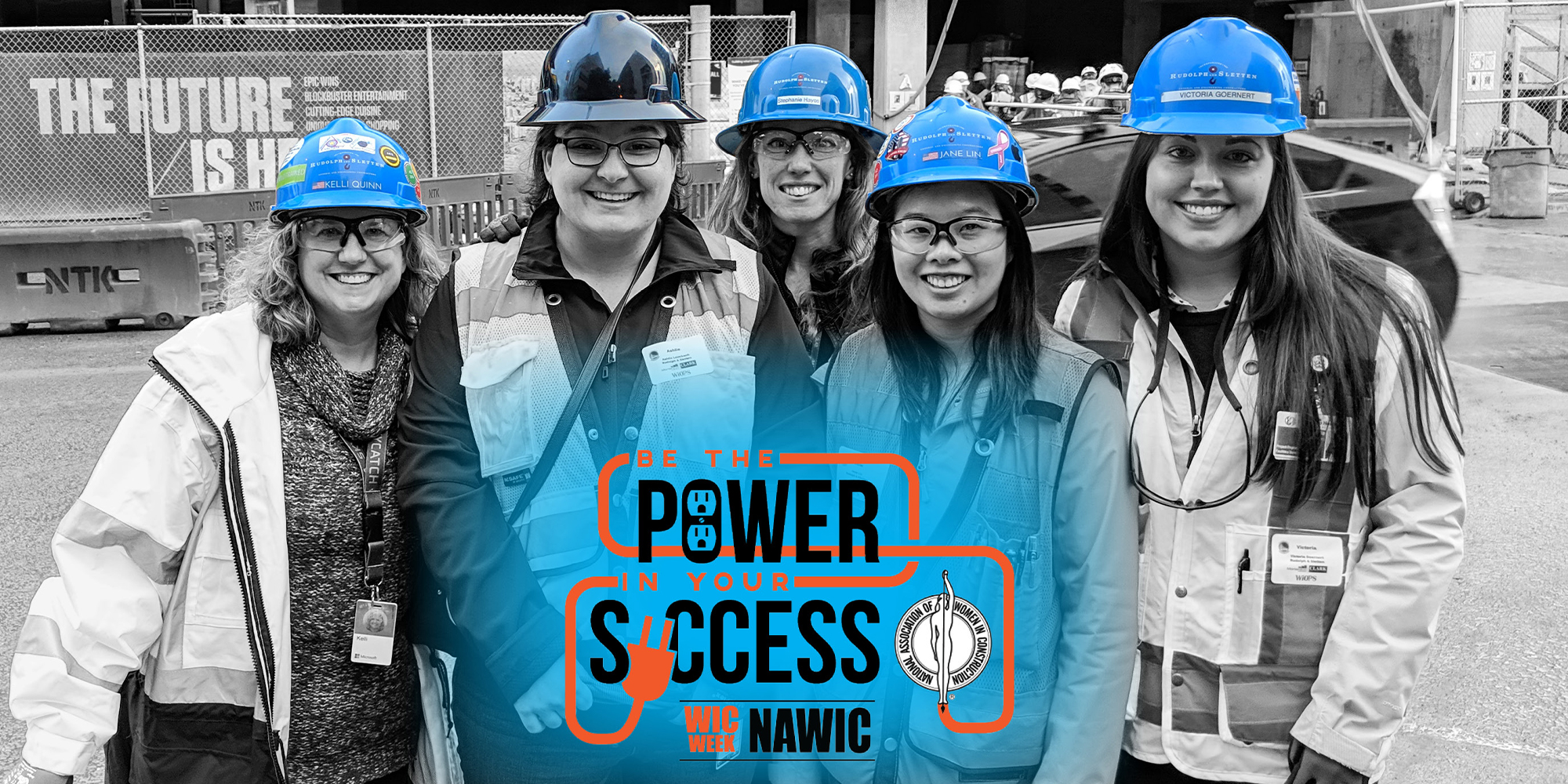 R&S Celebrates Women in Construction Week
February 28, 2019
Rudolph and Sletten is incredibly proud to celebrate our women employees during Women In Construction Week, March 3-9. Each day, we'll honor inspiring and innovative female achievers who embody our company's core values, and who's passion for building, perseverance and positive qualities radiate through their achievements. Join us in honoring these exceptional women team members, starting Monday, March 4, on our social media sites!
Please congratulate the following exceptional R&S employees: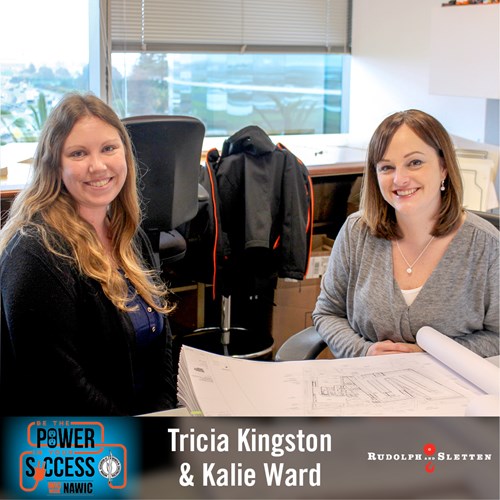 Spotlight: Tricia Kingston, Estimating Administrator, and Kalie Ward, Preconstruction Executive, San Carlos Region
Tricia Kingston is a go-getter. She embraces every task with a can-do attitude, a penchant for problem-solving and a contagious smile. In her role as Estimating Administrator, Tricia supports our Estimating Team. Among her responsibilities, she helps prepare the most accurate estimates possible to ensure that our construction teams have everything they need to keep our jobs running smoothly.
"Tricia does quality work, and we are lucky to have her," says Ben Hancock, Senior Electrical Estimator, Preconstruction Department. "She spends a fair amount of her time working with our Mechanical Estimator. She's learning what he does and how he goes about his tasks, and she does a great job filling in, as needed, so he can make effective use of his time."
---
"The best of the best." This is how Ben Hancock, Senior Electrical Estimator, Preconstruction Department, describes Kalie Ward, Preconstruction Executive, who he's worked alongside for the past 16 years.
 "Kalie is a leader," says Ben. "She's good at motivating her team. She sets the example for how things should be done through her work ethic and through her interactions with people inside and outside our company. She's more than willing to assist those who need help. Kalie provides an opportunity for people to see someone, regardless of gender, who is extremely talented at what they do."
Kalie is well-respected in the community and active in the construction industry. She's a volunteer member of R&S' Sustainable Development Committee and Associate DBIA and LEED AP BD+C credentials.
Cheer Tricia and Kalie on LinkedIn!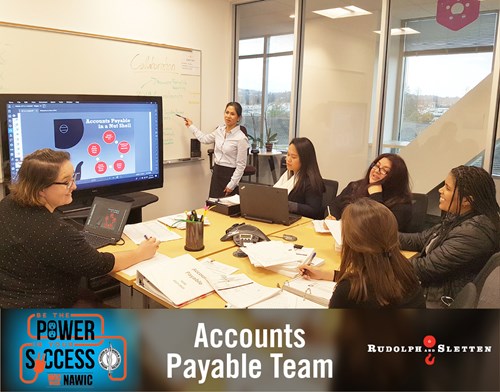 Spotlight: Accounts Payable Team
Five mighty women are the engine behind Rudolph and Sletten's Accounts Payable (AP) team: Susan Benedicto, Nicole Chiang, Gina Zepeda, Alexandria Williams and Bea Catagayan. Collaboration is intrinsic to their work and their driving passion. They are excellent at what they do, in part, because they embrace collaboration with each other and with other individuals and teams across our company.
"Each AP team member thrives on knowing that they are supported by everyone else on the team," says Susan. "Having that support motivates us and inspires us. Everyone is pulling their weight. If someone is out due to illness or some other reason, we all jump in and cover her work. There's fluidity of coverage."
Many people think of AP as the group that pays a company's bills. At R&S, we think of our AP team as integral to our company's operations and success.
Cheer our AP team on LinkedIn!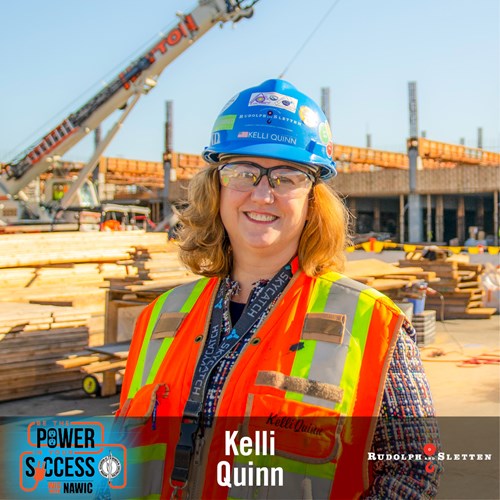 Spotlight: Kelli Quinn, Project Executive, San Carlos Region
Hardworking? Check. Dedicated? Absolutely. A role model and mentor to all team members? Definitely.
"Kelli is so good at what she does as a leader and problem-solver," says Bob Rycerski, General Superintendent, who has worked with Kelli on several major construction projects. "She's a hard worker, strong communicator while always focused on delivering the right outcome. She's intricately involved in her projects to ensure the client is happy, the project is successful while taking the time to ensure the many layers of people working around her understand how each of their roles are key to our successful execution."
"Kelli's projects are successful because she has such a personable style of leadership," says Bob. She innately knows how to bring out the best in her people and keep everyone going the same direction to reach project goals. The employees that have worked on a project with Kelli come out well-rounded and ready for the next challenge.
Kelli joined Rudolph and Sletten in 1993 as a project engineer. Today, she has worked her way up to be a Project Executive focusing on larger projects. "Kelli enjoys overseeing large teams and making expectations crystal clear. She makes sure that people understand what they're doing and ensures they have the support they need to do their jobs well. She listens. Her door is always open. The company comes first with Kelli, and we are fortunate to have her," says Bob.
Cheer Kelli on LinkedIn!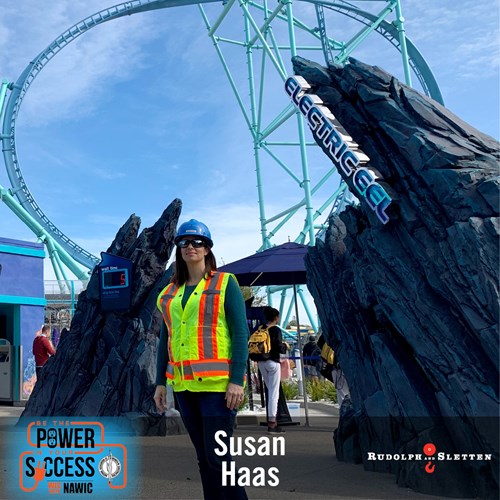 Spotlight: Susan Haas, Senior Project Engineer — San Diego Region
Susan Haas is one of our shining stars. She is a key member of our SeaWorld San Diego project team, which the client recently recognized for exceptional project management and customer service.
Recently promoted to Senior Project Engineer, Susan is loved and respected by clients, design professionals, subcontractors and, most importantly, her Rudolph and Sletten teammates. She has helped lead three successful projects for SeaWorld in the past three years. These projects include Ocean Explorer, a deep-sea adventure for the theme park's youngest explorers; Electric Eel, a high-speed roller coaster; and a current project set to debut early summer 2019. 
Cheer Susan on LinkedIn!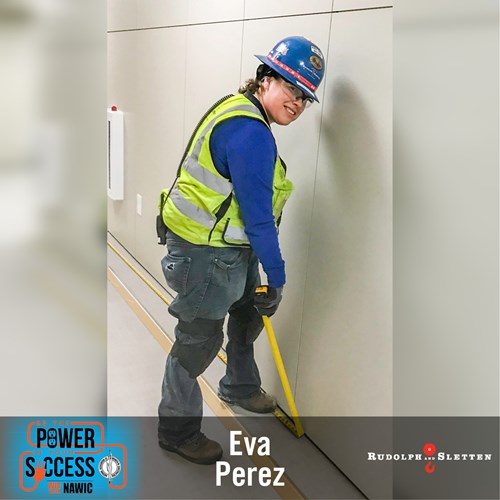 Spotlight: Eva Perez, Third Period Carpenter Apprentice, San Carlos Region
Eva Perez is a rock star—an inspiration to everyone on her team, male and female. She's a carpenter apprentice who's set her sights on becoming a journey(wo)man, and she has a strong passion and desire to succeed.
Within just a few months of joining Rudolph and Sletten to help deliver our tenant improvement build-out of Sutter Healthcare's new 150,000sf medical building in San Francisco, our young apprentice has become a lead apprentice. She's working mainly on DIRTT modular systems that have never before been used in healthcare, or to this magnitude. Along the way, she's earned a reputation as a great leader.
"Eva is a fantastic addition to our team," says Fredrick Nikpour, Assistant Superintendent. "She knows what needs to be done and gets it done. She wants to learn. She's focused on quality. She's punctual and dependable, and she has great people skills. Eva makes sure people are doing what they're supposed to be doing, and she does it in a way that people are receptive to her."
For her willingness to continually step up, take the lead and keep the ball rolling, Eva has been given more responsibility than other apprentices, and even some journeymen. "We took a big gamble and hired Eva directly out of the hall," says Fred. The gamble paid off and we're all winning.
Cheer Eva on LinkedIn!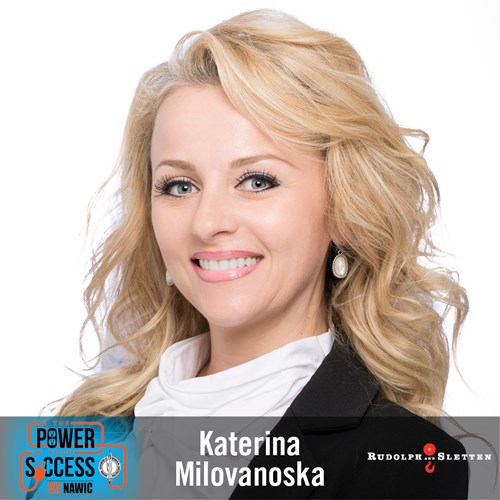 Spotlight: Katerina Milovanoska, VDC Manager, San Diego Region
We're high-fiving Katerina Milovanoska for being honored by the San Diego Business Journal as one of its Outstanding Women in Construction & Design! Katerina's achievements are an outstanding example at Rudolph and Sletten.
Formerly a practicing architect, Katerina has a rare ability to understand both the architecture and construction worlds. She's particularly skilled at turning digital architectural design models into three-dimensional reference models containing the information and details our teams need to build the structures accurately and on time. Most recently, she contributed greatly to our success delivering the Electric Eel, the tallest, fastest roller coaster in SeaWorld San Diego's history, and a new 2 million-square-foot parking structure for the open-air Westfield UTC shopping mall in San Diego.
"Katerina is a strong believer in gender equality and inspires a lot of young women who are looking for a role model," says Patrick Krzyzosiak, Director of the VDC Department. "She has the opportunity to be creative every day and wants other women to have those same opportunities." To this end, Katerina promotes the involvement and advancement of women through committee memberships with San Diego chapters of the Commercial Real Estate Women Network, Urban Land Institute Women's Leadership Initiative and the American Institute of Architecture. She also volunteers time to mentor young, underprivileged women in the greater San Diego area.
Cheer Katerina on LinkedIn!
Come back tomorrow to see who else will be chosen!
We also encourage you to check out local events in your area. The following events are open to everyone:
Northern & Southern CA: https://womeninoperations.com/upcoming-events/
San Diego: http://nawicsd.org/
Los Angeles: http://www.nawicla.org/nawicla-events