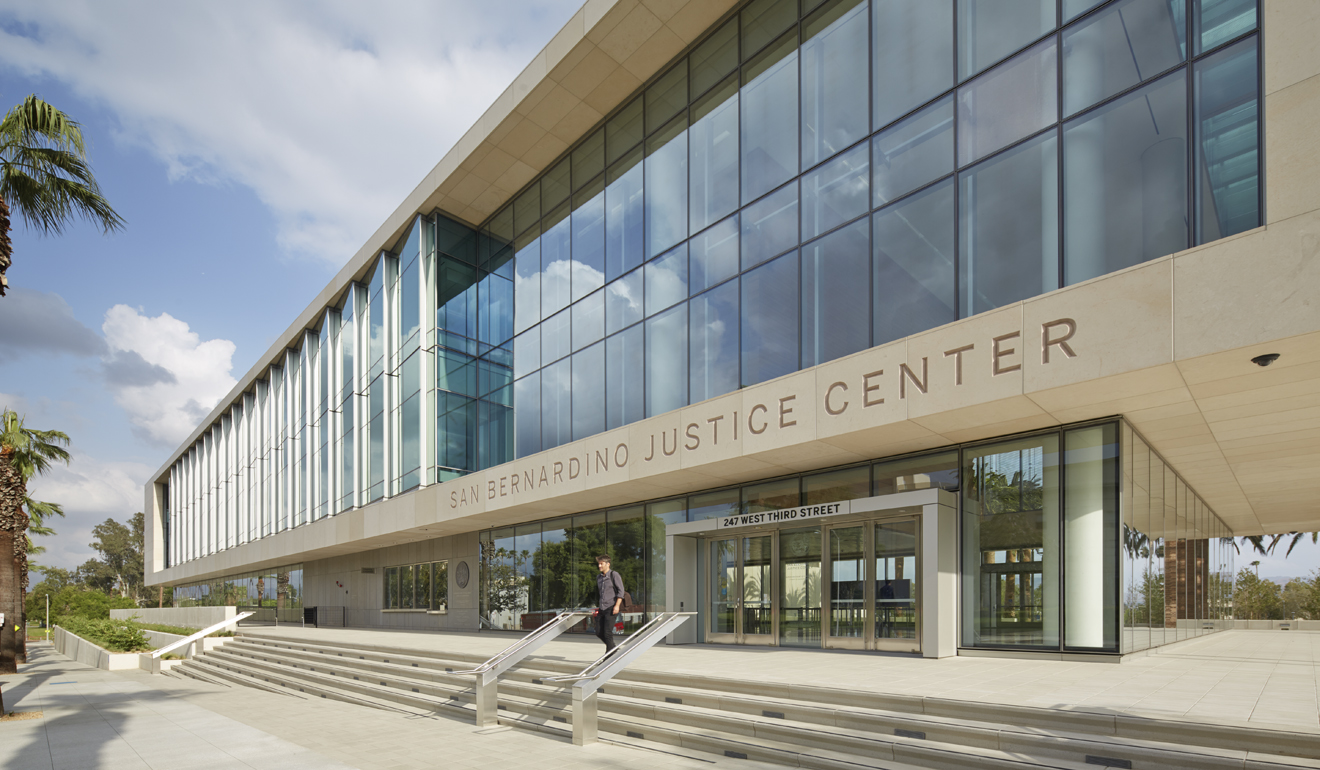 A New Direction in Large-Scale Court Facilities
Dedicated in May on National Law Day, the San Bernardino Justice Center is the largest project to date constructed by the Judicial Council of California and establishes a new direction for the future of large-scale court facilities.
As the most significant single building project to occur in the Inland Empire and San Bernardino in decades, the new building—designed by SOM—improves the efficiency of the courts by consolidating functions that had previously been spread among twelve different buildings throughout the county.
The complex occupies approximately 380,000 square feet on a seven-acre site and consists of two building elements: an 11-story courtroom tower visible on the skyline and a linear, three-story podium that holds the street edge and correlates to the scale of the adjacent historic courthouse. The building's 35 courtrooms are stacked into an efficient 200-foot-tall tower. Each tower level contains four courtrooms, with public circulation occurring behind a glass facade on the north. The complex also features spaces for court administration, self-help, jury services, child care, sheriff's operations and holding. The site and building design takes a sustainable approach and is expected to receive a minimum LEED Gold certification by the US Green Building Council.
Located near two significant California fault zones—the San Jacinto and San Andreas—the 11-story structure is the first and tallest newly built, base-isolated court building in California. A high level of care was given to the design and construction of the structure to elevate its long-term resiliency.
A New Level of Complexity
Courthouse construction today is in the midst of a transformation. In addition to the health and safety factors essential to any building, new courthouses must also address security, durability, technology integration, regulations, barrier-free access, mechanical/electrical systems, automation, acoustics, aesthetics, interior finishes and sustainability among other imperatives.
All of which spells complexity when it comes to inspections. This was especially true with the San Bernardino Courthouse, which involved no fewer than 62,000 inspections. "Understanding the inspection process and how to streamline it was a key to the success of this project," Rudolph and Sletten project executive Matt J. Bennett recalls.
"There was no paperwork," Bennett explains. "Subcontractors would request inspections, Rudolph and Sletten would complete their quality assurance and the IORs would check off their inspections or make comments electronically. Trending logs were run weekly with continuous improvement to the process, ultimately saving hundreds of man-hours."
"Fortunately," Bennett says, "Rudolph and Sletten was proactive and innovative in bringing inspection information to the field in realtime using internet-enabled tablets. Inspection tracking software loaded onto tablets was used to initiate, monitor and report on all inspections occurring for the project. The inspection teams, wary at first with the new technology, quickly became converts when they saw the convenience of an interactive system."
Award-Winning Safety
Rudolph and Sletten took the initiative of reaching out to Cal/OSHA Consolation Service, requesting a full-service on-site visit to the courthouse jobsite. The visit was the first step of the Golden Gate Partnership recognition process, which consisted of three different site visits to evaluate Rudolph and Sletten's Injury and Illness Prevention Program on the San Bernardino Justice Center. This site-specific Cal/OSHA recognition recognizes the "best of" in Injury and Illness Prevention Programs (IIPP) across the state of California.
"This was a great opportunity to enhance our IIPP and strengthen our working relationship with Cal/OSHA," recalls Alan Spears, Rudolph and Sletten regional safety manager. 
The effort paid off with zero lost time accidents during more than two years of continuous construction operations.
With highly organized documents and meticulous notes provided by the project team, Cal/OSHA was able to review all records within just a few days, confirming with the San Bernardino Justice Center team that they had earned the Golden Gate Partnership recognition.
The San Bernardino Justice Center team also achieved California Voluntary Protection Program (VPP) recognition, recognizing Rudolph and Sletten's knowledgeable employees and management who work together in partnership with Cal/OSHA to systematically identify and correct hazards.
Completely Connected
The new courthouse takes advantage of state-of-the-art networking technology and environmentally sustainable features. All the systems are digital and run on a single Internet protocol network—security, phones, data, audiovisual, building automation and lighting control. Getting the network up and running required a lot of up-front coordination, but the benefits include refined control of each system, up-front cost savings and streamlined maintenance.
"With digital, we can provide specific percentages of light of any ballast in the courtroom," says James Fabry, MEP coordinator. "Every single fixture is controllable, not just a bank of fixtures. Every courtroom has a digital interface. The A/V system is on a similar system. Overall, I think it is a benefit to the owner."
Sustainable, Inside and Out
On track to receive LEED Gold certification by the US Green Building Council, the design solution carefully considered orientation, shading, material selection and landscaping so that the building will thrive and remain efficient within its desert environment. Each facade is tuned to its solar orientation for strategic sun control and quality interior daylighting. The material selection process prioritized lowering embodied energy with 24% recycled content and 18% regionally sourced products.
"Over 95 percent of our construction waste was diverted from the landfill," Fabry says.
Bioswales and biofilters purify runoff and promote groundwater recharge, with a goal of capturing and removing pollutants from 90% of the annual storm water runoff.
The top of the podium is covered by a green roof landscape consisting of meadowlike planting, and runoff from this roof is captured and used for irrigation and for the plaza fountain. This holistic landscape design resulted in measurable outcomes: a 51% savings in water for irrigation.
Realizing Design through Quality Craftsmanship
As the most significant single building project to occur in San Bernardino in decades, the Justice Center bridges the scale of downtown development to unify the urban fabric, creating a visible landmark for the city while engaging the public with vibrant open space.
An integral part of the unifying theme of the design are lines, carried from the outside site through the top level of the building.
Flooring, wall and ceiling systems were all aligned precisely, down to a sixteenth of an inch. All stone tile floor lines align to the tile wall lines, which in turn align to the perforated wood ceiling lines. Any misalignment would be easy to see at any distance.
Rudolph and Sletten used model-based survey tools to plan the exact installation for all trades. Strict quality control protocols were implemented to ensure the precise placement of all finishes. Utilizing Rudolph and Sletten's "Zero Punch List" approach— including full-scale mock-ups and first-in-place quality reviews of all elements—ensured the quality of all installed systems and finishes. Full-time quality managers were key in managing the review and inspection process.