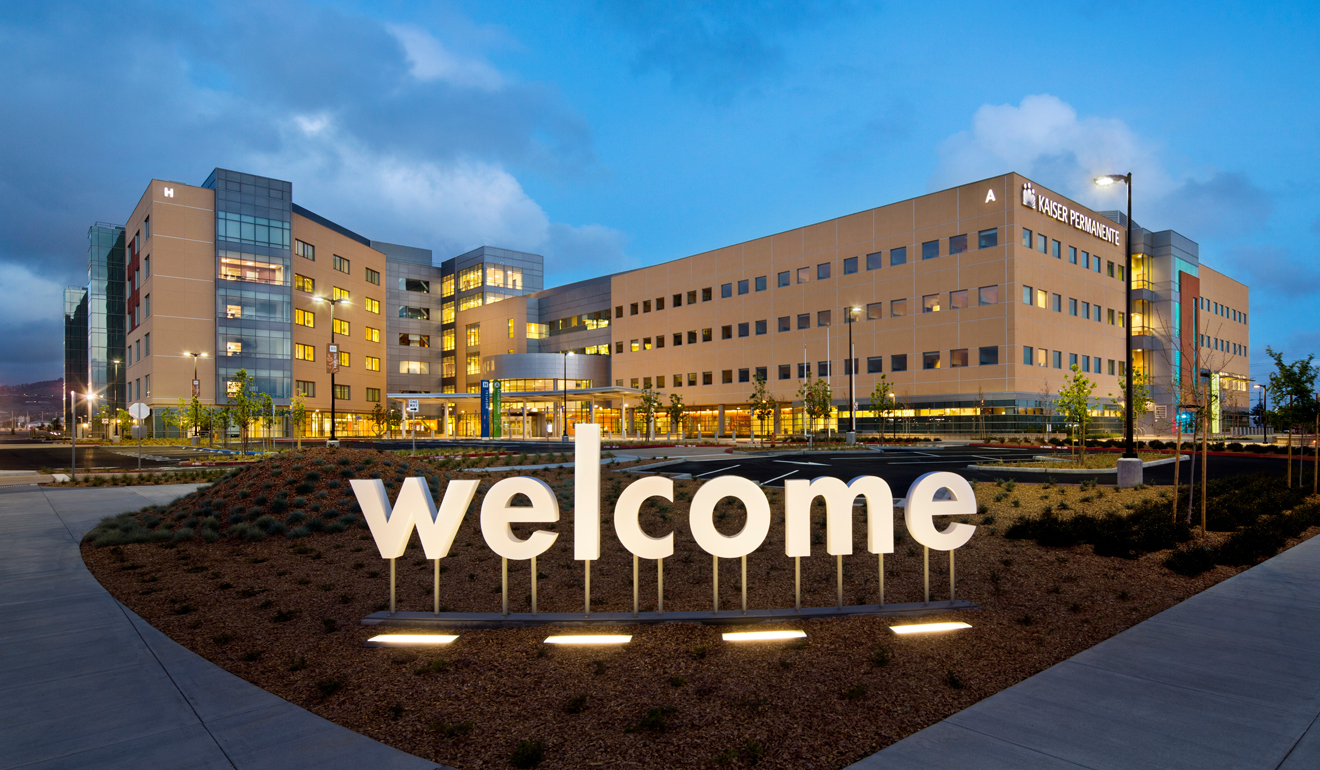 The Next Generation of Kaiser Permanente Health Care Facilities
Kaiser Permanente's new San Leandro Medical Center, a state-of-the-art facility bringing high-quality care, convenience and comfort with a focus on total health, opened in June and provides a broad range of care and services to the East Bay.
The new facility replaces Kaiser Permanente's Hayward Medical Center and includes a 263-bed, 434,000-square-foot hospital; a 275,000-square-foot hospital support building; a 30,300-square-foot central utility plant to support the entire campus and 1,516,000 square feet of site improvements.
This 'second generation' template hospital, which reflects Kaiser Permanente's program to establish standardized state-of-the-art models for design and construction of its hospitals, includes the latest technology innovations for patient care and support, including the online medical information system KP HealthConnect, private rooms with free Wi-Fi and interactive touch screens near main entrances to provide directions to each department which can also be downloaded to patient smart phones.
"With facilities across the nation," explains Rudolph and Sletten vice president Marcus Staniford, "Kaiser Permanente is a very sophisticated client." With recent experience constructing four medical center campuses for Kaiser Permanente, and an additional hospital under construction, Rudolph and Sletten is well versed in Kaiser Permanente's processes and innovative delivery systems.
Attention to Detail
"We bought out the MEPs, the concrete and the steel first, since these trades go in sequence and much earlier than interior packages," explains project manager Will Bartley. "We spent months pouring over the drawings, asking questions and confirming everything against the Kaiser Permanente Standards. This effort resulted in very detailed Instructions to Bidders (ITBs), allowing us to have confidence in the stability of the pricing." Staniford adds, "If you can include each detail item in the contract documents, you avoid change orders later. That's why owners appreciate the thoroughness of our preconstruction efforts."
Kaiser Permanente's Fastest
Hospital Construction
"This was the quickest template hospital ever built by Kaiser Permanente by two months," explains Bartley, "When you accelerate, that moves all your submittals up exponentially. Everything had to get done right then. We achieved six months early completion." Asking how the team was so successful, Bartley responds, "we had a very good superintendent and very good subcontractors. We worked with subs who could support the accelerated pace of work; a few even moved some of their operations closer to increase efficiency."
"The San Leandro Medical Center represents the next generation of Kaiser Permanente health care facilities," said Dr. Robert Greenberg, Physician-in-Chief, Kaiser Permanente Hayward Medical Center. "It will be a facility that allows maximum flexibility and adaptability to changing care practices and technologies."
Faster—and better bottom line—
through Innovation
The Plan Grid app was beta tested on the hospital project; it's a plan viewer app with mark-up capabilities, including photos. It works faster than PDF by making all the drawings available within the app, and allows complex organization the same as a printed set. It's secure and allows each team member to publish mark-ups to the rest of the team and notifies everyone of each change. At project completion, you can backup all the files, markups and linked documents for archiving.
Bartley points out, "It's not only efficient for posting changes and keeping the entire team current, it eliminated reproduction costs, close to $30,000 in savings."
Kaiser Permanente's new acute-care medical center includes inpatient nursing functions, medical imaging/radiology, clinical labs with a blood bank, 10 operating rooms and recovery spaces, pharmacies, an emergency department, a cafeteria and other building support departments. The campus also provides surface parking for up to 2,100 vehicles.
A number of sustainable building features were implemented throughout the facility based on the standards of the Green Guide for Healthcare. Kaiser Permanente's San Leandro Medical Center is designed to use less energy and water, and about 97% of all materials on the site were recycled, diverting 98,000 tons of construction waste material from the landfill.