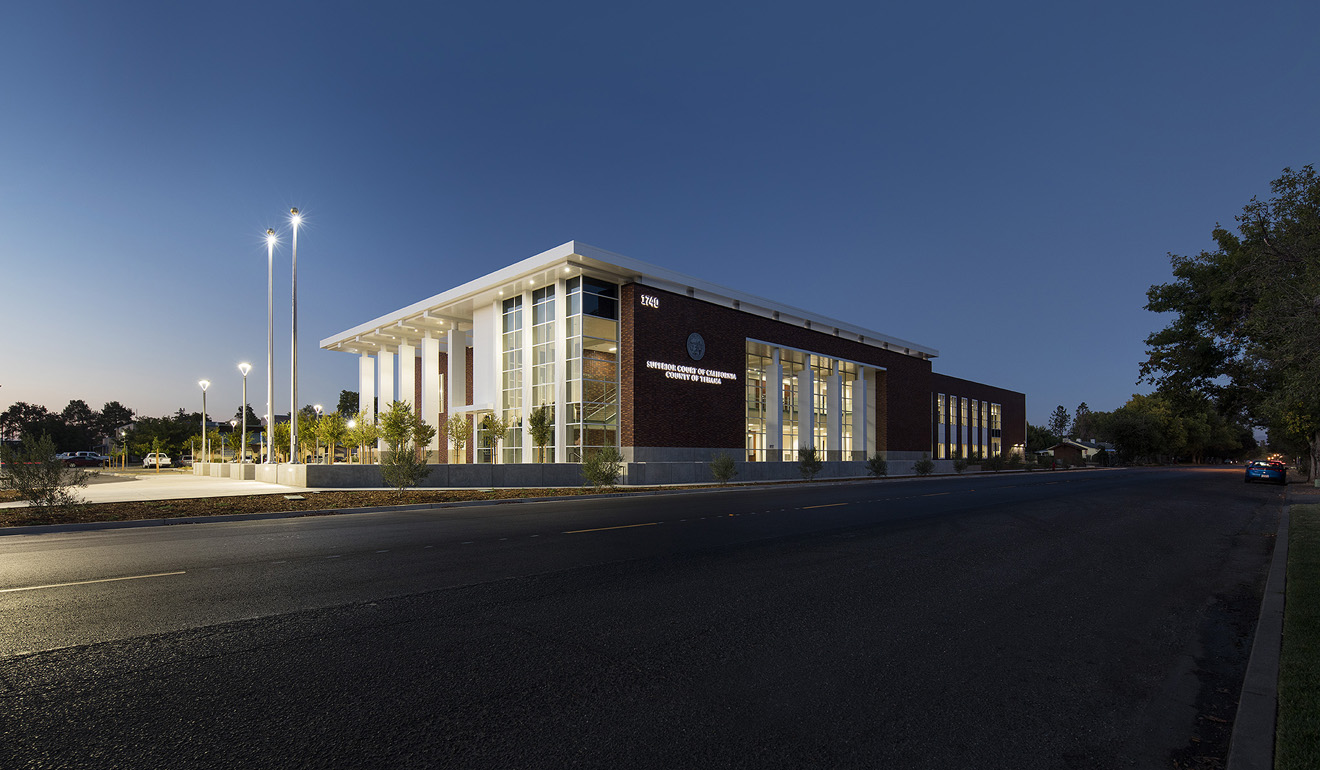 Building a New Precedent in Tehama County
Previously spread across four buildings in downtown Red Bluff, the new Tehama County Courthouse will house all court personnel and consolidate court services for the public.
The new 62,000sf, 2-story courthouse building replaces the historic county courthouse built in 1922, the Tehama County Courts Building built in 1988 and the Corning Courthouse, which was closed in 2013. The project was funded primarily through trial court user fees as a result of Senate Bill 1407.
Tehama County's new courthouse received the highest priority funding because of major security concerns at the old facilities, some of which did not have metal detectors and X-ray machines for security screening. In addition, in-custody detainees sat in the jury boxes for hearings leading up to their trial, within close proximity to prosecutors. The new courthouse features in-custody detainee holding behind bulletproof glass, and secure hallways and elevators separate from the public.
The new building includes five courtrooms, a jury assembly room, administrative offices, public service spaces, and central holding. Jurors—who now use a kiosk to check in—are provided Wi-Fi access in the new assembly room, as well monitors with closed-circuit feeds from inside the courtrooms.
Demonstration Project for Cost Savings
New Standard of construction to reduce costs for each SB 1407 project
In an effort to reduce costs for each SB 1407 project, several projects were chosen as Cost Reduction Demonstration Projects to testing the effectiveness of lower-cost construction methods. The design and construction team were tasks to meet cost reduction goals without sacrificing security, safety, building performance or courthouse operations.
To provide a 50 to 100 year building at commercial grade construction value, the team decided upon a tilt-up concrete structure as a durable and functional option at a lower price point. Finishes such as tile flooring, wood paneling and casework, and brick veneer exterior provide a traditional courthouse aesthetic. The changes in construction methodologies enabled the building to meet the new budget requirements while maintaining the original square footage and high level of finish expected from our state's highest level of justice.
On Schedule Despite Obstacles
18 month aggressive construction schedule
Our team's 18-month schedule was already aggressive without the added challenges of building in the remote Tehama County, and near California's coastal rainforest.
Location, Location, Location
Projects located far from urban centers can be difficult to staff. These areas often have smaller workforces available at the local union halls, requiring workers to temporarily relocate or be away from their families for extended periods. Our preconstruction team relied on their long-standing subcontractor relationships to ensure the project received competitive bids from highly qualified companies that could guarantee manpower throughout the project.
Rainforest Conditions
The area's abundant winter rain posed several challenges. Our team was aware that the building pad's top grade soil would need to be treated for stability. However, unforeseen subgrade soil instability arose during excavation and grading activities from heavy rains, which totaled 14 inches in December alone. Specialized equipment had to be brought in to cement-treat the subgrade soil for stability—traditional lime treatment was determined inadequate for this case. Our aggressive schedule strategy paid dividends in this situation; the added activities were absorbed into the schedule and without any change orders.
The higher rainfall and humidity levels also posed a challenge once the interior build-out started. Large and heavy materials needed to be lifted into the second level of the building, while maintaining a controlled indoor environment. The team constructed a two-story barn door at the front entry curtain wall to allow material delivery without jeopardizing the interior spaces.
Utility Relocation Challenge
The storm drain for the new building was planned for installation in the street directly in front of the site. The project is surrounded by other County buildings, so the team knew existing utilities would be encountered, and potholing was done to discover their locations. What was not anticipated was how shallow the utilities were under the road, and how much asbestos covered piping would need to be remediated prior to installing the new storm drain.
Our team developed an alternate plan to relocate the storm drain within the site boundary line. The new location avoided schedule delay and additional costs while still meeting all civil requirements.
Mock-Ups
Rudolph and Sletten constructed a full-scale courtroom mockup—which incorporated all major design elements, including ceiling planes and soffits with the use of colored layout string lines—one year in advance of the project breaking ground. This early mock-up—constructed in 1 week—was built to capture user modifications during completion of the construction documents. Through detailed reviews of the mock-up with the Tehama County judges and the project team, critical line-of-sight issues between the clerk's desk and the witness stand were discovered. The mock-up saved the project considerable re-work costs, either during or after installation, on expensive courtroom millwork.
Network Readiness Lessons Learned from San Bernardino
Our team's previous experience building the San Bernardino Justice Center provided many lessons learned, but none more helpful than advanced network readiness. The network is one of the most important components of a courthouse facility; it controls all building systems from lighting to climate to security.
To ensure the network was ready for system integration, our team developed a timeline by working backwards from the targeted testing date. A key component to readiness was building out and cleaning the network room well ahead of AT&T's scheduled installation start date. Our team's preparation was so thorough we received accolades from the installation team for having one of the best network rooms they had ever encountered.
Sustainability
The new courthouse has been designed to LEED Silver NC guidelines and will use 17 percent less energy than required by code. Its sustainability features also include drought-tolerant landscaping, LED lighting for energy savings and extensive use of recycled materials.