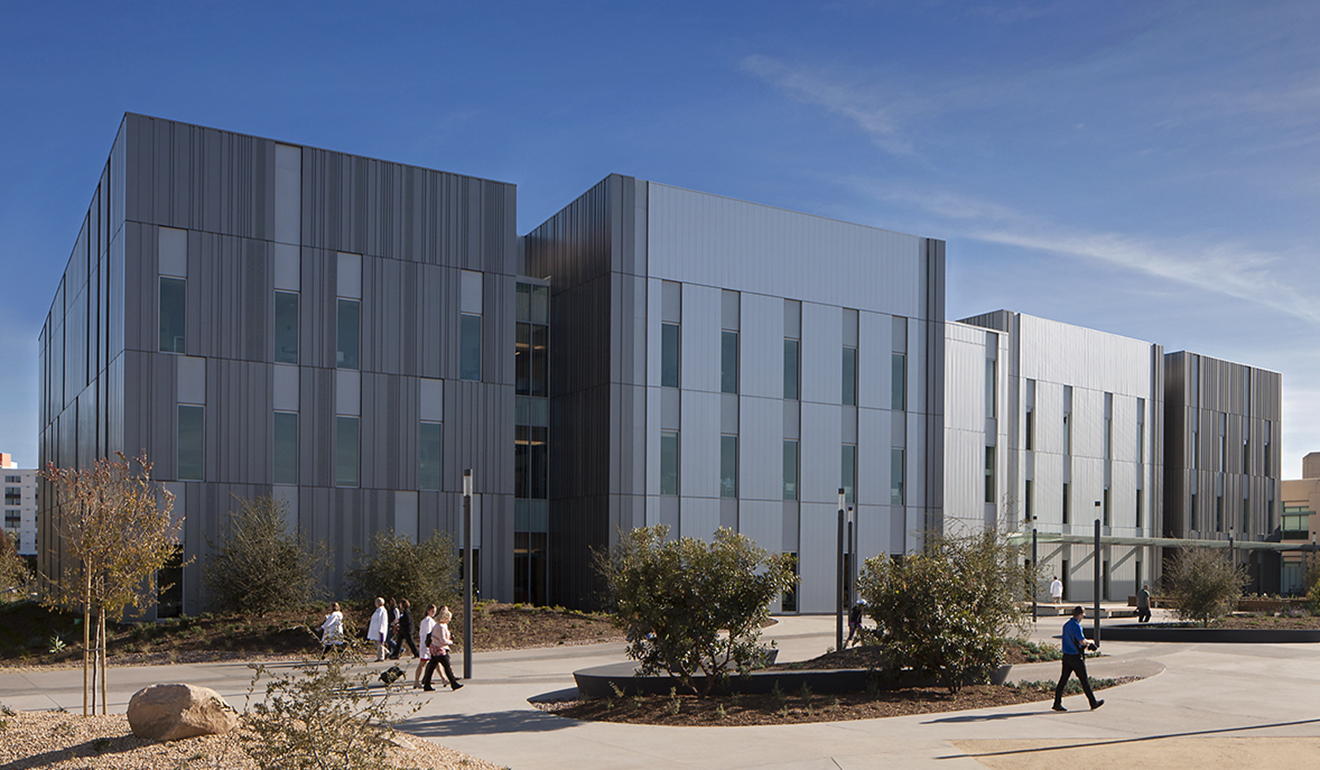 Projects
UC San Diego Streamlines Care With an All-In-One Outpatient Facility
Hearing restoration, stem cell research, hand surgery, urinary stone procedures, breast operations — all under one roof. The new Koman Family Outpatient Pavilion on UC San Diego's La Jolla campus is designed to allow patients to be treated for multiple conditions within a single day. But it also allows for a new level of collaboration between practitioners, leading to better patient outcomes and more innovative research.
Designed by CO Architects and built by Rudolph and Sletten, the four-floor, 166,242sf facility opened in March of 2018. With eight surgery suites plus facilities for imagining—including MRIs and CTs—physical therapy, pain management and other patient needs, it gives UC San Diego the cross-disciplinary, streamlined, patient-focused facility it hoped for.
But building such a complex, advanced clinic—in the midst of a bustling medical campus—came with challenges. Overcoming these challenges required relying on the same concept the building was meant to encourage once finished: collaboration.
Fitting it all under one roof
With specialty clinics for urology, sports medicine, spine care and support services, patients will be able to get a huge range of treatments all under one roof, eliminating the need to take additional time away from work or family life to travel to specialty clinics.
Combining all those specialties at the outpatient pavilion required innovative design. The facility is divided into four "bars," allowing each quadrant to feel like a distinct entity, with its own entry. Those bars are joined together by a public "spine" and three-story light shafts that bring in natural light and create spaces where researchers and caregivers can meet and collaborate between the four centers. The design intent was based on UC San Diego's analysis of how to maximize cross-disciplinary collaboration and harmonious patient handoffs and experiences.
The multitude of services available in these clinics meant a need for a plethora of precisely located medical equipment and utility connections to ensure cohesive flow and function of equipment in a world-class facility. The result was a facility that is both state-of-the-art today and able to be adapted to future technological advances in the decades to come.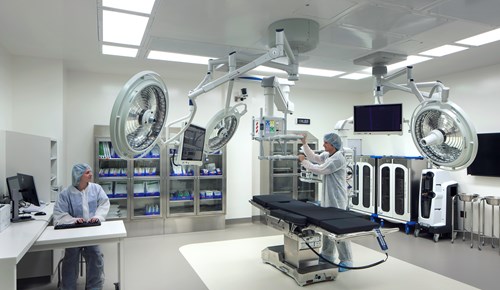 Building in the midst of a busy hospital
Located at the center of the medical campus and adjacent to the main pedestrian walkway, the Koman Family Outpatient Pavilion is the new "front door" to the UC San Diego Health system. But the campus didn't shut down while that new door was installed—it flowed around it, and construction took place among the rhythms of busy campus life.
To not interfere with the main walkway, Health Science Walk, a phased plan was created to maintain pedestrian access between adjacent buildings. To not interfere with the nearby Moores Cancer Center, Perlman Ambulatory Care Unit or Thornton Hospital loading dock, constant coordination was maintained with UCSD campus managers.
Yet, without affecting either the project timeline or the rest of this medical hub, steel supports were brought in to brace medical equipment in the new facility's operating rooms, and a new hot water plant, boilers and pumps were installed.
Collaborating around the challenges
This logistical choreography required close and effective coordination between everyone involved.
Weekly meetings gave stakeholders an opportunity to discuss any potential issues with changes to the work plan, budget or timeline. This not only helped all involved better support each other but set a team-focused tone that encouraged pride in their superior work.
Throughout the process, Rudolph and Sletten closely collaborated with the design team, too. The team reviewed mockups of various elements to set a standard for what would be expected throughout the project's construction.
Environmental challenges and opportunities
There was no collaborating with some aspects of the environment, though. Back-to-back wet winters cost the team as the normally sunny city suffered power outages and flooded streets. Contaminated soil and chunks of concrete from the site's former use as a military shooting range needed to be removed. Teamwork helped overcome those challenges and allowed the building to open as scheduled to the first patients.
Other aspects of the environment were much more helpful. With San Diego getting an average of 266 sunny days a year, the outpatient facility was designed to maximize the amount of natural sunlight in the building. Vertical shafts in each wing bring three stories of daylight inside. Apertures let light into the busiest parts of the building. On the east and west sides of the building, openings are sited strategically to minimize glare and heat.
That design also reduces the need for artificial lighting—and thus energy usage. The facility exceeds the University of California's sustainable initiatives and California's energy codes, and is being submitted for LEED Gold certification.
It goes easy on the environment on the outside, too. Colors and materials on the exterior blend with the other buildings on campus and a skin texture on the facade mimics the patterns of La Jolla's coastal bluffs. The drought-tolerant landscaping blends with the existing campus plantings, and a condensate recovery system reduces landscaping water consumption.