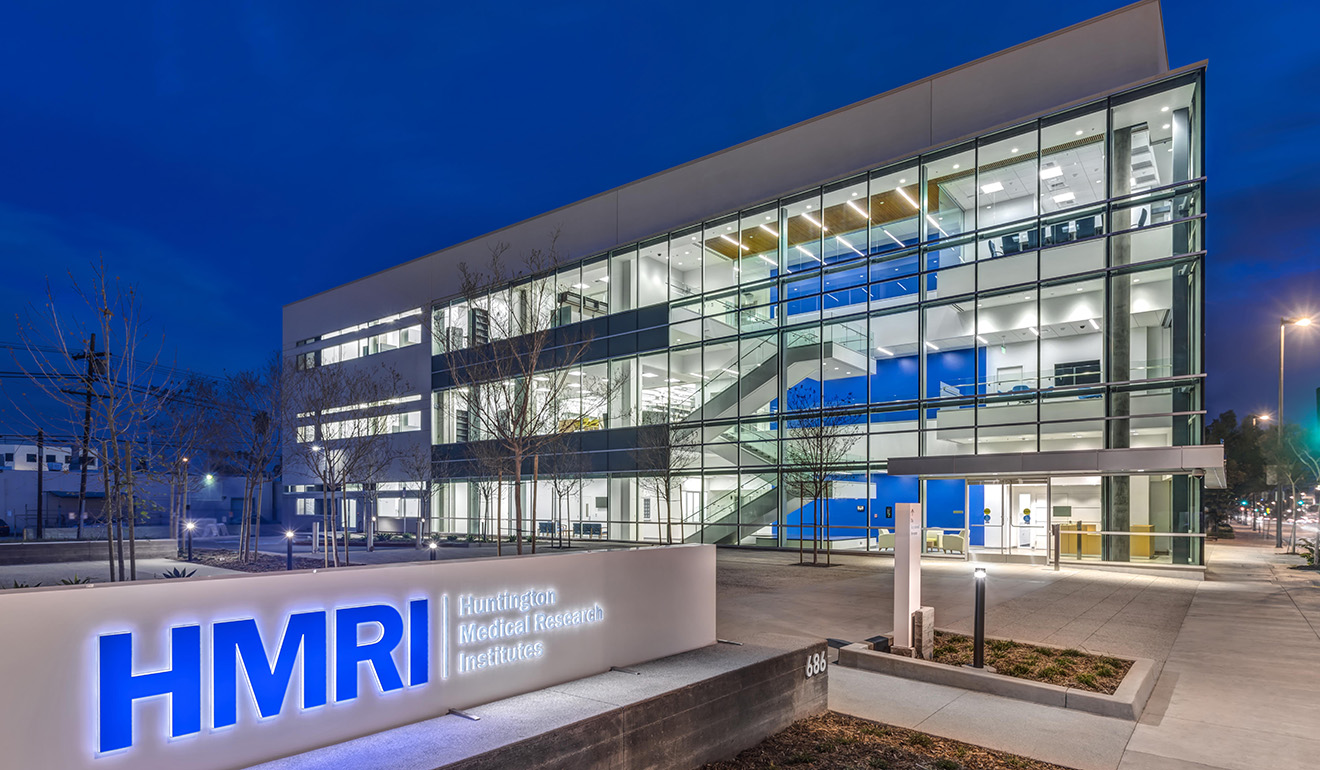 Projects
HMRI's Expanding Life-Saving Research Facility
Already remarkably productive for a relatively small organization, Huntington Medical Research Institutes (HMRI) was ready to grow. A new world-class research facility would increase the independent nonprofit's ability to attract top scientists and expand their contributions to major unmet medical needs.
The new 34,926sf, three-story biomedical research lab, conceived by Perkins+Will, was constructed adjacent to Huntington Memorial Hospital. The fit-out was done by SWA Architects, who specialize in laboratory interiors. HMRI's new facility will translate into advances—in neurodegenerative, cardiovascular, liver and gastrointestinal-related diseases—bringing scientists and doctors in closer collaboration and potentially saving lives.
Innovating within strict guidelines
To build this state-of-the-art facility in the heart of Pasadena required working within some unique parameters. Pasadena requires new buildings to adhere to strict design codes, including a color scheme which is approved by the Historic Preservation Commission. R&S worked closely with the design team to meet these requirements by constructing several mock-ups which were reviewed and approved by the planner. R&S worked with the design team and Pasadena to ensure the building aligned to the property line and didn't impede on the public sidewalks or properties, especially along a tricky portion of the project in which the building is at a skew and extends to the property line without a setback.
Another challenge to building in the busy area, adjacent to Old Pasadena, was working around the many power lines in close proximity. It would have been too expensive to reroute the power lines underground, so, to ensure safety, R&S worked with Pasadena Water & Power to come up with a strategy to prevent accidental contact by construction workers. A narrow scaffolding was erected to maintain sufficient clearance from the power lines, and mesh was installed to prevent accidental contact with materials during the erection process.
Blending state-of-the-art research and design
Inside, the building's clinical labs, open research lab space, collaboration areas, auditorium and offices are protected by a concrete structural frame meant to reduce vibrations and sounds, which can affect electron microscopes and other sensitive equipment. Natural lighting floods into workspaces and windows open to mountain and cityspace views, due to the strategic orientation of the site and placement of apertures.
Outside, the exterior is a combination of EIFS cladding and curtain wall, which give the building an attractive finish—and one that's in compliance with the city's exacting design guidelines. And a large garden connects the new building to the existing hospital and parking.
Founded in 1952, HMRI has already made decades of contributions to medical research and care. The new building significantly expands the Institute—and will significantly expand the impact on people's lives.