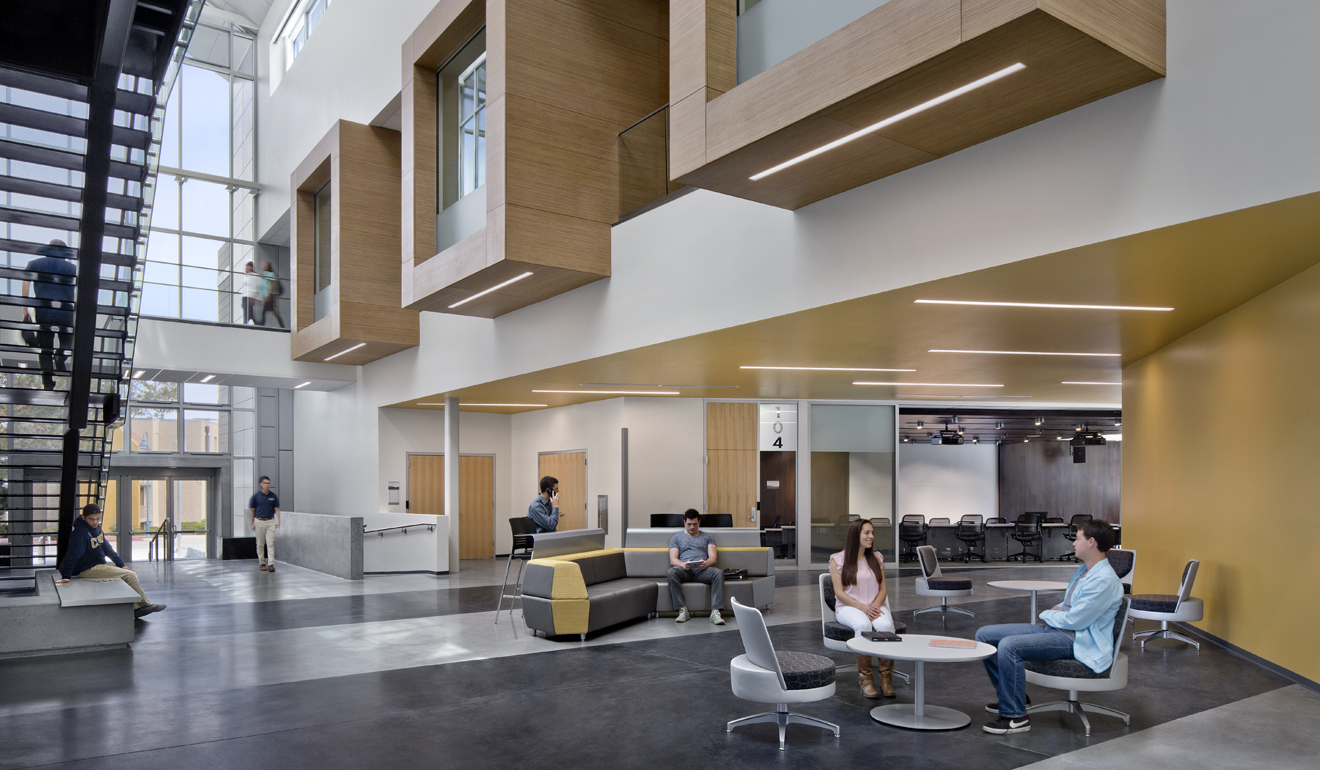 Two Schools, One Integrated Learning Environment
Designed by HMC Architects of San Jose, the new 58,000 square foot sustainable structure houses two programs together meeting the university's vision for a more integrated learning environment. Students will work together "flipping" the learning process on its head. Assignments and projects will be completed in class while lectures are given online. Both schools are not only working together but they are changing the way to approach business and encouraging the spirit of innovation.
The new home for the College of Business and the School of Information Technology and Communications Design at the California State University, Monterey Bay campus will allow collaboration and interactive learning opportunities between students, faculty and staff.
The Business & Information Technology building is located near the heart of the campus, adjacent to the Tanimura & Antle Family Memorial Library. The building has three levels connected together by an atrium and includes eight classrooms, 12 laboratories, offices for faculty members, conference rooms and student study areas and lounge. The bottom floor allows for flexible classroom configurations with sliding glass walls.
Faster, Safer, and Less expensive
The building was constructed using a combination of ConX system and traditional steel frame. ConX connections are typically redundantly distributed in a building frame resulting in a premium Moment Space Frame structure without a cost premium. The ConX connection is an innovative design that requires no field welding and enables safer and faster erection in the field.
Form and Function
Window cleaners access upper levels through service doors and use a catwalk system build-into the sunshade structure. Additional tie-off is not required for personnel since the sunshade structure features integrated OSHA compliant railings.
Smart Building
Exterior operable windows are controlled through the Building Management System (BMS). The first sequence for cooling is to open the windows for natural ventilation.
The design and construction of the new Business & Information Technology building integrated sustainable practices, limiting environmental impact. Learning environments and staff areas are flooded with natural light while keeping heat-producing sunlight controlled with an exterior screen wall. There is on-site storm water retention, with nothing flowing to the Bay and no-flow and low-flow bathroom fixtures to achieve a 43% reduction in water use. The building has been designed to LEED Gold standards. 
Two Schools, one integrated environment
LEED Gold sustainable requirements were followed
14 month accelerated schedule from mobilization to completion