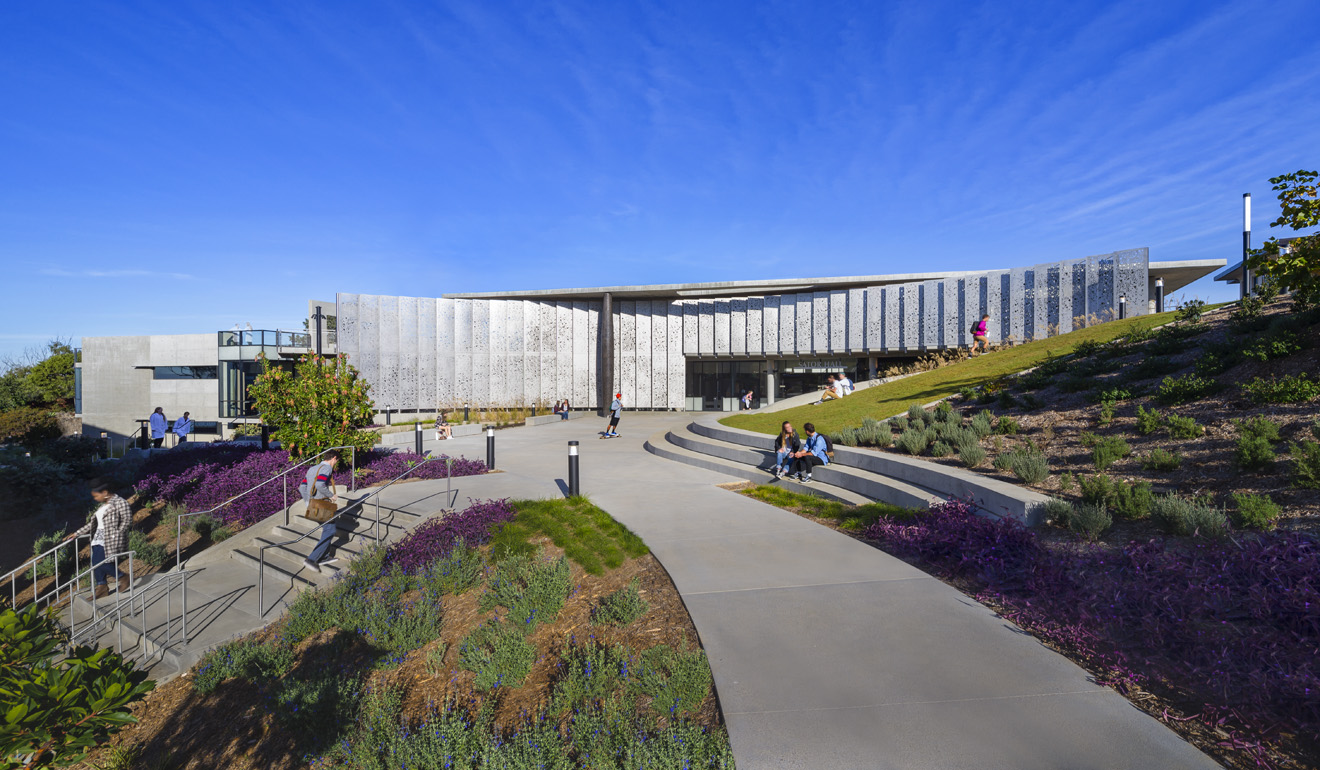 Point Loma Puts a Focus on Science
New Science building accommodates increase in science majors at Point Loma Nazarene University with hopes of securing research grants and attracting new students and faculty.
With nearly forty percent of undergraduates majoring in a science-related discipline, Point Loma Nazarene University sought to accommodate the increasing number of science majors with a new modern, innovative high-tech building.
The new 32,900-square-foot, three-level contemporary classroom and research facility—designed by Carrier Johnson—will replace the 1960's Rohr Hall and encourage student and staff collaborations and peer-to-peer learning across academic disciplines. The facility will offer ample space with 13 advanced chemistry and biology laboratories with preparation and storage space clusters for maximum accessibility and use. This will help ease laboratory prep time for faculty and increase interaction time with students. There are also four attached classrooms with the ability to accommodate over 280 students, and additional space for laboratory equipment and storage.
The University's vision to enhance student learning and research opportunities was made possible by Carrier Johnson, Rudolph and Sletten and Point Loma Nazarene University (PLNU) working together to successfully meet the 14-month schedule. Mock-ups and enhanced collaborative efforts ensured students were accessing the new facility by fall 2015.
3-Level contemporary classroom and research facility
13 advanced labs devoted to biology and chemistry
14-month accelerated schedule meeting quality and budget goals
LEED Silver sustainable design guidelines
Self-performed concrete scope of work
A Feature Wall Merging Science and Faith
The south facing side of the building features a satin-finished stainless steel wall chosen for its durability and ability to reflect warmth into neighboring Rohr Hall. The creative design of the wall will welcome natural light into the new facility in a dynamic way through cut-outs of alpha and omega symbols in the stainless steel. The feature wall will create shadows of these symbols both to the south in the Garden Plaza as well as to the north in the walkways and lab science.
Garden Plaza
The new science building is situated in relation to Rohr Hall so as to create a common, terraced landscape plaza, creating a focal social gathering point for students and faculty in the sciences departments.
South Façade
Outdoor decks and terraces provide students new space in the heart of campus for conversations, collaborations, and peer-to-peer learning across academic disciplines.
Self-perform Concrete
Rudolph and Sletten proposed a board form architectural concrete finish to the Architect and University based on previous project success. The finish achieved the University's vision for the exterior and our ability to self-perform enabled further control over schedule and quality, ensuring project success.
Unique to Lab Building
Concrete buildings offer durability over other structural building systems, but also require more preconstruction coordination to plan for embeds and penetrations in the slabs. Starting with the architectural Revit model, our team coordinated all utilities and services which needed overhead access. In addition to fume hoods, another unique feature of this lab building were the overhead service carriers. Casework, with gas, vacuum and water services, was attached overhead into the structure leaving clear work surfaces, as opposed to traditional desk mounted services.
"The current Rohr Science Building, built in 1962, was no longer equipped to meet the demands of contemporary science," said PLNU President Bob Brower. "This new, innovative facility will offer ample space and modern technology to ensure the growth of our program and the success of our PLNU science faculty and students."