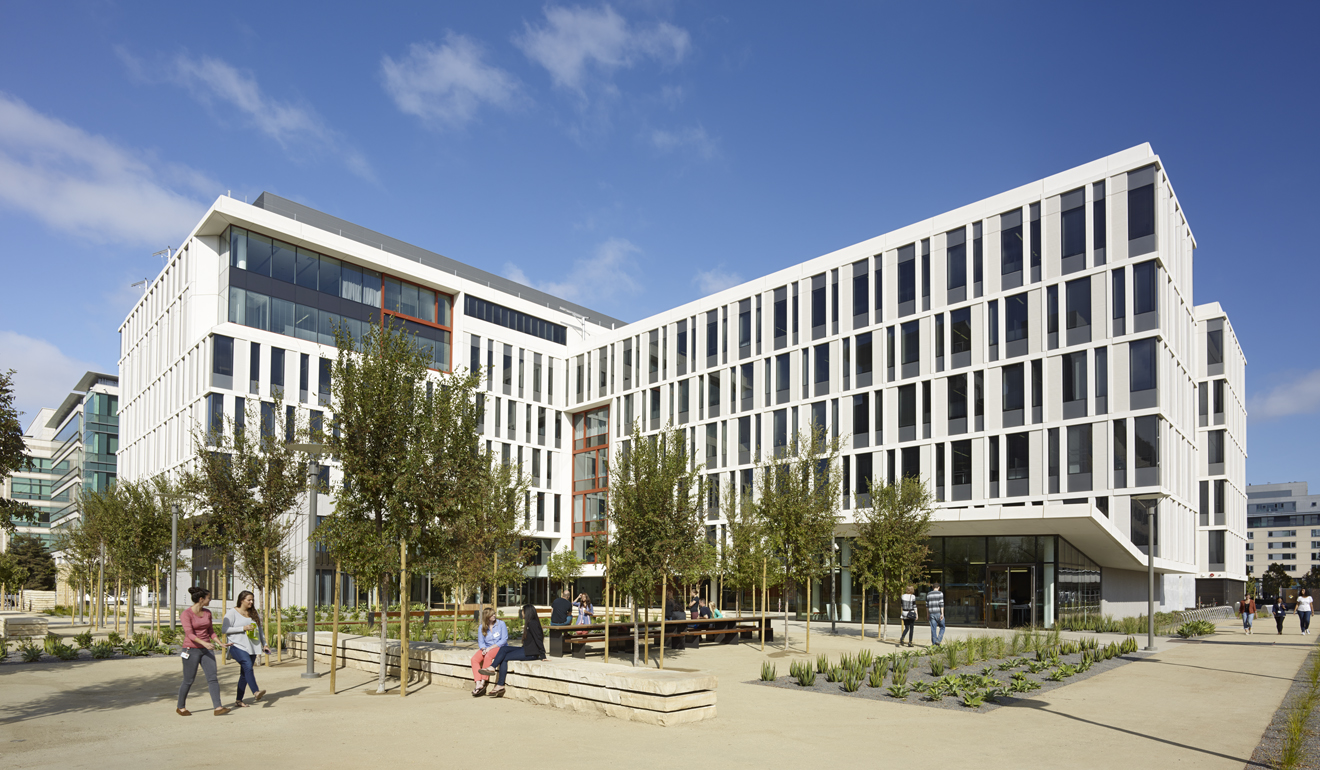 Mission Hall Supports UCSF's New Mission Bay Hospitals
Mission Hall is an essential support component to UCSF's new Mission Bay hospitals, bringing together the academic, clinical and support personnel for the first time.
UCSF's vision for the 264,000-square-foot Mission Hall: Global Health & Clinical Sciences Building was to create a new hub for its growing Mission Bay campus. The building needed to consolidate dozens of departments working in leased spaces throughout San Francisco and forge a link between academic, research and medical sectors.
Designed and built by Rudolph and Sletten and WRNS Studio, the facility is an interdisciplinary, flexible, light-filled environment inspired by the latest thinking in workplace and academic design.
22% more energy-efficient than a building of a similar size
18 month schedule from mobilization to move-in
Gold NC LEED registration with the US Green Building Council
Advanced Workplace Design
Mission Hall's workspace design embodies the latest thinking in workplace and academic design. Offices accommodate faculty providing clinical care in the new Women's Hospital, Children's Hospital, and Cancer Center at Mission Bay. The facility houses approximately 1,500 faculty, staff, fellows, and residents in open workstations and shared activity spaces, maximizing space efficiency. Modular work spaces, hard wall huddle and focus rooms, and multiple conference rooms throughout the building accommodate the activity space needs.
A modular planning approach atop a raised floor allows for changes in technology and mechanical and electrical systems. All furnishings, data and audio-visual systems were purchased and installed by the construction team, a unique approach that supported optimum interior space planning and seamless turn-key building delivery to the University.
Exceeding Expectations
A unique mesh of characteristics defined the Mission Hall's success, starting with the formation of a team with shared values about project approach and delivery. Trust was inherent in the design-build team relationship—enabling everyone's complete buy-in—driving out any singular viewpoint and generating a truly shared perspective on how to develop and deliver a winning solution.
Beginning with an intense 10-week competition, the design-build project included an array of aspirational and technical objectives to be delivered within a very limited budget and an intensely challenging schedule. The 18-month schedule—from mobilization to move-in—was linked to the opening of UCSF's new medical center, for which Mission Hall is providing programmatic support.
This design-build project was delivered within tight time constraints using the latest technology and Lean construction principles. Rudolph and Sletten adapted current 3D model technology for everyday management of daily quality and first-in-place inspections, reducing project risk and increasing trade partner efficiency. Collaborative planning between the design-build team and suppliers, subs and trade partners enabled the project to meet the aggressive timeline while working on the tight site in the bustling Mission Bay area.
One example of providing the best value for each dollar spent is our design for a panelized, prefabricated exterior skin system. The GFRC—metal panel and glass skin system—was prefabricated at an offsite shop into one-bay-wide and one-floor-tall panel frames. All 361 frames were delivered onsite and erected right off the trucks. Prefabricating and panelizing the skin saved approximately 15% of the total exterior skin system cost.
"This project was delivered in the truest sense of 'design build – done right.' We, UCSF, supplied clear direction through our technical criteria documents, and this team achieved our goals with a limited budget and a very aggressive design and construction schedule," said Michael Bade, Associate Vice Chancellor Capital Programs & Campus Architect - UCSF.