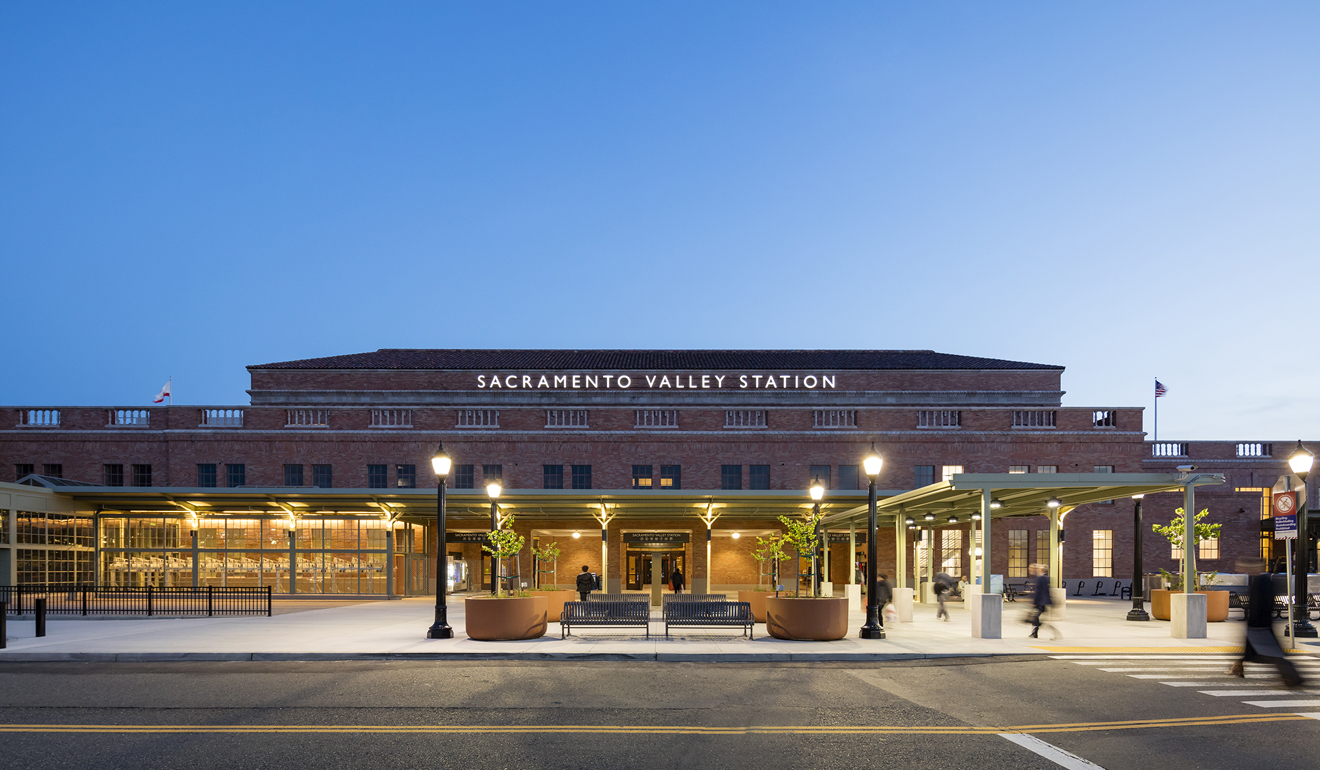 Historic Train Station Back Better Than Ever
The just-completed two-year renovation of the American Renaissance-style building—one of the City's largest historic preservation efforts in decades—brings the downtown Sacramento train Depot into the modern era as a world-class transit hub. Interior and exterior restoration recaptured its former glory. Modern amenities, energy-efficiency features, and 25,000-square-feet of mixed use space prolong and enrich the building's purpose.
The Sacramento Valley Station, also known as the Depot, has been in continuous operation as a passenger rail station since it's opening in 1926. With more than one million passengers each year, it ranks as the 7th busiest station in the nation and the second busiest west of Chicago. It is the major intermodal station within the region, complementing light rail, Amtrak, and regional bus lines, and will eventually include a terminus for the California high-speed rail system. 
Despite its illustrious history, the Depot fell into disrepair. The City of Sacramento purchased the building in 2006 with the intention to use the station as the anchor building for a long desired transit-oriented development center for the Sacramento region. This beloved Sacramento architectural landmark is a part of the Sacramento Intermodal Transportation Facility (SITF) master plan, and has earned a spot on every historic register – federal, state and local.
Preservation and Rehabilitation
Construction work included both preservation and rehabilitation—executed in compliance with the Secretary of the Interiors' Standards for Historic Buildings— to repair and freshen its main historical elements, and adapt to current and future transportation and commercial uses.
Preservation work
The maintenance and repair of existing historic materials—included the waiting room barrel ceiling, its massive wall mural and chandeliers, the marble floors and travertine trim, the exterior's arched corbels, pilasters and rooftop balustrades, and the second floor hallway baseboards, chair rail and crown molding. Remediation of the original mahogany doors, window frames and window glass were also completed, including abatement of hazardous material present in paint, caulking, and insulation. All nonhistoric doors, ductwork and walls in the semi-enclosed concourse on the north side of the building were removed, restoring the original open-air area to its original finishes. Many of the interior spaces were adapted to improve operations and provide more efficient passenger experiences, while also adding offices and future lease space.
Mural Preservation
The panoramic mural-depicting the 1863 Transcontinental Railroad groundbreaking ceremony-was brought back to life after being covered in layers of dirt, soot, and cigarette smoke. Cleaning was done in small segments by hand using tiny brushes, cotton swabs and water to avoid irreversible damage.
Ceiling Preservation
The removal of a false roof installed in the main waiting area of the station revealed detailed stenciling on the vaulted ceiling. The original plaster ceiling was cleaned and touched up by hand.
North Entrance Concourse
The enclosed concourse area was returned to its original finish after removal of all non-original doorways, ductwork, CMU walls and ceilings. The original plaster ceilings were reinforced and rehabilitated to highlight the historic ceiling dentil that outlined the perimeter of recessed ceilings. The original canopy over the outdoor space was also restored. 
Second Floor Hallway
Original baseboards, chair rail and crown molding were removed, abated, repaired and re-installed in the "historic" second floor hallway. Restrooms were rehabilitated and an original walk-in safe remains in place.
Exterior Façade Preservation
The building was wrapped for several months while crews painstakingly cleaned the locally-manufactured exterior brick. The refreshed exterior clearly shows the architect's intent to use different shades of brick to create a subtly dynamic exterior. Metal marquees on the South façade were rehabilitated and affixed with exterior lighting to compliment the kokomo glass within the southern fenestration.
Door & Window Preservation
Windows were cleaned and abated for lead and asbestos, and clear repair glass was replaced with color matched panes. The original waiting room mahogany doors required a hundred hours of by-hand repair to be brought back to their original finish.
Rehabilitation work
Altering or adding to a historic property to meet continuing or changing uses–included foundation pile repair, new distributed air system and radiant floor heating and cooling system, new data and communications infrastructure, elevators, and new water and waste-water systems. These upgrades and reconfigurations have already made a marked difference in the comfort and efficiency of hundreds of users daily. 
"The Cube" Office Space
The former restaurant space now houses a two-story free-standing structure to accommodate Amtrak offices. "The Cube" is a fire-rated enclosure that features a large scale historic graphics of the station.
Timber Pile Repair
The station is built on 427 Douglas Fir pile foundations driven 60+ feet into the sandy soil. Rudolph and Sletten crews excavated, backfilled and compacted 1,200 tons of sand by hand! Repairs were completed using fiberglass jacketing and epoxy injection.
New Roof System
Repairs and replacement of several roof components were completed, along with installation of historic replacement skylights in the west wing, east wing, and north canopy areas. A photovoltaic (PV) panel system was connected to the water heater as part of the energy efficient upgrades to the building.
Climate Comfort System
Built before climate control was widely available, the station is now equipped with a distributed air system and a radiant floor heating and cooling system in the main waiting area. Both systems work together to condition the space to a year-round 70 degrees, while maintaining the character and finish of the original building.
New Lease Space and Retrofitted Loading Dock
25,000-square-feet of mixed use space was added to the building for offices, food vendors and retail. The City is currently seeking a tenant for this location.
Elevators
A new utility service elevator in the east wing provides access from the basement to the 4th floor. A new elevator in the west wing provides Amtrak access from the basement to the 2nd floor.
Not Your Average Construction Project
Building is inherently complicated. Hundreds of thousands of moving parts with virtually no guarantee against error, delay or injury.
And yet Rudolph and Sletten continues to meet budgets and schedules while achieving recognition for safety excellence in the process.
Early Teamwork Approach
Brought on at the start of preconstruction through a design-assist contract, out team started by addressing the budget variance. Scope was added to the project after the initial budget conducted by the City, resulting in a higher than expected revised budget. Our team identified more than 120 value engineering items in excess of $2 million to immediately reduce the budget. Further, more than 20 bid alternates were created to
provide the City with deductive alternates once the project was under construction.
This early planning paid off; the project was completed within the revised budget, and both contingency and allowance savings are being returned to the City.
Mock-ups for Accuracy
Early mock-ups were created to confirm the means and methods for several historic preservation scopes. The results were included in the bid packages and specifications to ensure accurate pricing and execution by trade contractors. The mock-ups included the metal window frames and missing glass panels, exterior brick and repointing (mortar between bricks), and early investigations of the timber pile foundation system.
Managing Work in a 20-Hour Occupied Facility
Amtrak—the main tenant of the station—operates 20-hours a day seven days a week. To accommodate operating hours with minimal user disruption, our team divided the work into 18 phases. Look ahead schedules were updated daily and reviewed weekly, with daily task meetings conducted as needed for specific scopes of work. One of the biggest coordination and schedule challenges occurred when transitioning Amtrak to their new operations space. With detailed planning, we worked within a four-hour downtime window from 1AM to 5AM over a week period, and successfully relocated proprietary systems with zero disruption to operations.
Team Coordination
A unique feature on many preservation and rehabilitation projects are the numerous consultants and regulatory agencies overseeing the work. The Sacramento Valley Station had eight stakeholders reviewing and providing comments throughout the duration of the project. Our team managed this added coordination by updating as-builts daily using BlueBeam. Each trade contractor had access to these digital mark-ups to stay current with changes in real time. 
Safety Recognition
During construction, Cal/OSHA evaluated Rudolph and Sletten's health and safety program, its implementation on the Depot project, and conducted an inspection of the entire jobsite. Our team received Cal/OSHA Golden Gate Partnership commendation for maintaining a high standard of safe practices on the jobsite.
628 days and more than 200,000 hours worked with ZERO lost time injuries
Exceeding LEED Goals
Originally designed to LEED Gold standards, the project will be submitted for LEED Platinum certification. Sustainable features include the radiant floor heating and cooling system, rainwater catchment system, and photovoltaic panels. Our team helped identify extra points for material reuse and recycled content materials.
This challenging project simultaneously renewed and rehabilitated a historic building while maintain continuous uninterrupted service on the nation's 7th busiest railway station. Our team's planning and flexible execution of each phase ensured both the City and Amtrak achieved their goals for renewed spaces, efficient operations and future expansion.
Take a Tour of the newly Renovated Sacramento Valley Station
Read the Sacramento Bee article
here
.