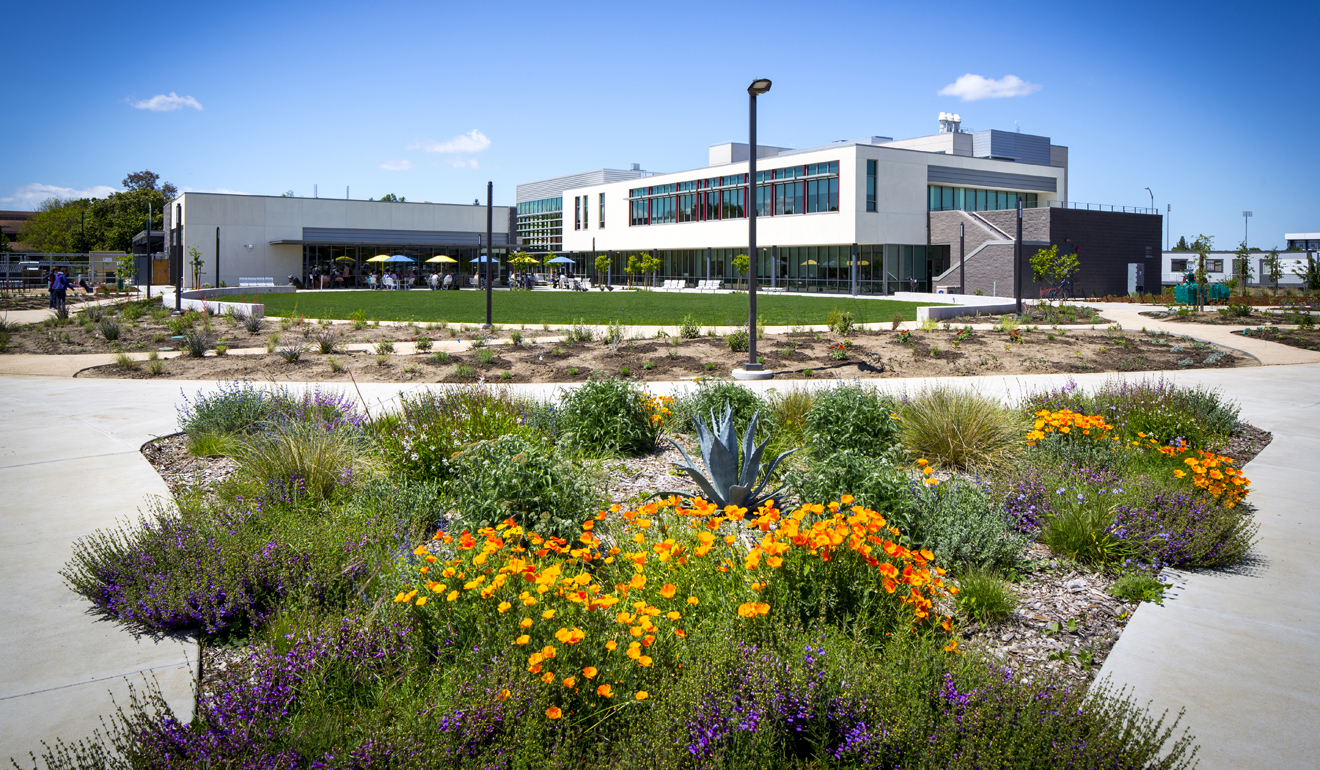 New Building Opens on UC Davis Veterinary Medicine Campus
The Veterinary Medicine Student Services and Administration Center (VMSSAC) houses 100 staff and school leaders dedicated to providing a range of services and support for the school's community of students, faculty and staff. This building completes the move of veterinary medical programs from the central campus to the Health Sciences District, enhancing the services provided to students.
Designed by WRNS Studio, the building provides a unique setting for faculty and students to interact, work, socialize and relax in a setting connected by the beauty of the UC Davis Arboretum.
The VMSSAC is comprised of two distinct structures; a 21,000-square-foot two-story administrative building housing offices, research spaces and graduate learning environments, and a single-story dining pavilion. The administrative building includes offices, work stations, and conference rooms, and brings together teams previously housed in multiple locations, promoting easier communications and collaborations, and increase efficiencies. The new building houses the Dean to the School of Veterinary Medicine in a corner office on the second floor, as well as a state-of-the-art server room designed to fulfill the School's needs well into the future. The building features large windows to the north, bringing diffuse natural daylight, and a long shaded window to the south captures views of the adjacent Arboretum. 
The 9,600-square-foot dining pavilion—known as "Scrubs Café"--features a coffee house/market, servery area and dining room. Scrubs Café is a UC Davis run restaurant and coffee bar serving breakfast and lunch.  The full kitchen is equipped with The café offers a large space for informal networking by faculty, staff, students, clients and visitors along with a walk-up window for coffee and pastries to serve clients with pets in tow. The patio area provides seating for daily use and can be reset for special events. The center's outdoor footprint includes an adjacent area for large events and acts as a gateway to the Arboretum.
The goal for this new building will be to achieve LEED Gold certification through the USGBC.
Fun Fact
Although the Administration Building and Scrubs Café are two separate buildings, they rely on each other to function. The design of the utility system took into account the locations of the existing campus utility loops, making a hot mechanical room in the Dining Building and cold mechanical room in the Administrative Building. They feed one another through underground connections.
Read the UC Davis article here.