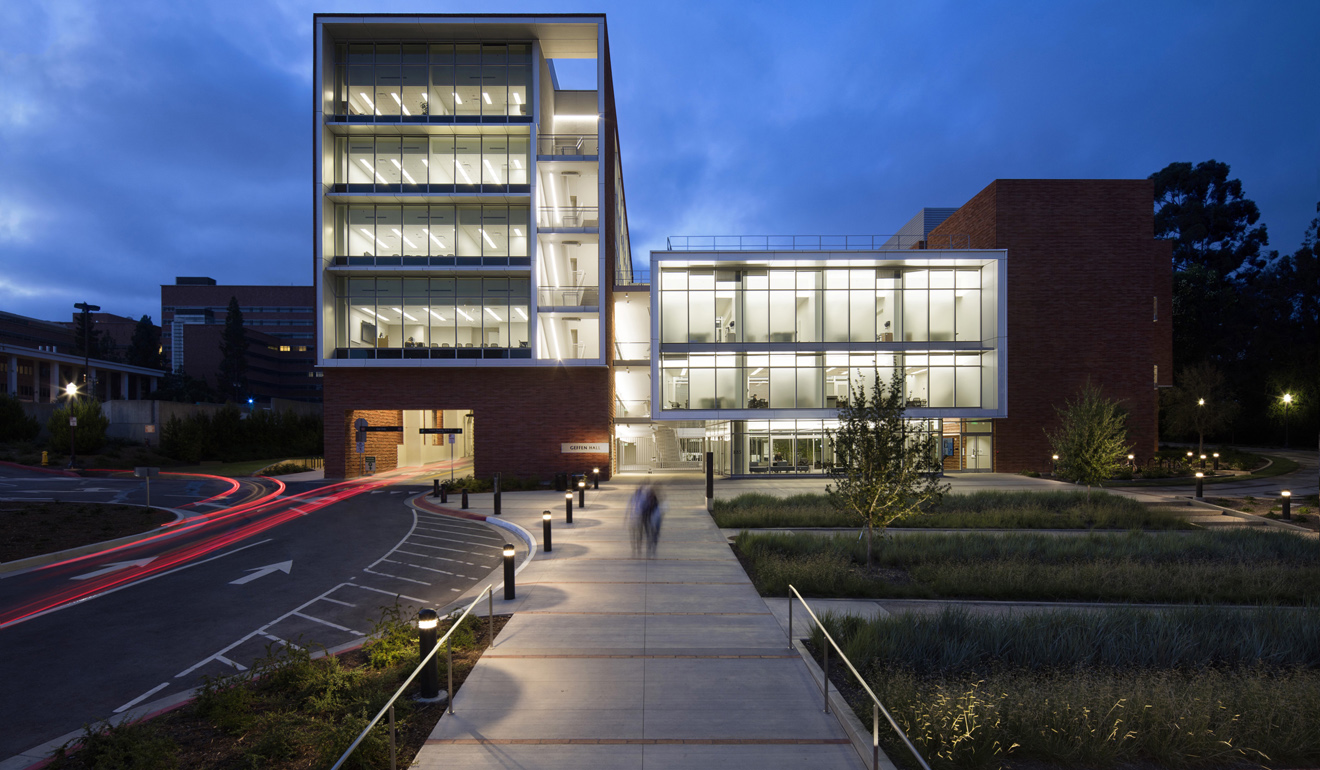 Geffen Hall Opens on UCLA Campus
Designed in partnership with SOM architects, the 120,000-sqaure-foot, 6-story education building accommodates the academic teaching and learning programs of the David Geffen School of Medicine. The facility will be a magnet for recruiting students, staff and faculty, by focusing on emerging trends in medicine and medical education. The building is more conducive to instruction on team-based approaches to medical care and the increasing presence of mobile technologies for diagnosing, tracking and monitoring disease.
The building—which consolidates some of the medical school's teaching facilities currently spanning 11 buildings—includes state-of the art multi-media classrooms and teaching labs, a clinical skills center, case study rooms, a 220-seat lecture hall, student study space, support services and administrative offices. The learning spaces are easily adapted to different learning styles and new advances in teaching tools and curricula. The building features an open air courtyard at the center of the building, and is home to the Deans' offices.
Cost-Conscious Design and Construction
Geffen Hall's design is very open to allow for flexibility, interaction and use of natural light. A cast-in-place concrete structure was a perfect fit for the clean lines, cantilevered walkways and large span areas of the design.
End users also benefit since the concrete building mass absorbs vibration and sound, contrasting with steel buildings which allow noise to pass through. Reduced noise from adjoining spaces is especially important in education and healthcare settings. Noise disrupts concentration, decreases learning retention and increases stress levels, all important considerations for the students and faculty.
Partnership for Success
Open communication is a hallmark of working with Rudolph and Sletten. Beginning in preconstruction, our team coordinated input from all project stakeholders to ensure the budget, design intent and end users goals were all achieved.
Our team took the lead on finalizing several design-build scope components, including producing a 3D model to eliminate installation clashes in the field and bringing on key trades during the preconstruction phase. This was the University's first experience using the design-build, best-value procurement for key trades. Procuring key trades under design-build contract in preconstruction was key for reducing potential costs and delays associated with RFIs or owner-directed changes.
The early involvement and open communication with our team resulted in error-free completion in time for January 2017 classes, within budget, and without disruption to ongoing campus operations.
"Communication is daily, there are no secrets. If there is an issue, we let the owner know so that they are not surprised… we're not communicating to make the issue the owner's problem, we're communicating so that they are aware and informed about what is happening on their project." James Fabry, Senior Project Manager.
Creating a New Campus Entrance
The project site is located at the southeast corner of the UCLA campus, in between two existing parking structures immediately inside the campus entrance on Tiverton Drive. The task of designing new access to campus at this location—complete with new roads, roundabouts and pedestrian access—was included as part of our scope of work. Senior superintendent Jim Bingham planned and orchestrated this complex task into a comprehensive eight-phase plan. Parking and pedestrian detours were established while also addressing issues of rerouting utilities. The plan maintained access to the campus and allowed for construction activities to be completed seamlessly.
Safety
A site specific safety plan was implemented with special attention to safe pathways for pedestrian traffic around the site and vehicular traffic into the adjacent parking structure. No lost time incidents occurred during over 1,000 hours of construction.
LEED Platinum
The project was designed to LEED Gold standards, but is tracking to achieve LEED Platinum. Some notable sustainable features include:
A rainwater holding tank pumps to feed non-potable water inside the building.
LED lighting system with complex lighting controls for reduced energy usage. 
Radiant floor heating and cooling system maintains consistent indoor temperature in conjunction with outdoor airflow.
Seismically Safe
The north side of the building features key footing points on sliding bearing plates, designed to move during a seismic event. Developed in collaboration between Rudolph and Sletten and the design team, this method avoided installing multiple expansion joints around the perimeter of the building which would disrupt the design intent.