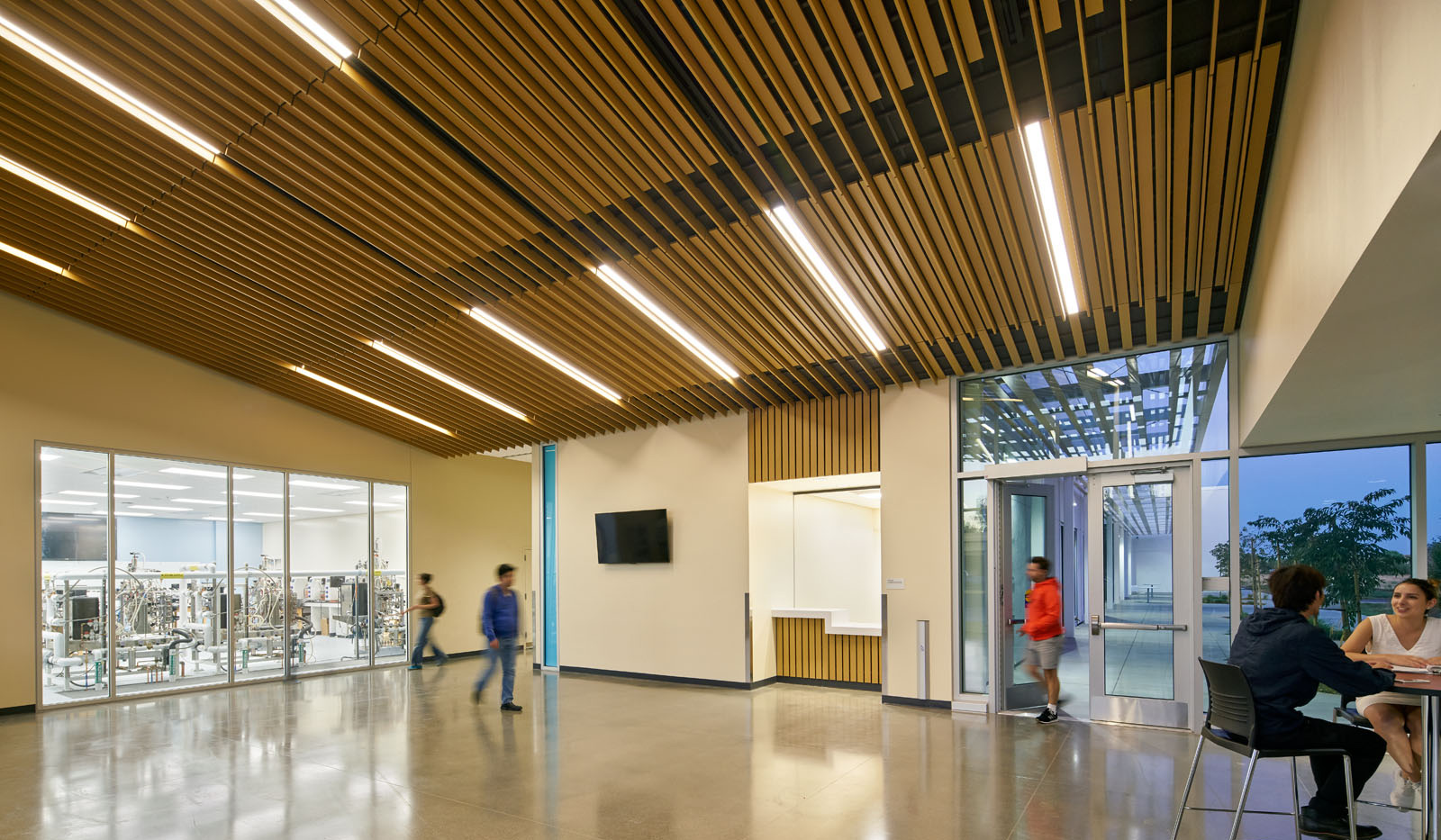 Projects
Biotech Fosters growth
The Bay Area economy is defined in the minds of many by Silicon Valley tech. But the Solano Community College District (SCCD) located northeast of San Francisco, is counting on biotechnology to foster its growthCompleted in July, the 38,000-square-foot, $34.5 million Biotechnology and Science Building on the Solano Community College (SCC) campus is a centerpiece of that effort. It was completed, like many projects, under a tight deadline and with a limited budget. The ambitions of the client coupled with unforeseen issues jeopardized the timeline but it was completed as scheduled and in time for a new semester of students—and also with a sterling safety record for which the project was recognized.
Safety Recognition
The Statewide Educational Wrap Up Program Joint Powers Authority (SEWUP), owned and operated by its California educational agency members, is the largest construction insurance program for schools in California and the SEWUP Board of Directors approved the award for the Rudolph and Sletten Team after reviewing their safety record on the project.
"It's always challenging when you have 50 or more people every day on site," said Steve Evans, Superintendent. "With younger people on the job site you're trying to bring them into the mindset of safety. I was fortunate to have a veteran guy on our team that did a magnificent job of that." There was only one reported injury during 14 months of construction.
New Semester Deadline
For Solano Community College, finishing The Biotechnology and Science Building was part of a larger effort to seize an opportunity to host baccalaureate degree programs for its students in academic fields of study or career-tech studies not offered by the California State University or University of California systems. SCCD was one of 15 districts selected for these pilot degree programs. In an effort to get students in the building as soon as possible, the design-build project with San Francisco-based architecture firm SmithGroupJJR was put on a fast-track schedule. They also had environmentally-friendly goals and built to California Green Building Standards Code (CALGreen); it will achieve LEED Silver certification.
Real World Simulation
The main feature of the building, which was designed to mimic a manufacturing facility, is a biotechnology suite made up of four laboratories with anterooms, prep spaces, clean rooms and a viewing gallery. These laboratories serve four different functions: growing cell culture, housing bioreactor machines, recovery of cell cultures, and quality assurance, respectively.
The design of the building is intended to draw attention to these labs. "They had a program called 'Science on Display and wanted to make sure the local labor force and prospective students nationwide knew that they could get a degree there," said Kyle Glankler, Project Manager. "Anyone walking through the new building can get a glimpse into the biotech suite and be interested in what is going on."
The design was particularly important, given the proximity to Genentech across the street. About one in six of the company's 1,300 local employees have graduated from SCC's biomanufacturing program.
The faculty tried to incorporate as many things as possible from careers in biotechnology into the facility and program. Then reality set in. "The college quickly realized that aspects of Genentech's facility design would be problematic for them as far as maintenance," Glankler said. "So we simulated the look and feel of Genentech without the more stringent and robust maintenance that would be required with those facilities."
Collaborative and Focused
An evolution took place as the school and the builder collaborated. At times, SCC had to be informed about the implications of some of their goals for the building, a challenge given the fast-track schedule.
"We had a lot of meetings with our designers, college, faculty, program manager, and construction manager," Glankler said. "And in them we talked through real-time estimating exercises and had value engineering discussions. The bond program manager recognized that certain design aspects had to be changed in order to make the budget and worked well with our team and designers to focus our efforts on what was most important for the college. It was a collaborative effort."
While there was some disappointment among some of the faculty about what features had to be swapped out for others, they were ultimately happy with the outcome. "They're professors and naturally they want the best for their students," Glankler said.
Bad Weather
The schedule was already tight before the wettest winter in many years arrived in Northern California. "We ended up doing a lot more temporary weather proofing than we would have liked while we contented with maybe 10 inches of rain in December," Evans noted. That made the stucco work extremely challenging.
The builders kept a close eye on the forecast and made sure a plaster team was on site when they expected favorable weather. "It took a lot of discussion and coordination with the plaster subcontractor to make sure we were able to be as productive through the winter as we possibly could be," Glankler said.
Quick Intervention
Even the best pre-planning can't eliminate all risk. Despite passing an extensive prequalification process, the underground utility/grading/site concrete subcontractor started to have performance issues. Rudolph and Sletten was able to step in and work directly with the subcontractor, including hiring some of their employees to continue the project workflow. "So we hired them and did the work in-house," Glankler said. "Including the final site utilities, finished grading, all of the site concrete and asphalt prep. Then we hired a paving company to finish the work." With the team's quick intervention, the project stayed on track and the building now holds its first class of students.