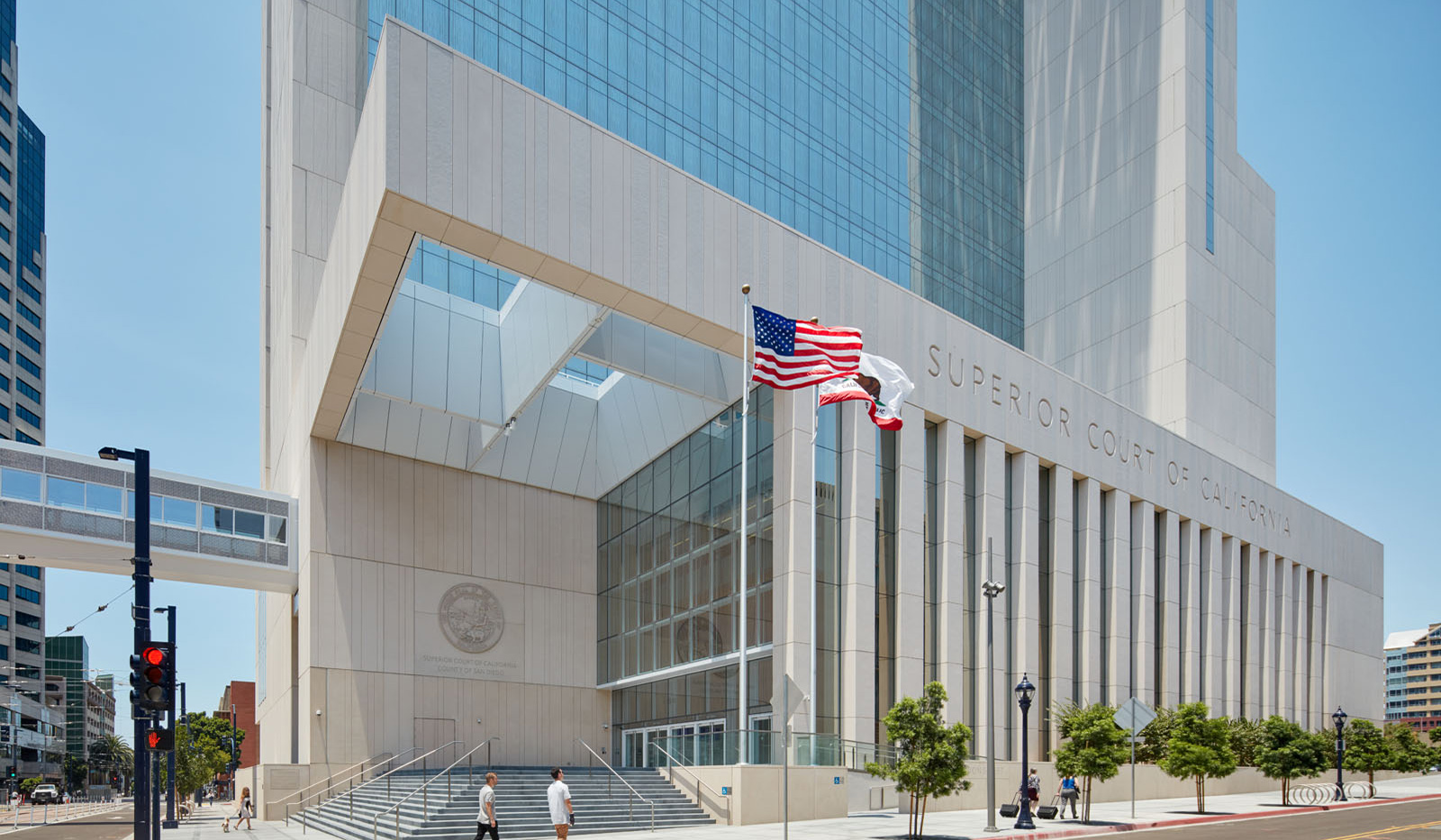 Projects
A Modern Courthouse for a Modern Downtown
San Diego's former downtown courthouse, built in 1961, posed numerous security challenges, suffered ongoing maintenance problems, and faced potential major damage in an earthquake. The new one gives residents a courthouse it can be proud of.
The San Diego County Central Courthouse opened in June, consolidating the county's criminal, civil, probate, and family courts into a 71-courtroom high-rise with 22 elevators, to maintain efficiency and public safety, and LEED Silver certification, due largely to its ample natural light. The biggest in the state's court construction program, the 704,000-square-foot facility also incudes administrative offices, detention facilities, space for jury services, and state-of-the-art security and electrical systems. And, constructed between major downtown arteries and amid the bustling of city life, it is accessible by various modes of transport, making courthouse trips more convenient for many city residents.
CROWNING A NEW LANDMARK
The new courthouse is capped by a roof cornice that juts out over the building, framing the windows of its 22 stories and adding a new element to the San Diego skyline. "The main structure that's keeping the cornice together is a web of these tension rods in between all the trusses themselves," says a Senior Project Engineer on the courthouse. "This whole structure is held together in a sea of tension with little islands of compression." It's an apt metaphor for the project as a whole—constructing a new landmark in the heart of a busy downtown required a tightly woven network web of collaborators. And 12,500 tons of structural steel.
"We had maybe a dozen subcontractors involved with the work up there, between electricity, precast, the metal sails, catwalks for maintenance, window washing equipment, you name it," the Engineer says of the roof cornice. But it all came together for a crowning structure that sails over Broadway and Union Street and caps a facility built for the complex security and technological demands of a 21st century courthouse.
CONGESTION YIELDS CONVENIENCE
Far below the cornice, a pedestrian bridge connects the new building to an old one, the Hall of Justice across West C Street, a major downtown artery that includes a trolley line. "The (Metropolitan Transit System) doesn't want to shut down their service for very long, so you have very small window to work in," says Howard Mills, senior project executive. Installing that bridge with minimal impact the street below was one of the many successes for the project team despite the working in a crowded urban center.
No laydown area, limited trucking routes, a trolley line running down West C Street that couldn't be interrupted, numerous underground utilities, the close proximity of the existing downtown buildings, and contaminated soil were all a part of the difficulties of building downtown. Other activity was also scheduled within tight windows, to interfere as little as possible with downtown life. A third of the foundation was laid over the course of 24 hours one Saturday, with a stream of concrete-carrying trucks arriving at the site every 67 seconds on average; two more Saturday pours finished up the work.
Without a laydown area, materials were staged in the basement of the growing building. Furniture had to be able to fit in the elevators. And everything was coordinated with local and state agencies. But the result is a courthouse that is conveniently located, part of San Diego's plan to bolster its civic center area, with easy access to public transportation and enhancing the walkability and bustling life of downtown.
KEEPING JUSTICE MOVING SWIFTLY
Inside, the building is just as bustling. That was an issue at the old courthouse, where defendants were led from detention facilities to courtrooms via the same hallways as witnesses and jurors. Now, in-custody defendants only interact with the public in the courtroom. About 1.2 million people are expected to visit the new courthouse each year, or more than 4,000 each business day. A network of elevators—three for detainees that go from the basement holding cells to holding areas on the courtroom floors, two for judges, 16 for the public, and one service elevator—will get all of them where they need to go, more quickly and safely than before.
"The whole circulation of this building is predicated on the only time a judge the public and a detainee would interact with one another, for safety reasons, is in the controlled environment of the courtroom," says Mills. He adds that the 22 elevators are the most in a San Diego building. That's not by chance. "The number of elevators is really influenced by the need and intended use of the building's end users," he says. "You have to provide circulation that keeps people in their appropriate spaces in the building." The same stone tile used in the lobby was used in the elevators as well, making the aesthetics as seamless as the transportation. And a set of escalators on each of the first three floors keeps the lower levels open and moving efficiently.
WIRED FOR SECURITY
Seventy-one courtrooms, 22 elevators—and some 400 cameras. Building a high-rise is one thing. Building a high-rise courthouse is a whole other animal. "Typically, on a project you have some AV and some security systems," says Syed Shah, project manager on the courthouse. "However, on this project, because it's one of the largest courthouses in the nation—with 71 courtrooms total—and each and every courtroom has its own AV system. So, the scope was pretty big on this project."
With today's technology so interconnected and susceptible to hacking, there wasn't just a need for a lot of electrical, AV and security systems; they needed to be as secure as possible. "Every system except gas and fire alarm is on a secure network," says Shah. "For example, if you have a network connection and you try to unplug a device and plug in a new one in, the network would recognize it and know what's going on. The camera won't work unless someone from the court has the IP address and Mac address for the camera. The camera has to be entered into the security group profile in order for it to work." Getting that security took time. Every device in the 22 stories, plus basement levels, needed to be entered into the secure network.
BUILDING SOMETHING SPECIAL TOGETHER
But the most important network was made up the 3,600 people, 12 subcontractors, and various state and local agencies that collaborated on the project since long before that 300' by 200' foot hole was dug. "We had owner/architect/contractor meetings weekly to keep everyone abreast of how things were progressing each week and highlight critical issues," says Mills. Subcontractor executives would meet once a month to identify hot-button issues and evaluate progress toward success targets. Field-level personnel from the subcontractors were also brought in each month so they could communicate any difficulties they'd been having or successes that should be built upon. "It was very helpful in our effort to maintain a united vision as we went forward with the project," Mills says.
And state inspectors were brought in before required in many instances to offer feedback on designs and make sure all standards would be met, saving time for everyone involved in the long run. In the end, the partnerships gave rise to a mutual commitment to shared goals and developing a mutual trust—and a beautiful new addition to the downtown skyline.
This article is from the Winter 2017/18 issue of Hooked on Construction. Read more here.