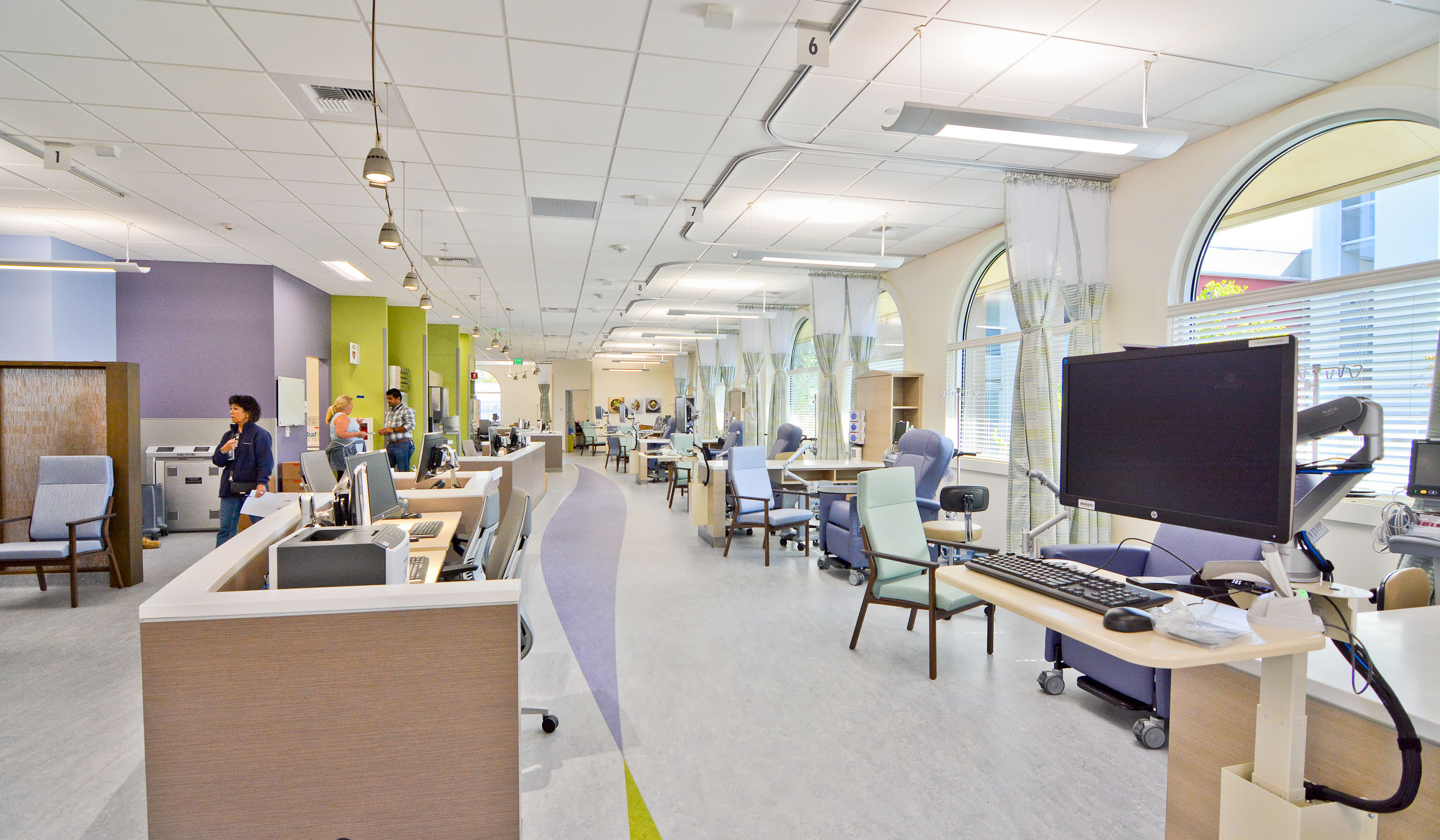 Projects
Critical Need Fulfilled
This project in San Rafael helped fulfill a critical need for Kaiser in the Marin-Sonoma area by creating an outpatient oncology treatment facility with an on-site compounding pharmacy, capable of serving up to 18 patients at a time, and up to 80 patients a day.
The existing oncology department in Kaiser's main San Rafael campus was outdated and crowded into a space of only 2,000-square-feet. This buildout will allow doctors and patients to transition to an 11,000-square-foot functional and spacious healing environment complete with treatment and exam rooms, and staff offices. Key highlights of the project include seismic retrofits and improvements, replacement of two air handling units, new roof system, new elevator tower, ADA upgrades, and installation of a new electrical service.
Pre-Planning Success
Rudolph and Sletten was involved early in preconstruction, adding value by resolving potential issues early so they had no impact on schedule or budget. One key success was the replacement of existing single-pane windows. Our team quickly realized that removal of the existing window frames would require extensive demolition of the existing exterior plaster and redwood trims. We worked closely with the design teams, window fabricator, and waterproofing consultant to develop details for a new window system that allowed the existing window frames to remain in-place, and be infilled with new, dual-pane windows that met Title 24 energy goals.
Rudolph and Sletten self-performed 100% of the rough carpentry and concrete work, which included the construction of 2 large outdoor trellis structures, exterior and interior window trim, interior structural upgrades, and all the site concrete flatwork, curb and gutter, and retaining walls.
Off to a running start
Recently, the facility was put to the test when patients displaced from the tragic Santa Rosa and Napa Area fires were rerouted here. The facility was running at maximum capacity and capably served all patients in need, providing them with critically important, life-extending medical care.
Rudolph and Sletten is thrilled to have worked so closely with Kaiser, with HPS Architects, and all our trade partners, especially our design-assist partners Long Electric, Peterson Mechanical, and Western States Fire Protection, to deliver a building of such high caliber, built to serve the needs of some of Kaiser's sickest patients.
Throughout the construction process, our team's integrity and attention to detail helped foster a relationship with the City Inspector which made the job run smoothly.
I wish I had Rudolph and Sletten on all my projects. Working with R&S makes my job easier because I know you'll do the job right. Trust is not just given – it is earned, and you earned my trust." Brian Sheridan, City of San Rafael Building Inspector.